Cincinnati gymnast shares story of abuse at hands of Olympic Team Doctor Larry Nassar
'I probably would have went to the grave with this secret'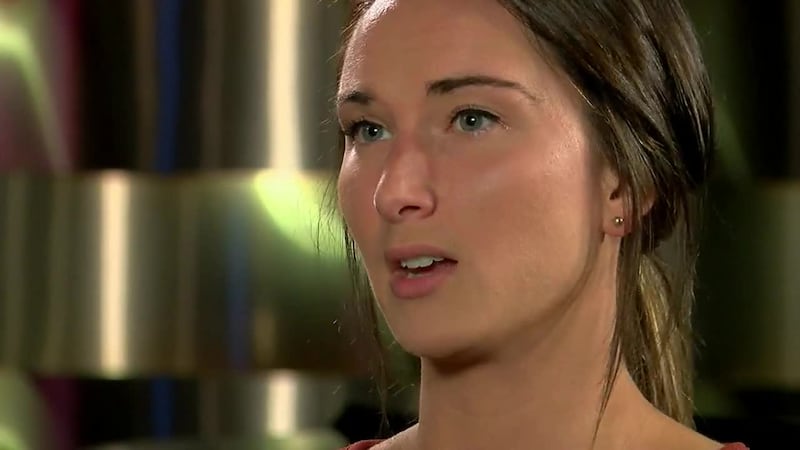 Published: Sep. 19, 2018 at 5:06 PM EDT
CINCINNATI, OH (FOX19) - Amanda Jetter's parents knew she had something special when they saw her playing in the garden, walking on timbers that were only four inches wide. She was just a toddler.
"My dad looks over at me, doesn't want to startle me, and he, I guess, walked in to my mom," said Amanda.
"She was a baby, baby, so tough. I'm gonna tell her mom. I nonchalantly walked to the end of the house and I sprinted into the house so she didn't see me, and I said to my wife, Denise, 'Look at her,'" said Jerry Jetter, Amanda's dad.
From that moment, Amanda was hooked. She started dancing and then tumbling.
"I would run into the gym every day because I loved it so much," said Amanda.
Everything changed when Amanda was 12 and she won Level 10 gymnastics.
"Usually Level 10 is as high as you can go until you go to elite gymnastics where you go to the USA Olympic training center, where you go to USA classics, US championships, and you get to travel the world competing for USA Gymnastics," said Amanda.
Amanda would practice 35 to 40 hours a week in Cincinnati and one week a month at the Karoli ranch in Texas with the best gymnasts in the USA. The ranch is known for churning out gold medal winners like Kerri Strug.
"So I went there and found out it was not anything like I thought it was going to be," said Amanda.
"It was a camp site so you had bugs, you had snakes, you had mold, all of these different things. It was hot. There were bugs. The toilet didn't flush. Normal camp things," said Mary Lee Tracy, Amanda's Cincinnati coach who traveled with her. "They're representing the entire USA and we're in these little dungeons."
But there were good times. Amanda traveled the world competing for the national team. She was inching closer to the Olympics.
Then, there was Larry Nassar.
EDITOR'S NOTE: The video atop this story is Pt. 1 of Amanda's story. Below is Pt. 2, both of which aired Tuesday night on FOX19.
A pulled hamstring landed Amanda in the office of the Olympic Team Doctor at Michigan State.
"He asked to see me alone in the room, he didn't want my parents in there, and I was like, OK, I trust him. He's the USA-G doctor, I'll go. And I went in there and he took advantage of me and I didn't know how to take it and he asked if he could videotape it and so I said yes, cause I don't know any better. Then he walked out and asked my parents if he could videotape something completely different than what he was doing, the quote unquote treatment he was doing on me," said Amanda.
Amanda says the 'treatment' involved touching her somewhere Nassar shouldn't, and he videotaped it.
She says two versions of the 'therapy' were recorded. Amanda says Nassar never wore gloves. He held his cell phone like he was taking a selfie while he assaulted her, then placed it on the counter and continued recording.
Then Amanda says Nassar went into the waiting room and asked her dad to videotape a different therapy session that she says while close, wasn't what he did the first time they were alone. Jerry said Nassar told him he was going to give a seminar on the procedure and that's why he asked Jerry to film it for him.
"He set her up, got everything in place, and here I am videotaping this procedure, this therapy, and I got weirded out and I don't want to go any further than that but I got weirded out," said Jerry.
Amanda's mother says her daughter told her there was a recording but she didn't know her husband was the one doing the filming.
"Denise didn't have a good angle of what I was videotaping, but I saw what I saw... that's all I needed," said Jerry.
Jerry says he was concerned about what happened and he went to Amanda's coach.
He also told his wife that he was feeling really uncomfortable and she suggested he talk to Amanda.
"I grabbed Amanda's face and I say, 'Amanda, did he touch you improperly?'"
"And I said, 'No.' I was so in shock I didn't know what to say," said Amanda.
Amanda says she decided to speak out now because keeping what happened a secret was weighing her down.
"I kind of put it deep down inside of me when it happened and nobody knew, not a teammate, not my parents, not my coach, no one knew because I thought it was going to look bad and I thought I was never going to be invited back again if I spoke out and they wouldn't believe me," said Amanda.
Last January, Nassar was sentenced to 175 years in prison on seven first-degree criminal sexual conduct charges. The sentence came after seven days of victim-impact statements from 156 women and girls.
The number of girls who were molested by Nassar, under the guise of therapy, continues to rise.
Copyright 2018 WXIX. All rights reserved.