Fifth Third executive shot 12 times said best plan to survive was to 'play dead'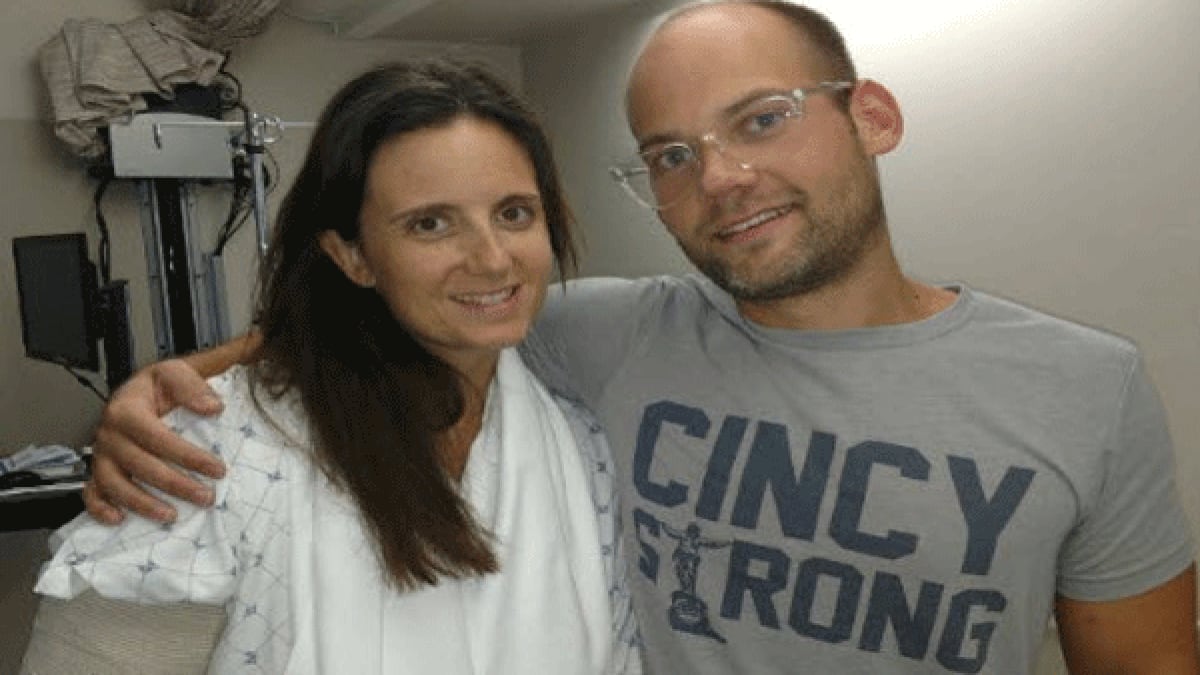 Updated: Sep. 26, 2018 at 5:05 AM EDT
CINCINNATI, OH (FOX19) - Whitney Austin, the Fifth Third Bank employee who was shot a dozen times in a deadly attack at the bank's headquarters earlier this month, recounted her ordeal for the first time.
ABC-TV's "Good Morning America," aired a taped interview with Austin and FOX19 NOW's sister station in Louisvllle, WAVE 3 News, sat down with her at her home.
The 37-year-old woman was critically hurt in the Sept. 6 shootings at Fifth Third Center on Fountain Square in downtown Cincinnati.
Final shooting victim released from hospital after 'miracle' survival
Gunman Omar Enrique Santa Perez, 29, opened fire in the building's lobby and managed to fire 35 rounds before Cincinnati police responded within minutes and fatally shot him.
[Surveillance video shows gunman shooting 'anyone he saw' in Fifth Third Bank]
Perez killed two contractors and a bank employee, Pruthvi Raj Kandepi, 25, Richard Newcomer, 64, and Luis Felipe Calderón, 48.
He also wounded two bank employees, including Whitney and Brian Sarver.
Police say Perez could have killed many more: His briefcase held more than 250 rounds of extra ammunition.
Austin told "Good Morning America" what bothers her the most is people warned her and waved at her not to go into the building.
But she was running late for work and more focused on the conference call she was on - headphones in her ears - and didn't see or hear them.
"Immediately as I pushed that door is when I was hit with the bullets. I immediately started to cough up blood and that's when my brain immediately went toward 'I am dying,'" she said in the interview.
Austin was shot 12 times. Amazingly, none of the bullets hit a major organ.
"I absolutely knew I had been shot. I also heard the noise... the terrifying noise. I knew I was in pain," she said.
She said she assumed Perez shot her so many more times because he saw her moving.
"I did not want to die without saying goodbye to my family. And I couldn't talk to my kids because they were at school... I thought at least I could talk to my husband and say goodbye to him. So I moved my body to try to get to my phone, again silly move, because I couldn't really use my hands. When I moved is when he shot me again. Then I got angry, like, 'why did I do that? Just play dead...just play dead. It's your best chance right now for surviving this.'"
She played dead until she saw an officer.
"I'm thinking, 'you need to get my out of here I have a 5-and-a-7-year-old and they need their mother. So I'm going to fight and I'm going to get out of this situation,'" she recalled. "I was looking at him [Officer Staples] and I could see the fear in his eyes. It was scary but it was also hopeful that I had a way out of this situation."
Austin said at one point Officer Staples believed a 5-and-a-7-year-old were victims inside of the building.
"'No, no, no. My kids are totally safe. I need to get home I need to be their mother.' When they took him [the shooter] down, he immediately ran over to me and saved me from the revolving door. I thought they carried me out, but I've since seen footage that I walked out," she said.
Austin spent five days in a hospital being treated for her injuries.
"Thousands of things went right in order for me to live... not only to live but to come out of this emotionally strong," Austin said. "For those three, thousands of things went wrong. How is that fair? How does that happen? Why me and not them? I just can't reconcile it. I try not to spend any energy on it because I'll never have those answers."
She called her situation - a miracle.
"It's absolutely a miracle. Absolutely no other explanation than believing it's a miracle. I am a person of faith... it's hard for me to understand or fathom why I was saved and others weren't, but I'm not going to try to understand that. All I can do is be thankful and take that gratitude and move it forward and make a difference," Austin said.
The first shot was fired at 9:06 a.m. and stopped after four officers responded in three and a half minutes: Gregory Toyeas, Jennifer Chilton, Antonio Etter and Eric Kaminsky.
Surveillance and body cam footage shows Perez shooting in the lobby and then firing at officers.
They returned fire, shooting through the glass, and killed him.
The experience has inspired Austin to become an anti-gun violence activist.
She has started the "Whitney Strong Foundation" that is "dedicated to reducing gun violence by promoting, advocating and supporting responsible gun ownership," according to its Twitter account.
"This is about making sure that out kids can go to school and they don't have to participate in active shooter drills on a monthly basis. This is so people like me can walk into their place of employment and not get shot twelve times," Austin said.
Austin sent out the foundation's first tweets Tuesday and a website also is up.
"For months I had thought about volunteering with organized efforts to reduce gun violence," the website reads.
"In fact, I received text messages and felt guilty that I signed up just to ignore them. As I cowered in that revolving door I thought about those text messages. I thought about how angry I was that I hadn't done anything to prevent this exact situation from happening. Now, as a survivor, how do I reconcile that I lived as a result of nearly thousands of things going right and others died as a result of nearly thousands of things going wrong? I can't. I can only say that I feel an undeniable force pushing me to tackle gun reform."
A motive in the attack remains unknown and may never be clear, Assistant Police Chief Mike John told Cincinnati City Council earlier this month.
Cincinnati police have been praised for their response.
Their actions are not only justified, they also are "heroic," Hamilton County Prosecutor Joe Deters said earlier this month after reviewing the case.
"They responded quickly and saved numerous lives. We will never know how many people they saved that day," Deters has said.
"Sadly, three innocent people died and two people were seriously injured as a result of Perez's actions. "People may take for granted the work that our first responders do, but I want to personally thank them for their bravery and service to our community."
Copyright 2018 WXIX. All rights reserved.