FOP asks city to intervene in 'mismanagement' of police discipline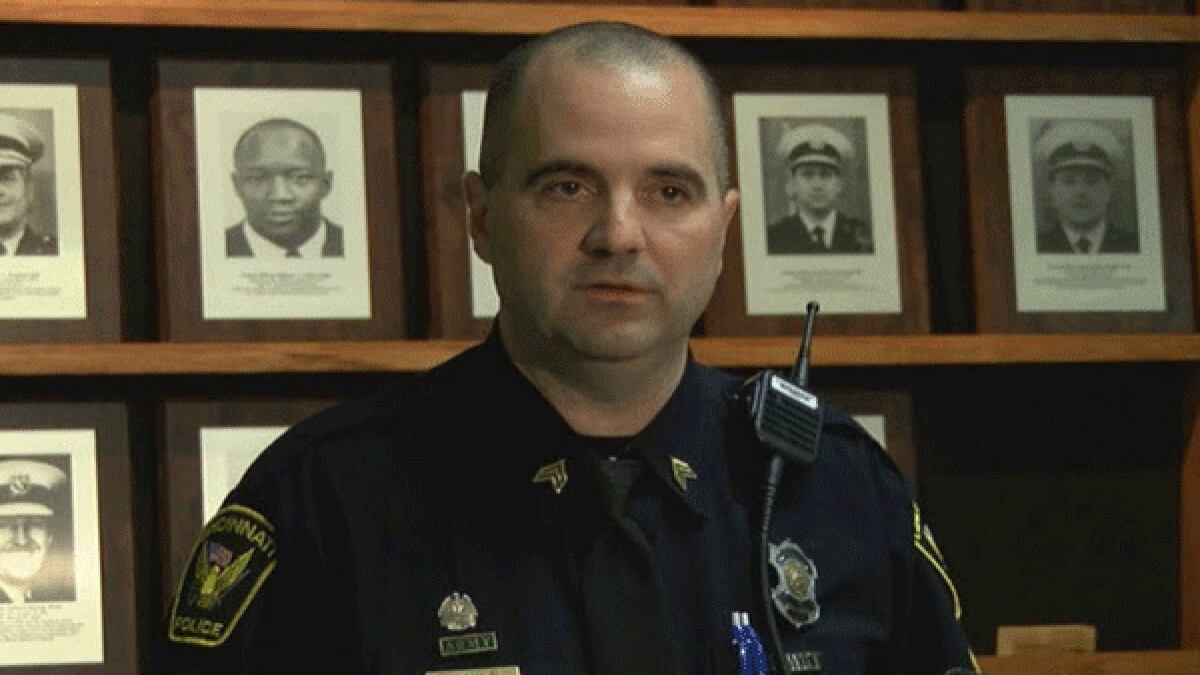 Updated: Oct. 22, 2018 at 12:10 PM EDT
CINCINNATI, OH (FOX19) - The leader of the union that represents Cincinnati police is asking the city's top administrator to look into what he calls "mismanagement" of the police department's internal administrative review and discipline process.
"Unsanctioned and inconsistent discipline" in several use of force cases is having a chilling effect on officers' ability to proactively police - and could make them hesitate to use force when necessary, Sgt. Dan Hils wrote in an open letter Monday to Acting City Manager Patrick Duhaney.
Chief: Officer who Tased 11-year-old girl violated policy
Hils' specifically calls out Police Chief Eliot Isaac in his strongest criticism of the city's top cop yet, saying several cases are left to linger in "the Chief's bin of indecisiveness."
"City Administration and Police Administration have mandated that our police officers must work as the most transparent of all professions. Wearing a body worn camera in the demanding conditions of uniform policing should also demand commanders that give their officers reasonableness in their reviews," Hils wrote.
"Instead, in Cincinnati, there is a culture and practice of unsanctioned and inconsistent discipline. This mismanagement of our review and discipline process creates uncertainty that discourages proactive policing and I fear could result in officers hesitating when force is necessary. I expect the administration to display the same transparency in our discipline process that is demanded of our street officers."
We contacted spokesmen for the city and police department for comment this morning. We will update this story if we hear back.
City council members said they were waiting for more information from either Duhaney or the chief.
David Mann: "These are serious allegations that must be reviewed by the city manager. I want to hear from him before I say anymore.
PG Sittenfeld: "The city manager is taking the lead on this, and will report to council. What I do know is that crime Is down in the city and the chief deserves a lot of credit."
Vice Mayor Chris Smitherman: "My position has not changed with Chief Isaac. I plan to give the chief the full opportunity to locate all missing paperwork."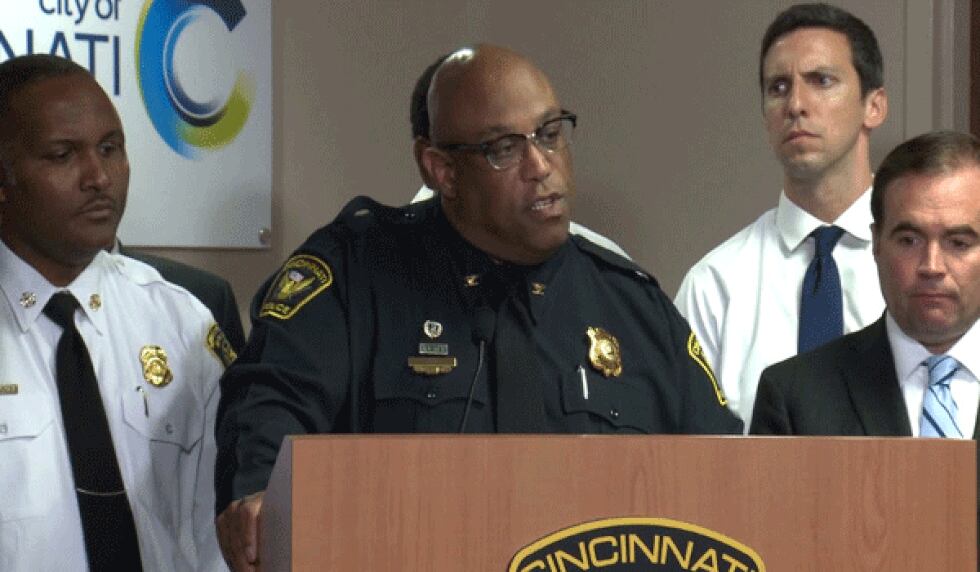 "Routinely, officers are being punished by a method which circumvents the due process ensured by our contract," Hils wrote.
"Some of our officers are being unjustly punished by prolonged periods of suspended police powers, restricted duty status or restriction from working outside employment. Discipline should be fair and in an appropriate time frame. Your employees should not have to live with months of uncertainty awaiting administrative decisions on their future. "
Hils' memo details the following cases as examples:
"The first case I will discuss does have timeliness as an element, but is also one that causes me great trepidation in the judgement of our Chief. On November 24, 2017 Officer Charles Kilgore was conducting a search incidental to arrest of an adult male suspect who was handcuffed. The adult male spat on Officer Kilgore's face. Officer Kilgore's face was only about 18 inches from the adult male suspect's face when this assault occurred and a large amount of saliva was laid onto the officer's face. Officer Kilgore immediately reacted with a strike to the suspect. The adult male suspect was injured by the strike and the Fire Department responded. While being treated the adult male suspect spat upon a Fire Department medic. The adult male suspect was later convicted of Harassment with a Bodily Substance (ORC 2921. 38C). This section is typically used when a suspect has a communicable disease."

"An investigation of the matter was assigned to Sergeant David Sprague of Internal Investigation Section on 12/12/17. Sergeant Sprague concluded that Officer Kilgore be exonerated of any wrongdoing. Officer Kilgore's single closed fist strike was self-dense to prevent further assaultive and combative behavior by Mr. Small. The now late, Captain Kimberly Williams signed off on the report and findings on 2/22/18. Two days later Colonel David Bailey also signed off on the report. The report did not get signed by the Chief until 7/29/18. He crossed out the exonerated finding and wrote that the officer was in violation of Rule 1.22(b), physical abuse of a prisoner. The violation of this rule was set for a Department Level Hearing on 9/10/18 in front of Captain Michael Savard. I have not seen his report, but I understand Captain Savard has also recommended clearing officer Kilgore of wrongdoing. We have yet to hear the Chief's ruling."

"There is a similar case of Police Officer Courtney Compton. Officer Compton was fastening the seat belt in an attempt to secure a disorderly 16 year old female prisoner on 5/29/17. The prisoner spat on Officer Compton and another officer. Officer Compton struck the prisoner with two quick strikes to the face. In that case the Internal Investigation found Officer Compton did use excessive force. The hearing officer, Captain Jeffrey Butler, reversed the findings and exonerated Officer Compton. The Chief overruled the hearing officer and ordered a ten hour without pay suspension for Officer Compton. The discipline is still in a review process at City Hall. Again, this incident occurred in May of 2017 and the officer hasn't been served her discipline or been able to initiate the grievance procedure. "
In neither of these cases did the officers suffer the prolonged suspensions Hils' mentioned, his memo states.
Those cases include, according to his memo:
"Officer Timothy Hains is a veteran of nearly 30 years on the Cincinnati Police department. Officer Hains was suspended of his police powers on 11/17/17 for an incident that occurred on 9/2/17. Officer Hains was charged with Excessive Use of Force and received a 96-hour suspension without pay on 8/26/18. Officer Hains has been informed that his duty status will be restored this week. Officer Hains believes this only occurred after he consulted a private attorney that discussed his situation with the City Solicitors office. "

"Officer Michael Smith was restricted from working street duty or any outside employment on 4/19/18 for the use of a Taser that occurred on 4/18/18. Officer Smith has yet to be served with any formal charges. "

"Officer Scott Beasley was involved in a use of Taser on 1/20/18 and another use of Taser in May of 2018. After the incident in May, Officer Beasley was restricted from street duty. Officer Beasley spent the summer doing desk duty in District Two and now has been assigned to the Telephone Crime Reporting Unit (TCRU). Officer Beasley had his discipline hearing on 8/13/18. Officer Beasley has yet to hear the result of that hearing, or have a hearing on the use of the Taser in May. He remains off the street and assigned to TCRU."

"Then there is the 8/6/18 incident with Officer Kevin Brown, the use of Taser on the juvenile theft suspect at Kroger. There was certainly no delay in Chief Isaac's public condemnation of Officer Brown's actions. Chief Isaac's public statement likely triggered the Mayor's statements and request for the theft charge to be dismissed prior to any court hearing. These statements and actions have made the City and its taxpayers defenseless against any litigation in this matter. "
Brown was also put on desk duty and eventually transferred to TCRU and has been restricted from working any outside employment details, Hils memo notes.
"His discipline hearing did take place in a timely fashion (9/13/18), likely due to the public attention," he wrote. "Now that the attention has lessened, this case joins many others in the Chief's bin of indecisiveness. I am still in dismay of the charge of prejudice in this case. The type of counsel and concern Officer Brown had for this juvenile should be encouraged not punished.
"I am requesting that you meet with the Chief and inquire on these cases and where possible have officers returned to street duty. Our street strength has suffered, as our administration has pointed out in lobbying for the recruit class to start earlier. This type of indecisive delayed discipline is detrimental to the street strength of the police department.
"In that same meeting I hope you encourage Officers Kilgore and Officer Compton cases to be reviewed or dismissed. We must be allowed to defend ourselves."
The police union plans to propose changes to the internal process in their next contract negotiations, according to Hils' memo.
Copyright 2018 WXIX. All rights reserved.