Area synagogue working with police ahead of Pittsburgh memorial service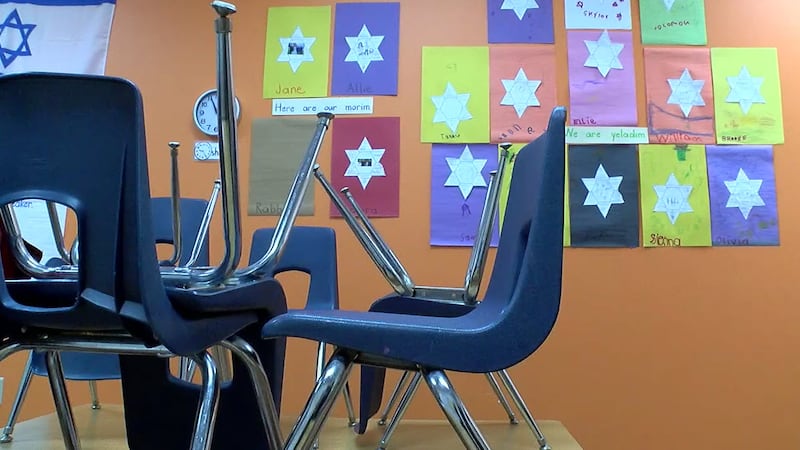 Updated: Oct. 29, 2018 at 6:37 PM EDT
BLUE ASH, OH (FOX19) - A rabbi at Temple Sholom in Blue Ash says there has been plenty of support from police as they organize a memorial for the victims of a shooting this past weekend in Pittsburgh.
"Here in our synagogue we are scared and we are angry and we are saddened," said Rabbi Miriam Terlinchamp. "And we are looking for hope and possibility."
Eleven people are dead and multiple people were injured after a gunman opened fire during a baby naming ceremony inside a synagogue in the Squirrel Hill neighborhood of Pittsburgh Saturday.
Pittsburgh rabbi: 'This will not break us'
Terlinchamp says the synagogue is putting a few security measures in place in the wake of the shooting.
"I carry this security button with me at all times when there are people present in the building," he said. "And it goes straight to the police."
Lt. Roger Pohlman with Blue Ash police says there's always been a good relationship with the town's Jewish community and working on safety precautions.
"Obviously with the recent tragedy we have stepped up our visibility in those areas and we're in close communication with them as far as any needs they have and extra patrols in the area," Pholman said.
About 250 families belong to the Blue Ash synagogue. Temple Sholom will hold a service for the victims at sundown Friday.
"For us, one week after the event, we want to gather in the synagogue and show up in solidarity and in prayer and say, 'Hey, look, here we are -- we're not scared to pray. We're not scared to be together,'" Terlinchamp said.
The local chapter of the Council on American-Islamic Relations issued a statement that reads in part: "It is incumbent on all Americans who believe in the founding principle of our nation, freedom of religion, to speak out and to work for civil dialogue and peaceful coexistence among all faith, ethnic, and ideological communities in our country."
Copyright 2018 WXIX. All rights reserved.