Police body cam: Officer lets friend wear SWAT vest, drive cruiser
Updated: Nov. 3, 2018 at 11:06 PM EDT
CINCINNATI, OH (FOX19) - A veteran Cincinnati officer is on desk duty and faces discipline after he was caught on body camera video letting a friend wear his tactical SWAT vest and drive his take-home vehicle while they barhopped and drank Halloween night.
Both moves violate police policy, especially when it comes to driver's insurance liability.
"I f----- up," K-9 Officer John Neal whispered, looking devastated on body camera footage released Friday by the Hamilton County Sheriff's Office.
"The Cincinnati Police Department is committed to high standards of conduct and any allegations of misconduct are taken seriously. The Internal Investigations Section is currently conducting internal investigations into these allegations," said Lt. Steve Saunders, police spokesman.
Neal, a popular and well-respected officer with CPD for more than 20 years, declined comment.
FOP President Dan Hils said in a text he was "in the middle of the mountains and out of range for the weekend."
Neal now undoubtedly will be kicked off the SWAT team.
He also could lose his preferred assignment as a K-9 handler and trainer, a position he has excelled at since essentially creating at CPD.
"Administratively, he's going to get hammered, OK," a Cincinnati police lieutenant told other officers as they waited for the night chief to arrive, according to the body cam.
"But there's no criminal charges. He's going to be out of the K-9 unit and back on a relief, probably in a couple of days."
Neal and his neighbor went to at least three bars or restaurants Wednesday night, FOX19 NOW has confirmed.
His K-9, "Jones," was not with them.
The bartender at Anderson Township Pub off Clough Pike tells us she served Neal two drinks in 30 minutes.
Then, they headed over to Anderson Towne Center off Beechmont Avenue.
It remains unclear who drove the entire time, or if they took turns.
The officer's neighbor, who works in security at Belterra casino, was behind the wheel at least half the time, possibly more.
By midnight, the men wound up at Latitudes Bar & Bistro and Goodfellas Pizzeria.
Hamilton County deputies and Cincinnati police arrived at the center about midnight. They received a report of a "male subject dressed as officer in SWAT uniform interrogating guests," logs show.
"Yeah, hi. I've got an officer in here dressed in a SWAT uniform. I'm at Latitudes Bar & Bistro in the Anderson Towne Center," the man told a dispatcher, according to a recording of the call released Friday.
"He's dressed in a SWAT uniform. He's interrogating our guests, he's interrogating our staff and there seems to be no probable cause and everyone seems to think he's in costume and I just want to know if you could verify-"
"All right, what is your name, sir?"the dispatcher asked.
"Um, do I have to say that?" he responded.
"Uh, are you an employee or are you a customer?" she wanted to know.
"I'm a customer," he said and then identified the man in the SWAT uniform.
Shortly after, several deputies and Cincinnati police commanders arrived, including Lt. Mike Fern and, a bit later, Captain David Fink, the night chief.
"We got a call at the district saying there was a Cincinnati police officer here groping people," one officer said, according to the body cam footage.
Another officer said, according to the footage: "Apparently, the call we got at District 2 was somebody wearing SWAT gear driving 17345 because we had them come out and get the car number from the back of the car."
As the deputies arrived, Neal is heard on body cam telling his neighbor to remove the SWAT vest.
"Take that off and put it back in the car," Neal said.
"I don't know how to take it off," the neighbor responded.
"What do you mean you don't know how to take it off?" Neal said.
Police helped the neighbor remove the vest.
They placed it in the back of Neal's SUV and then checked for his service weapons.
"Is there a firearm in that car?" an officer asked aloud, according to the body cam footage.
"If it would it be there, it would be an AR-15 and a shotgun," another officer answered.
″This guy had the SWAT vest on that had tourniquet, two knives...Ummm, butterfly thing, what do you call it? Butterfly knife and a loaded, a magazine with 556 in it."
"I was like, look, he's going to be in trouble for this. You're just retard for doing it. I can't believe you're coming up here with a SWAT vest on while you're drunk with bullets in it and 3 knives."
"Is his rifle in there?"
"Yes."
The officer's friend kept pacing.
Then, he burst out: "I've got to go to the bathroom bad. Can I pee!"
"Just wait over there" a deputy told him.
Later, Neal's friend broke down and cried.
He said again he had to go to the bathroom but was too embarrassed to walk back into the restaurant.
"Who is this guy?" one officer asked another.
Neal's neighbor expressed remorse that his friend faced such serious repercussions.
He said they only stayed out so late because he lost his $1,200 iPhone and couldn't find it.
Would Neal face criminal charges?
No, officers told the neighbor: "OK, dude, you didn't do anything per se wrong. Other than poor judgement, that's about it."
Neal's neighbor started pleading on Neal's behalf: "Just don't get him in trouble, cause he's-"
"He's going to have to deal with his stuff on his own, though," the lieutenant responded.
"He's great guy," Neal's neighbor said.
"He is a great guy," the lieutenant agreed. "I've worked with (him) for years, OK? People make mistakes all the time."
"He's such a good guy," his neighbor repeated.
"He is."
"He f----- up one time."
"You're not going to say anything that's going to help this situation," one of the officers told him. "Just go to the bathroom."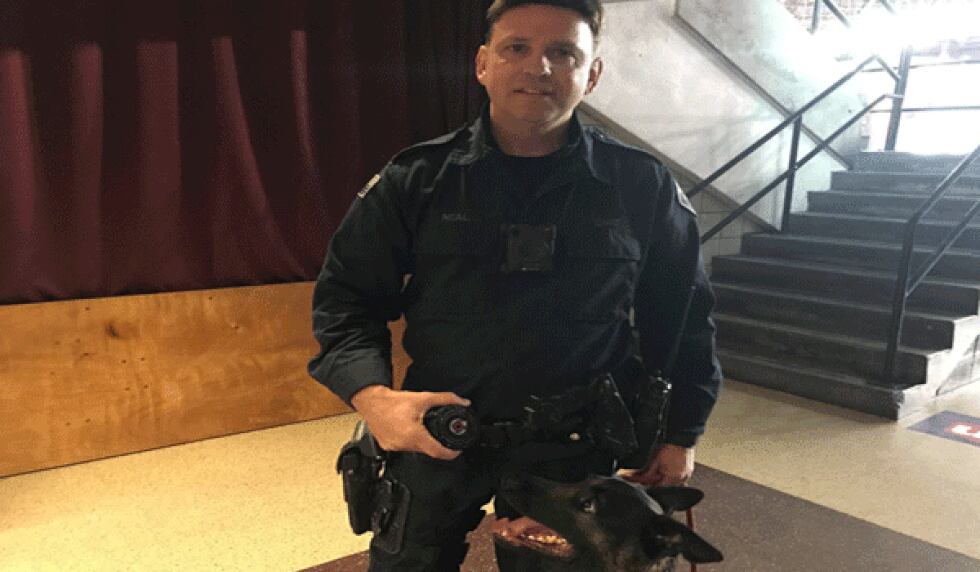 Copyright 2018 WXIX. All rights reserved.