Husband of Brittany Stykes: 'I believe that she was paced alongside and fired on'
Shane Stykes initially told FOX19 he was reluctant to do an interview, but agreed to a sit down in his home with his new family.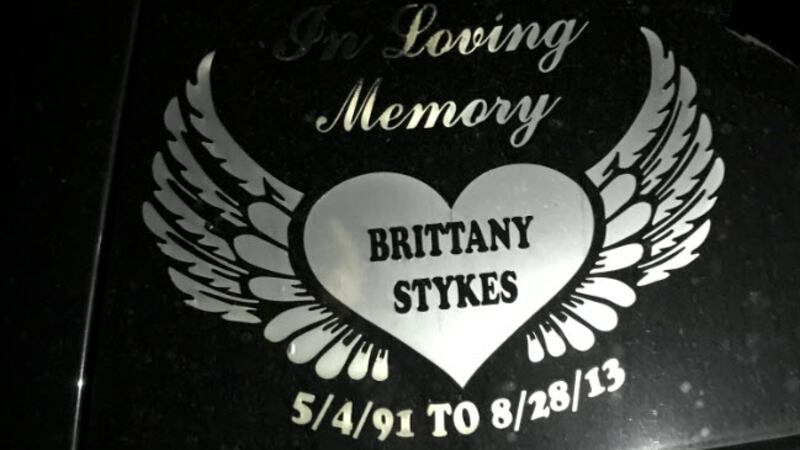 Updated: Nov. 7, 2018 at 9:51 PM EST
BROWN COUNTY, OH (FOX19) - Brittany Stykes was a pregnant young mother when she was gunned down behind the wheel of her Jeep. Her daughter Aubree was in the car and also hit by a bullet. Her husband, Shane Stykes, has not spoken to anyone about this case in five years -- until now.
Shane Stykes initially told FOX19 he was reluctant to do an interview, but agreed to a sit down in his home with his new family -- he is newly remarried.
It might be hard to comprehend what the past five years have been like for the 42-year-old.
"Oh man, it was so horrible," he said on his living room couch.
His son gave him a hug as he recounted the details of that night five years ago, starting with the murder of his wife.
"She was an amazing, beautiful person," he said. "She was an angel in my eyes."
Craig Labell was the first person to find Brittany Stykes over an embankment.
"It haunts me to this day," he said. "On her rib cage, down along her side, I saw the dark, red blood. I used to hunt deer and dark, red blood -- that's a kill shot."
RELATED | Man who found Brittany Stykes dead in Jeep says vehicle shouldn't be released
Again, Brittany Stykes was pregnant at the time of the shooting -- the couple's unborn child was also killed in the incident.
"It's still hard to deal with," said Shane Stykes. "I never even got to meet her."
His then-14-month-old daughter, Aubree, was shot in the head that day as she was riding in the front seat next to her mother.
"The baby (Aubree) looked right at me and stared and me and blink, blink and started whimpering and saying, 'Mama,'" said Labell.
When asked, Shane Stykes said he wasn't aware of anyone that did not like Brittany Stykes or anyone that may have had a vendetta against her.
That yellow Jeep is the specter FOX19 has only seen in security video, the vehicle which Brittany Stykes was driving right before she died. But Shane Stykes shared images of the vehicle. He said his daughter wants the jeep, because it reminds her of her mother.
"When I get older, I'm going to get to sit in the seat she got to sit in," said Aubree, now 6 years old.
Shane Stykes sued the Brown County Sheriff to get the Jeep back. He had inherited it when his father passed.
"There's a million great memories in that Jeep," he said, adding he wants to build good memories with Aubree in it.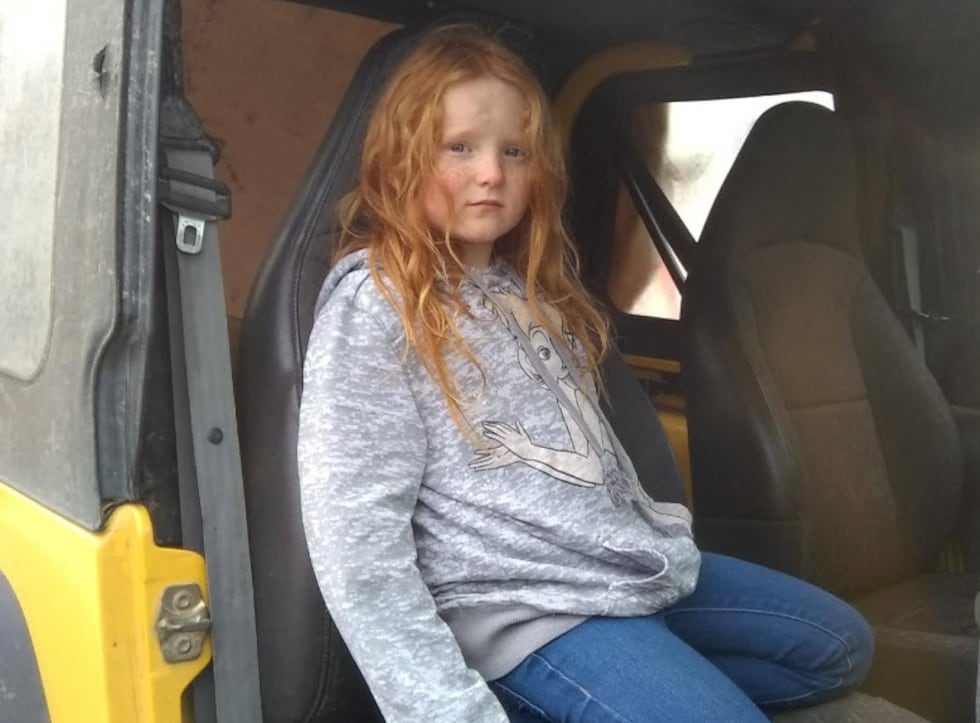 "I want to take her four-wheeling and show her the fun her mother and I had," he said. "That was our first date, was four-wheeling in that Jeep."
He said Brittany Stykes loved driving it -- he said it was pretty much hers once they got married.
Shane Stykes said it was weird at first to see Aubree in the Jeep now that he has it back.
When asked if the bullet holes in the Jeep creeped him out, he said he viewed it as triumphant.
"It was just another example that (Aubree) can overcome anything," he said.
Aubree pointed to the place on her head where she got shot.
"All I know is, it went in here and it came out here," she said.
She has a scar on her part line, her father says. There have been so many surgeries, yet she shows no signs of any further trauma.
Shane Stykes said his miracle daughter has a real sense of humor and that he thanks the Lord for her every day.
"That's a lot on one person," said reporter Stefano Dipietrantonio.
"Yeah, well, all while I'm being investigated for murder," said Shane Stykes.
Shane Stykes says he was told that Brittany was pulled over at the time of the incident.
"Like someone had a blue light on their dashboard. And she pulled over to the side of the road and they got out and fired," said Shane Stykes.
He said she must have thought it was police who pulled her over. He said there's no way she got shot on the right side of the road, then somehow ended-up over an embankment on the left side of the highway.
"There's no way that that happened, because if she had been at a dead stop when she got shot," he said before pausing to apologize for getting choked up. "Sorry -- and her foot came off the clutch, she would have idled across the road, down the road, into the ditch and hit that ditch at a very low rate of speed, which would have created no damage."
He said the impact of the landing bent the front differential of the car into a U-shape.
"You don't think she was pulled over?" asked Dipietrantonio.
"I believe that she was paced alongside, and fired on," he said.
Earlier that day, he said his wife was threatened in a strange encounter.
"There was some type of confrontation," he said. "That the police are well-aware of, between my wife and someone in a white or silver minivan, as she was on her way to my mother's house that morning. I guess someone ran her off the road or something and she had sent a text to a friend of hers, cursing -- unlike her. She didn't do that type of thing."
Shane Stykes said he didn't get a phone call.
"I got a beat on the door, with Brown County sheriff's deputies. I open the door, they come barging in, started looking around, started asking me all these questions. I was just kind of a blur man, really," he said. "They put me in a car. And demanded that I go to the Sheriff's Station and they swabbed me for gunpowder, and started interrogating me and finally I just said, 'Am I under arrest?'"
According to Shane Stykes, they said he, so he told them he was leaving to get his daughter. He said it was hell trying to hold it all together, grieving the loss of his wife and child and seeing Aubree on life support.
"Quite a bit of people were pointing fingers at me," he said.
Dipietrantonio asked Shane Stykes whether he shot and killed his wife.
"Absolutely not," he said.
The Brown County Sheriff's Office confirms Stykes has taken two lie detector tests. He said he passed twice.
Then there were the phone calls from the Brown County Sheriff's Office, he said.
"Brown County called me on the phone and told me, that they had the person that did this to my family," he said, adding he got hopeful at one point. "I was curious to see who this guy was and what he had to do with me or Brittany."
But that person of interest, was not charged with her murder. After that, Shane Stykes called the Sheriff's Office.
"His response was, Mr. Stykes, we don't have to tell you anything, and hung up on me," he said.
He said there's a lead every year right before the anniversary of her death. He said they never amount to anything.
Shane Stykes is remarried, going on two years.
"My first wife was amazing, and my second wife's amazing," he said.
Jessica Stykes said she has heard all the horrible accusations about her husband. She said that isn't the Shane she knows.
"I heard so many stories," said Shane Stykes. "Man, I heard I was a meth cook, I heard I ran drugs for biker gangs. I heard I owed people money, they would drag me in there for the most ridiculous stories."
He said Jessica Stykes goes with him to visit Brittany Stykes' grave sometimes.
Shane Stykes says he has zero faith in the Brown County Sheriff's Department, but has volunteered to give the bullet-ridden top and windshield back to the county. County officials have told FOX19 they will take them. But once it leaves their chain of custody, they say it'll be up to the prosecutor to decide if it could still be used as evidence in court.
Authorities say this is not a cold case, but rather an active homicide investigation. Brown County says it's willing to work with the FBI or multiple law enforcement agencies who can help solve this and willing to work with both families to get this done. They say they've partnered-up with BCI out of Columbus and they're working it, too.
Brittany Stykes' dad, David Dodson, said he knows someone is out there who is afraid to come forward who can connect all the dots. He and his wife remain hopeful. So does Shane Stykes.
There is a $20,000 reward lingering out there, though no one has come forward with any new information. If you think you can help with the case, call the Brown County Sheriff's Office.
Copyright 2018 WXIX. All rights reserved.