CPD's 2nd in command: I was ousted after audit found 'exorbitant amounts' of OT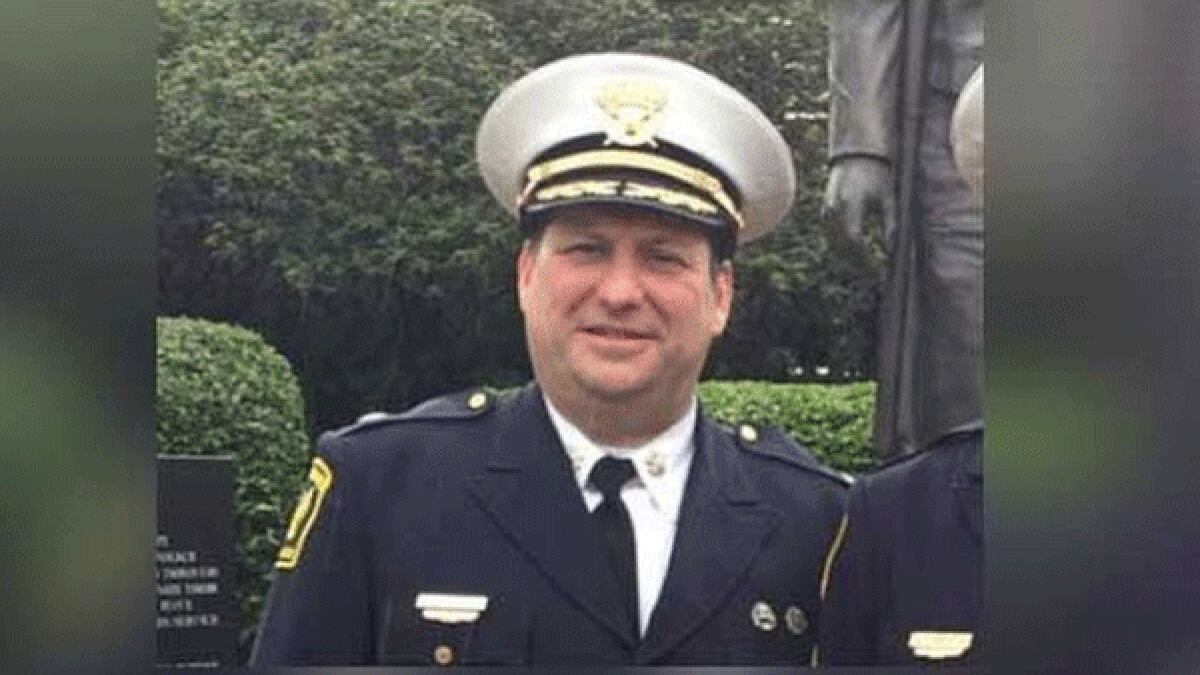 Updated: Nov. 13, 2018 at 12:04 PM EST
CINCINNATI, OH (FOX19) - Cincinnati Police Department's second-highest ranking official says under oath he was abruptly forced out of the agency after more than 30 years because he oversaw an audit that found "exorbitant amounts" of overtime in District 5 and by its commander, who is alleged to be a "close, personal" friend of the police chief's, court records show.
Excessive police overtime was so prevalent, it became a "me too attitude," said former Executive Assistant Police Chief David Bailey in a deposition filed Tuesday in federal court.
"There are folks making that kind of overtime. 'I'm going to take my little bit of overtime as well.' That's what happens when you don't have controls on spending," Bailey said.
Police Chief Eliot Isaac was "unconcerned" until a copy of the audit was leaked to the media, Bailey said in the deposition.
Then, Bailey said he was blamed for the leak and quickly pushed out of the police department by the chief and then-City Manager Harry Black.
"I was given a choice on a Thursday afternoon to take a separation package or be demoted to captain and then be fired for cause," Bailey said, according to his deposition. "That was the options I had. So, being as smart as I could about the decision, I decided to take the separation package....."
The deposition was taken Aug 31 as part of an unrelated federal lawsuit against the city and police department by a former officer seeking reinstatement.
The proceeding is the first time Bailey personally has been able to publicly share his version of events up to his ouster.
He was a popular 31-year police veteran with the department, considered a "cop's cop" with more experience in at the time than anyone else at CPD.
The lawyer questioning Bailey during the deposition is Robert Croskery, who is representing Jason Cotterman.
The former Cincinnati police officer lost his job through a medical separation in 2016 after he was acquitted in a 2015 criminal case related to a fellow officer's traffic crash.
Cotterman sued the city and police department in September 2017 alleging CPD "has a policy of punishing, reprimanding and otherwise retaliating against officers that do not toe the line and go along with" its public version of events, a copy of the suit shows.
We reached out to city and police officials for reaction to Bailey's deposition, but spokesmen for both declined comment due to the ongoing litigation.
"Please direct your requests for all lawsuits to the City's Law Department. You may also keep this reply on dile for all future requests on lawsuits. Have a amazing day!" Sgt. Eric Franz wrote in an email to us last week when we sought comment on another legal proceeding.
We sent two emails to attorneys in the city solicitor's office, and left two voice mail messages.
We will update this story if we hear back.
Bailey is not the only former - or current - official being questioned under oath in connection with this case.
The former city manager also sat for a deposition in June.
More depositions have been held, and others are taking place now, FOX19 NOW has learned.
During Bailey's deposition, he was extensively questioned about his abrupt departure and allegations of a pattern of retaliation and questionable overtime within CPD with not only this current administration, but also the previous one.
District 5 Captain Bridget Bardua filed a sexual discrimination complaint that accuses two assistant chiefs, including Bailey, and Captain Jeff Butler of singling her out in the audit because she's a woman and "also because I support an African American Chief of Cincinnati Police."
Cincinnati police leaders accused of sexual discrimination, attempt to oust chief
The day after her complaint was publicly revealed, the audit was leaked to the media.
Black was so upset the audit was leaked, he called for federal prosecutors to investigate what he described as a "rogue element" that is corrupt in the police department in an effort to undermine the police chief's authority.
Some police employees were disrupting operations, according to Black, because they didn't want to work for an African-American chief and city manager.
City Manager: Feds should investigate 'rogue element' in Cincinnati Police Department
City Manager forces out 2nd in command at CPD: 'This is so sad,' mayor says
Two days after the audit was leaked, Bailey was forced out.
The next day, Cranley asked Black to resign. The mayor later explained he asked him to go over a pattern of "abusive" and "retaliatory" behavior.
Black refused go to, and an intense public feud erupted between the two men.
Power struggle explodes at City Hall
A month later, Black resigned seconds before a special City Council meeting was called to order to fire him. By then, he'd lost majority council support in the wake of the Kyle Plush tragedy.
Black left with a total $644,000 package, in part due to his $274,000 severance outlined in his contract and then an additional $370,000 settlement to keep him from filing a wrongful termination lawsuit, city records show.
By comparison, Bailey was forced out in a deal that will cost taxpayers about $400,000. He will receive full pay, pension and benefits for the next two years. Essentially, the city will pay Bailey not to work until he retires on July 5, 2020.
So explicit were the terms of his separation agreement, which has a non-disparagement clause, Bailey's deposition was briefly halted while a city attorney representing him in the proceeding called City Hall to make ensure he was permitted to discuss events leading up to his departure.
Cotterman's lawyer asked Bailey: "Do you believe that Chief Eliot Isaac was behind your being forced out?"
"I do," he answered.
"Tell me what you believe the reasons are," Croskery said.
Previous internal audits determined problems with allocation of overtime and the need for corrections to the system, Bailey answered, according to the deposition. This includes an audit released in August 2017 for the first half of that year.
The next one reviewed the last six months of police overtime in 2017 and was done by Butler and his staff in Inspections Section as part of CPD's own policies and procedures, Bailey explained, according to the deposition.
When the audit was complete in February, Bailey turned a copy over to the police chief, police records show.
Then, he and Butler repeatedly tried, to no avail, to get the chief to look into their findings and address them with command staff, according to court records.
"Our recommendations were unheeded," Bailey said in his deposition.
"We urged the chief to go through them. We urged the chief, we pointed out some problems with overtime allocations, as far as amounts per individuals, so many allocations, some of the things that were brought up in the original independent audit that were still in play here.
"We urged him to sit down with the command staff and get these issues rectified. Unfortunately, that never occurred....One of the focal points of that audit was the District 5 operation, the District 5 Commander specifically, Captain (Bridget) Bardua and her staff were making what we believed were inordinate amounts of overtime and that was reported in those audits."
The chief has been accused of having a "close, personal relationship" with Bardua in an amended federal lawsuit Butler filed in April against Black, the city, the mayor and the police department.
In early March, Bailey said in his deposition, "Bardua filed a complaint with the EEO office indicating that myself, Captain Jeff Butler and (Assistant Police Chief Paul Neudigate) essentially were applying different rules to her operation as it related to the audit, as opposed to others in the police department. The audit was leaked ... that following week. The Chief and Harry Black strongly believed that I leaked the audit.... And that was at least the beginning talks to terminate my contract or terminate my employment, which essentially was an at will situation...."
Croskery asked: "Did the audit in your opinion demonstrate any abuses?"
Bailey responded that department rules were not being followed, overtime was being collected that was not necessary and the audit's findings were a recommendation to the chief.
"We offered that maybe we sit down with the command staff and maybe flush it out further, which we never had a chance to do," he said.
Later in the deposition, Bailey is asked about an allegation that some of Bardua's overtime "was spent at the home of Chief Issac."
He respond that he has no information: "...I did not follow people and I cannot confirm those allegations."
Lawyer: "So your audit, however, in your opinion, revealed an inordinate....amount of overtime in District 5. Proportionally speaking, what do you mean by inordinate, was it five-percent more, ten-percent more, twenty-percent more than the other districts?"
Bailey: "What I mean is there was a few individuals in the District 5 operation that made exorbitant amounts of overtime relative to the rest of the workers....If it's not meeting that mission, then certainly management has not only the right, but the responsibility to question that. Apparently some of the folks involved don't think that management has the right to question. But its taxpayer money and I have every right to question how it's being used, and to mention, I pay that till, too, so I'm a taxpayer and I don't want the money wasted. All we're trying to do here is say, look, be cognizant of that money.
"And the other thing that you go to understand is, we operate on $140 million budget. We use the overtime and we're not meeting that mission, that means some of our smaller brother and sister agencies like law and engineers and all of that, we don't get bodies here. So you guy got to understand where you sit in the 30,000 foot-view. You know, there is only so much money, let's make sure we use it the right way, so our other partners get what they need to help us do what we need to do. That's what me and Captain Butler were looking at during this audit, how does this impact the whole city operation, not just being selfish, how does it impact others?
Lawyer:" Was it your perception that Chief Isaac was hostile to the idea of drilling down in to the details of what was causing this excessive overtime?"
Bailey: "Not hostile; unconcerned."
Lawyer: "Did you have an understanding as to why he was unconcerned about the details of it?"
Bailey: "The original plan according to the chief was, we will look at outliers and deal with them. Unfortunately, that was never done."
The chief has said the audit was a "draft" version with figures that had yet to be confirmed.
The assistant chief who took Bailey's place, Lt. Col. Teresa Theetge, released the final audit figures in an April 25 memo to Isaac.
"The numbers (in the draft audit) do not take into account overtime funds that are reimbursed to the police department for police services for off-duty details," her memo states. "In 2017, the amount of overtime funds spent department-wide was $7,443,537.67. Of that amount, $2,185,352.47 was reimbursed to the police department for off-duty details. The remaining $5,258,185.20 was the police department's expenditure."
Police overtime is now being examined by state auditors at the request of Hamilton County Joe Deters. He contacted Auditor Dave Yost after Butler alleged in his suit "felony theft" through police overtime.
State auditors are conducting the work as part of the city and police department's annual audit, which is ongoing and expected out by year's end, Yost has said.
Auditors' officials aren't discussing specifics beyond that or commenting on a box of police records related to the audit that have gone missing.
Last week, Butler's attorney amended his lawsuit against the city of Cincinnati and police chief with a new claim accusing them of "spoliation of evidence."
Related:
Prosecutor asks state auditor to look into police OT amid 'illegal' abuse allegations
Missing Cincinnati police records prompt call for outside investigation
Did CPD misplace or destroy evidence in state overtime audit?
In his deposition for the case, Black was asked why internal police audits are so important.
The Inspections Section conducts periodic checks of various types of processes in the police department, including overtime audits, he explained.
"And if that division is working as designed, then it is an asset to the department, because it's a quality control asset, it's an accountability asset," Black said, according to his deposition.
"And like any audit function, it is designed and intended to get at waste, abuse, fraud and accountability and performance. So if that division is not operating, then that takes away from the credibility of the organization, and it takes away of the credibility of the leadership of the organization."
Black also was asked to recall what led to former Police Chief Jeffrey Blackwell's termination in September 2015, one that later was quietly changed to a resignation amid a $255,000 settlement with the city.
Blackwell was fired due to unprecedented low morale in the department and the general sentiment within it that his leadership style created a work environment of hostility and retaliation, Black wrote in a 2015 memo to City Council the day Blackwell's termination was announced.
Other reasons cited at the time in the memo included issuing overtime against proper procedure and interfering with internal audits and investigations; and acting in a retaliatory manner toward employees, including command staff
Bailey also was asked during his deposition about Blackwell's tenure and termination, one he participated in by submitting a sworn statement to things he witnessed or knew.
He confirmed the findings in Black's memo to council and recalled how Blackwell retaliated against him by threatening to fire him twice in the same day when he confronted Blackwell with questionable overtime the chief approved for a female lieutenant in the summer of 2015, according to his deposition.
Bailey said his motivation for giving the sworn statement about Blackwell's actions that was used, among many others, in Blackwell's termination was not motivated purely as an attack on Blackwell.
"From where I sat, at this time I was the last veteran Assistant Chief left, the other two had left. I had 1,200 people looking at me to do something, to do something for this organization.
He felt it was the right thing to do for the agency and the rank and file who serve it, court records show.
"This has nothing to do with me. All this has to do with is 'please help the people that work here. This leadership is not going to make us any better, it's not taking the agency where we need.'
"The whole motivation for this, you got to understand, at the onset, at the starting in these discussions, you would have to understand quite a real possibility that I was not going to be the one left standing when this was all over.
"So if they would have elected to keep the police chief, I could have easily been fired for doing this. You realize that?" Bailey asked Croskery, according to the deposition.
"Of course," he responded. "But you were giving your honest, unvarnished - "
Bailey interjected: "Exactly."
Croskery continued: "- beliefs of what was accurate in order that you could help the department that you had spent your entire career in?"
"Exactly," Bailey answered.
The police department is tightening up record-keeping when it comes to overtime, police records show.
According to a copy of a new policy dated Nov. 1 that takes effect immediately, CPD is implementing three new forms for reporting employee overtime related to court appearances, details/events and recalls.
More overtime might be in the city's future, however. The police chief recently told City Council more officers need to be hired to fill vacancies from retirements to prevent overtime costs from increasing.
More:
FOP asks city to intervene in 'mismanagement' of police discipline
Officer asks FOP to intervene in 'retaliatory culture' at CPD
Copyright 2018 WXIX. All rights reserved.