FOP leader to Council: 'Close unending investigation' into Kyle Plush death
Updated: Nov. 19, 2018 at 9:24 AM EST
WEST END, OH (FOX19) - The leader of the union that represents Cincinnati Police wants City Council to "close their unending investigation into the death of Kyle Plush."
Sgt. Dan Hills said he will call on union members to vote on his proposal and send a message to Council when they hold their monthly meeting next week at Fraternal Order of Police's headquarters in the West End.
"The continuing series of investigations are not productive. They are not in the best interest of the community, the city departments and the public servants involved," Hils said in news release Monday morning.
"My personal opinion is that this political theater and blame game is also not helpful to the Plush family or their grief and healing process.
"The Fraternal Order of Police and its legal team will resist any further interviewing of the officers involved. Three separate investigations have cleared the police officers involved of any willful negligence. They also have been traumatized by Kyle's tragic loss and deserve closure."
This comes a few days after the release of two independent investigations into how officers and dispatchers responded to Kyle Plush's 911 calls.
City Council heard the findings in a special meeting Thursday.
The investigations clear Cincinnati police's response to Kyle's two 911 calls for help as he was trapped inside his minivan at Seven Hills School in Madisonville the afternoon of April 10, but they heavily criticizes the 911 center's handing of the calls.
Kyle suffocated to death and was not found for hours. His father finally located him in the van when he went looking for his son after the 16-year-old didn't return home from school.
Ron Plush told City Council Thursday he found the report "very disturbing."
"As I sit here and talk through this, I have no reason to believe that if someone called 911 trapped in a van that this wouldn't happen again. What has changed since that time that has prevented that? And that is what our family is focused on," he asked.
His wife, Jill Plush, told Council "This report is not enough!"
She called for "good technology", dedicated employees and "the process, and I think that's where the breakdown was, the process. ..When you don't have strong leadership, everything below it crumbles."
Hamilton County Prosecutor Joe Deters also conducted a separate probe into Kyle's death and released his findings just before Council's meeting began.
He said no criminal charges will be filed.
Cincinnati City Council turned to an outside investigation after they and the Plush family were less than impressed by Cincinnati Police's probe.
It fell short of answering critical questions and City Council members and the Plush family had to pull more information out by asking a series of questions and holding more meetings.
The independent report released Thursday found much fault with the 911 dispatchers's handling of the call and the police internal investigation into Kyle's death.
The Plush family criticized the consultant groups for not conducting new interviews and using ones in the police internal investigation.
Councilman Greg Landsman said he also didn't hear anything new and wanted to know if the city could have back some of the $186,000 it spent on the reports.
Council's Law & Public Safety Committee is expected to meet Dec. 10 and go over the plan for improving the city's 911 center.
They also may ask consultants to do more interviews.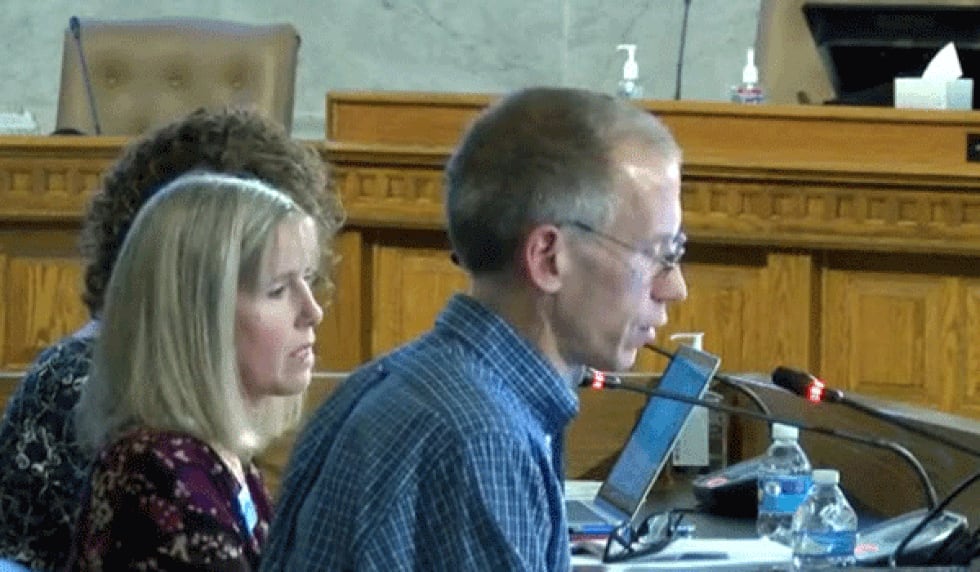 The first call taker, the report released Thursday shows, failed to ask Kyle for his name and assume it was a female and the first 911 call wasn't entered into system until seven minutes after it came in, the report shows, when the coordinates could have been used right away.
The second call taker switched to a system used to take calls from those who are hearing impaired when she didn't hear Kyle and never turned it off, the report states. She was not familiar with the system and may have been able to hear him if she had turned it off.
The report also criticized the city's backup 911 center, saying it had was noisy, distracting and had a bad layout.
The 911 center overall has bad policies, is troubled by technical issues and a mapping system only available for call takers to see, not officers in the field responding to situations.
They made several recommendations including involving staff to create a comprehensive strategic planning, letting them process all changes before implementing further major initiatives, implementing a stress management program, retraining, cross-training, improve noise reduction and vet the entire system with full load testing prior to next use.
As for the police response, the two officers who were dispatched to Seven Hills after Kyle's first 911 call, Edsel Osborne and Brian Brazile, didn't get out of their car while searching for him.
That has been criticized, but the consultants said they found that reasonable and noted there was no policy requiring them to.
The officers explained later that they felt they could cover more ground by vehicle.
Consultants did find much fault into the police department's internal investigation into the situation. They noted several issues, including it would have been helpful to have video, not just audio, recordings of the interviews with the officers, the report shows.
They also raised concerns about some of the questioning and interviewing techniques used by internal investigators.
"In particular, greater care should be taken in the future to avoid overly leading questions - especially before an officer had been afforded an opportunity to describe events in their own words without excessive prompting or follow-up," the report states.
They recommended CPD:
Video record all internal investigation interviews

Explore training opportunities relating to situations like this, involving trouble or suspicious circumstances

Implement policies and protocols to ensure that it independently interviews non-CPD personnel that are implicated or involved internal investigations

provide cross-training to CPD officers on emergency communications and police dispatch. That training should focus on the basic processes and protocols for 911 calls and the various technological tools that emergency dispatch may utilize. This recommendation also was given to the city.

Should consider roll call or refresher training on its body-worn cameras policy, with an emphasis to use during situations or interactions not involving a specific subject or other core law enforcement activities (such as a stop, probable cause detention, premises, search or the like) and the decision-making process for deactivating the camera. CPD "appropriately sustained" findings against responding officers for shutting off their body cameras before starting to interact with the off-duty deputy sheriff at the scene and before the call was closed.
City Council did take prompt action following Kyle's death and pledged sweeping changes to emergency response procedures.
They approved $454,000 to increase 911 staff and to improve technology at the 911 center as part of a 12-month action plan.
They took oversight of the 911 center away from the Cincinnati Police Department and returned it to civilian control.
The city also launched a new system called Smart911 designed to make it easier for first responders to find 911 callers in an emergency.
Once people register for it, their emergency information will automatically be displayed to call takers when they dial 911.
City launches 'Smart 911' to provide critical info to first responders
As part of those reforms, city council also hired two firms to conduct the independent investigations at an estimated cost of $186,000.
Mission Critical Partners LLC analyzed how dispatchers responded to two phone calls Kyle made from the van, pleading for help after he became trapped by the rear, third-row seat.
They also conducted an comprehensive analysis of the city's Emergency Communications Center (ECC) and look at staffing, organizational structure, leadership, and technology.
That portion is expected to cost no more than $98,200, city officials said.
21st Century Policing LLC focused on the Cincinnati Police Department's actions that day and will review the department's current policies, procedures, and training to identify deficiencies.
The cost was $87,500.
The city sought independent probes after they were left with more questions and answers when, back in May, Cincinnati Police Chief Eliot Isaac presented the results of the agency's investigation into Kyle's death and response by police officers and 911 call takers.
You can listen to the 911 calls here
Kyle's family have been supportive of the independent investigations until now.
They have said they still are searching for answers and won't stop seeking those in an effort to spare other families that pain.
They also have established a foundation in their son's memory.
"Kyle Plush Answer The Call Foundation" calls for improved 911 systems in Cincinnati and nationally.
Kyle Plush family calls for 911 reform
Copyright 2018 WXIX. All rights reserved.