Gang of Five: Settlement talks as attorneys seek secret texts from carriers
Updated: Jan. 7, 2019 at 12:43 PM EST
CINCINNATI, OH (FOX19) - Settlement talks are afoot in Cincinnati City Council's "Gang of Five" secret text message case as attorneys for the anti-tax activist seeking the messages have turned to cell phone providers for them, court records show.
City attorneys asked the First District Court of Appeals to "quash" the Dec. 3 subpoenas for all text messages sent and received from Jan. 1, 2018 to present and for a protective order to prevent further discovery while the case remains under review by the court.
"The subpoenas are overbroad and seek information that is privileged, personal and not related to City business," City Solicitor Paula Boggs Muething wrote in the motion.
Victory for Gang of Five: Appeals court wants to hear case
Councilman Greg Landsman, took to Twitter to complain about being "bullied."
"Shrive wants texts between my wife and me. It's gross. Perverted," he told FOX19 NOW.
The Gang brought this on themselves, said Brian Shrive, one of the attorneys for Mark Miller of Coalition Opposed to Additional Spending and Taxes (COAST).
"They are making the job more difficult than it needs to be," Shrive said Monday.
"If they had not destroyed evidence and not disobeyed the judge's order, I wouldn't have to issue subpoenas to cell phone providers."
He said he has patiently waited for months to go through the legal process to get the messages and gave the city solicitor's office the benefit of the doubt they would eventually be turned over.
"What did that get us?" Shrive asked. "The audacity for these guys to complain about being bullied."
This comes with settlement talks underway, court records show.
We reached out to Boggs Muething for comment and will update this story when we hear back.
"We are surprised and concerned that you would issue such a broad subpoena to each of the council members' service providers, especially because the content you request is at the center of the appeal we filed in this matter," wrote a city attorney, Emily Woerner, in a Dec. 23 email to Shrive and co-counsel Chris Finney with the Finney Law Firm that was entered into the court record on the case.
"It seems contrary to our discussions about having your expert talk to our expert about what we have and what steps we've taken to preserve material, and is not a productive step in the discussions we've had regarding resolving this matter."
The subpoenas were issued because the Gang refuse to cooperate in discovery, Shrive responded in an email the following day.
"We are very much interested in resolving this matter, but until it is resolved it is not resolved, and we must continue with discovery," his email states. "Cell phone providers only hold information for so long, so we cannot waste any more time.
"As such, we will not modify or withdraw our subpoenas. If you have a solution that would provide us with the information we are seeking without the subpoenas, we are happy to listen."
The case is scheduled to return to appeals court later this month.
Related stories: Prosecutor takes look after council members destroy texts | 'Rogue' council members held illegal meetings
The criminal side of the case comes back up in Hamilton County Common Pleas Court next week.
A "Special Master" is expected to provide Judge Jody Luebbers an update on his progress reviewing all the text messages from the Gang's cell phones amid an investigation by the Hamilton County Prosecutor's Office.
Prosecutor Joe Deters is reviewing the case to see if anyone broke the law some of the text messages were destroyed despite a judge's order requiring them to be turned over to the court in early November.
It's not clear yet if a settlement in the civil case would prompt him to drop the criminal probe.
"Don't know anything about it... still waiting to see texts," responded Deters when questioned by FOX19 NOW.
Shrive filed the lawsuit on behalf of Miller in April against five Cincinnati City Council members: Landsman, Wendell Young, Tamaya Dennard, P.G. Sittenfeld and Chris Seelbach.
The lawsuit describes the Democrats as "a cabal of five rogue members" of council holding illegal, secret meetings via email and text messages to discuss Mayor John Cranley asking the then-City Manager Harry Black to resign in violation of Ohio's Sunshine Law and the city charter.
The case hit overdrive in November when Woerner told Shrive text messages on Young and Dennard's phones were destroyed.
Woerner said Young intentionally deleted his messages from his phone and Dennard's were accidentally destroyed when her phone accidentally fell into a pool, Shrive wrote in court records.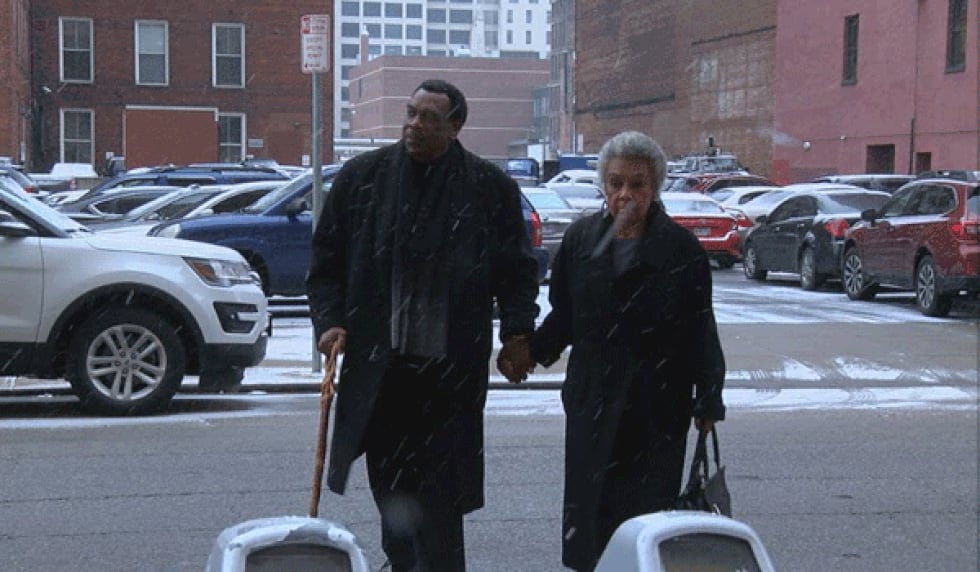 The city's efforts to recover the deleted/destroyed messages from Young's phone was a success, but not Dennard's, the latest court records show.
Meanwhile, Vice Mayor Christopher Smitherman's staff sent two emails last month to Woerner requesting an update on legal expenses for taxpayers related to the case.
Amen! We're the new Gang of Five: Secret council text messages released ahead of hearing
Council texts: Harry Black urged to seek counseling, mayor 'flat-out lied'
Due: 01/02/2018
Department: COUNCILMEMBER SMITHERMAN
I am writing to request any and all costs tax payers have spent protecting the illegal text messages from the self-proclaimed "Gang of Five." On September 19, 2018 Cincinnati City Council passed an ordinance authorizing the expenditure of $150K to pay for private lawyers at the expense of tax payers. City Council then passed a second motion requesting that city lawyers return as legal counsel for the "Gang of Five."
I would like to know the total bill to date Dinsmore and Shohl has charged the tax payers. Additionally I would like in writing what services the private lawyers are providing? How many total hours have been spent by City Lawyers on the case related to "Gang of Five?" I would also like an explanation on how many legal cases the city is involved in related to "Gang of Five" and their illegal text messages?-- This would include all appeals? What is the maximum fine for each illegal text message found in violation of the Ohio Meetings Laws?
Copyright 2019 WXIX. All rights reserved.