Colerain Twp police officer dies days after critically hurt in line of duty: 'Dale was a cop's cop'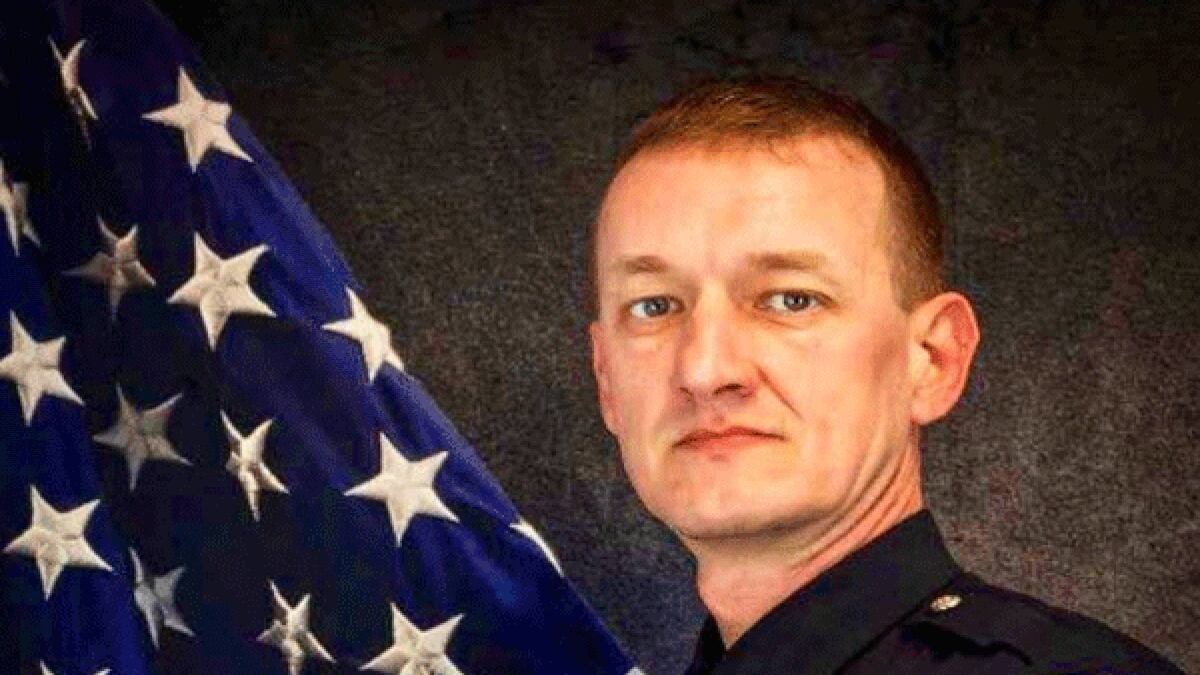 Updated: Jan. 7, 2019 at 3:36 PM EST
CINCINNATI, OH (FOX19) - A Colerain Township police officer died Monday, three days after he was critically hurt in the line of duty,k and just after hundreds attended a vigil to pray for his recovery.
A truck hit and severely injured Officer Dale Woods while he was redirecting traffic on Colerain Avenue after a crash Friday night, according to Police Chief Mark Denney.
Officer Woods, 46, was transported to University of Cincinnati Medical Center, where he was listed in "severely" critical condition, police said Monday morning.
Late Monday, the chief announced in news conference the officer he described as "a cop's cop" succumbed to his injuries at 8:10 p.m.
"This is a sad night for us," Denney said, his voice wavering slightly at times with emotion.
"He leaves behind a loving family, a grateful police department and a grateful community. We thank the community for their huge outpouring of support, love and prayers. It was felt by the family from the minute Dale was injured to the moment we stand here. They've felt that this community loves them, they love their police department, they love Dale.
"This is the hardest thing I've done in 26 years as a police officer and I pray to God this is the last time we do it," the chief continued.
"But we owe Dale the dignity that he deserves in the life he lead and we will work hard in this next week to make sure this community understands just how important he was with us."
Officer Woods displayed a final act of heroism and generosity, the chief said.
He ended his life as he spent most of it, selflessly helping others.
"Even in his final moments, he shared- he became an organ donor," Denney said. "Even gone, he cares about people and he takes care of them. That's him."
The chief requested the privacy for the officer's family. He leaves behind three children.
Officer Woods served several communities throughout the Tri-State in the past several years as a firefighter, dispatcher and police officer.
He worked for 15 years as a Colerain Township firefighter before becoming a police officer in the township.
"Some people you teach to be a cop. Others were born to be one," the chief said. "Dale was born to be a cop."
Cincinnati police are continuing to investigate the traffic crash, Denney said, expressing gratitude to them for immediately responding Friday night. CPD's traffic unit is handling, and the investigation continues.
They completed the on-scene investigation at 9 a.m. Sunday morning, according to Officer Woods' obituary on the Greater Cincinnati Police Museum website.
About 9 p.m. Friday, Officer Woods responded to the scene of an auto crashed into a utility pole, according to his obituary.
"Officers had to wait for utility company employees to make the scene safe," it states.
"While they were protecting the scene, a pickup truck drove on Colerain Avenue and struck Officer Woods, who was moving a traffic cone. The collision took place at 11 p.m. in the 7600 block of Colerain Avenue in front of the bike shop near Harry Lee Lane.
"Colerain Township emergency medical responders treated Officer Woods at the scene and transported him to the finest trauma center in the nation. Their expertise was not enough to save his life."
No charges have been announced.
According to Woods' obituary, he attended Colerain Junior High School and Colerain High School, played on the drum line in the Colerain Marching Band, and graduated high school during June 1990.
He joined the Colerain Township Police Department during 2003.
In July 2009, Officer Woods was recognized by the Southern Ohio Chapter of Mothers Against Drunk Drivers (MADD) as a "Top Cop" for 2018.
In March 2015, he was involved in the testing and selection of body worn cameras for the department.
Just a few months ago, on Sept 16, Officer Woods and Lt. Chris Phillips responded to a report of a residential fire in the 8000 block of Pippin Road and rescued a blind woman.
They arrived ahead of fire crews, heard smoke alarms going off and were alerted to a blind lady on the second floor, according to his obituary.
They went into the smoke-filled room, where they found and rescued the woman.
Fire crews took her to the hospital for treatment.
FOX19 NOW will continue to update this story and report details of funeral arrangements for Officer Woods once they are released.
Colerain police say they hope to have those details on Wednesday.
Copyright 2019 WXIX. All rights reserved.