A final farewell for Officer Dale Woods: 'He was a man of service'
Updated: Jan. 14, 2019 at 5:38 PM EST
CINCINNATI, OH (FOX19) - Hundreds of mourners paid their respects to a Tri-State police officer killed in the line of duty as he was honored and laid to rest.
The funeral service for Colerain Township Police Officer Dale Woods was held Monday morning at the Cintas Center at Xavier University.
A procession followed with private graveside services at Spring Grove Cemetery.
Woods, 46, died Jan. 7, three days after he was hit and critically hurt by a pickup truck at the scene of a previous crash on Colerain Avenue.
"Dale was the kind of man who would break a window in a car to save a baby that was in a sweltering car and was going to lose its life, never expecting to hear a thank you but ironically getting the message of thank you from that child's father one hour before he was struck Friday," Chief Mark Denney, Colerain Township Police, said.
"He's the kind of police officer who, as a new cop all by himself, would chase a murder suspect from a homicide scene to the point where the suspect had no other choice but to take his own life. He is the kind of officer and the kind of man who would run into a burning building to save a blind resident who thought her chance to escape had gone. He's also the kind of man who would place a brand new police officer in his car and listen to the most God-awful music as part of his training program.
"He's also the kind of man who, in his very last act on this earth, gave of himself, every part of himself, so that others could live through organ donation. He is the kind of man who could cram people in the Cintas arena on a cold January Monday just because of who he was and what he stood for.
"Dale," Chief Denney said in closing, "I love you and I am going to miss you. You made me a better person for knowing you. You made our police department a better police department by being part of us. And I know you made Colerain Township a safer community because you stood the watch.
"You can rest easy now. Your brothers and sisters have your watch."
Honoring a fallen hero: Flags will be lowered, tributes pour in
Colerain Twp officer injured in line of duty dies: 'Even in his final moments, he shared'
Officer Woods worked 15 years each for the township's police and fire departments and leaves behind three children.
"Your dad's a hero," Chief Denney told those assembled during the hour-long service. "And being a hero doesn't require that you die in fiery explosion or that you have some innate skill for carrying a football or a tune, but it does require that you give everything including your life for a purpose greater than yourself. If that doesn't describe your dad, I don't know what does.
"What happened to your Dad Friday was tragic. what happened was unfair and what happened will alter your lives forever and there isn't a return to the old normal. But there will be a new normal.
"There will be a new feeling of pride when you hear your father's name and that's going to come from the speeches and stories you've been told over the last week and that will continue to hear and when you look around here at this awesome display of respect for what your father stood for."
In all, Officer Woods served Colerain Township, North College Hill, Lincoln Heights and literally all of Hamilton County as a dispatcher, dog warden, firefighter, or police officer, sometimes three at a time, according to his obituary.
Officer Woods and Lieutenant Chris Phillips rescued a blind woman from a residential fire in September. He also was recognized by the Southern Ohio Chapter of Mothers Against Drunk Drivers (MADD) as a "Top Cop" for 2009.
Colerain Township Police Chaplain James Love ticked off his various awards, jobs, commendations and heroic acts.
"I think it is appropriate that we recognize not only who he was, but that he was a man of service. To protect and to serve was something that he took serious," Love said.
The burial ceremony for Officer Woods' family and co-workers in Colerain Township was held at Spring Grove Cemetery's Rose Garden.
He was buried with full, military-style honors: a 21-gun salute, playing of "Taps," folding and presentation of the American flag and a final call.
Officer Woods's American-flag draped casket was pulled to his final resting spot on a caisson from the Butler County Sheriff's Office, according to Sheriff Richard Jones.
Sheriff's officials reached out to Colerain Township police and offered the use of the horse-drawn wagon that was custom-made for the sheriff's office in 2000 to replicate ones used at Arlington National Cemetery.
Caissons are used to transport fallen soldiers, dignitaries and law enforcement officers in cemeteries.
Colerain police accepted after receiving approval Officer Woods' family, he said.
Sheriff's caisson will pull fallen officer's casket to final resting spot
"It's an honor and a privilege to be able to supply this to the officer and his family and all his comrades today. I hope it will bring them some closure," Jones told FOX19 NOW Monday.
"The sad thing is he was killed in the line of duty protecting others. He was doing his job and we are going to honor him with one of the only ways we know to honor him - other than what's been going on the last few days - with this over-100-year-old tradition of using the caisson for this service.
"When this caisson goes along, there won't be a dry eye anywhere. It's just a proud, solemn moment."
Dozens of people lined streets in the snow and frigid temperatures for the procession Saturday to Officer Woods' public visitation at Colerain High School.
A private visitation for his family and colleagues in Colerain Township was held Sunday at Spring Grove Funeral Homes at Spring Grove Cemetery.
A Fraternal Order of Police service followed.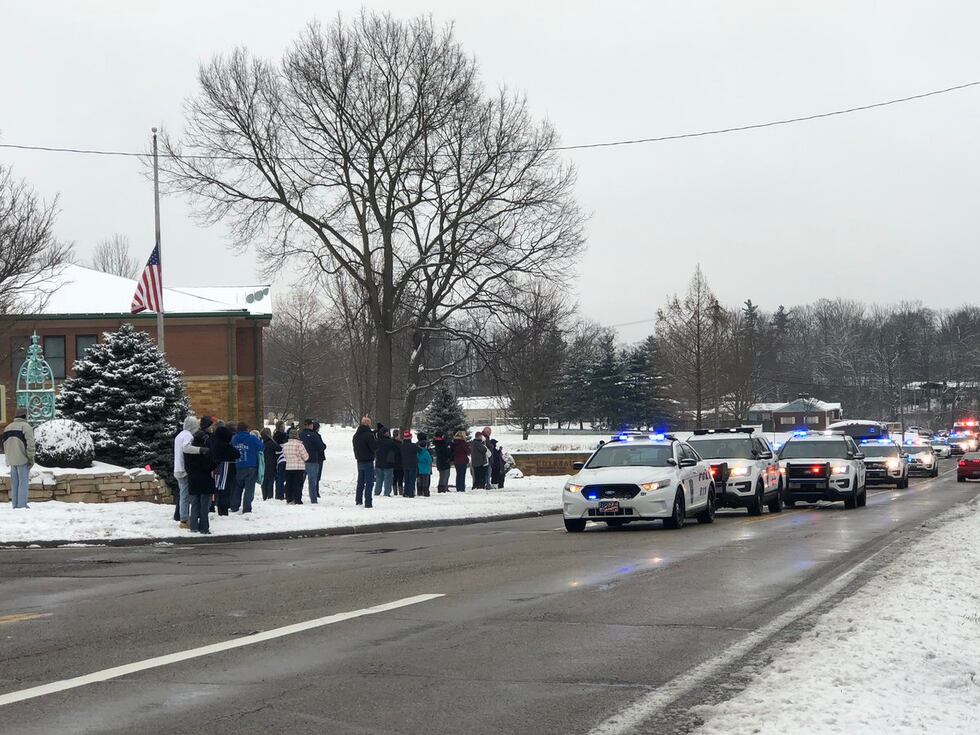 Copyright 2019 WXIX. All rights reserved.