No charges will be filed against driver who struck and killed Colerain officer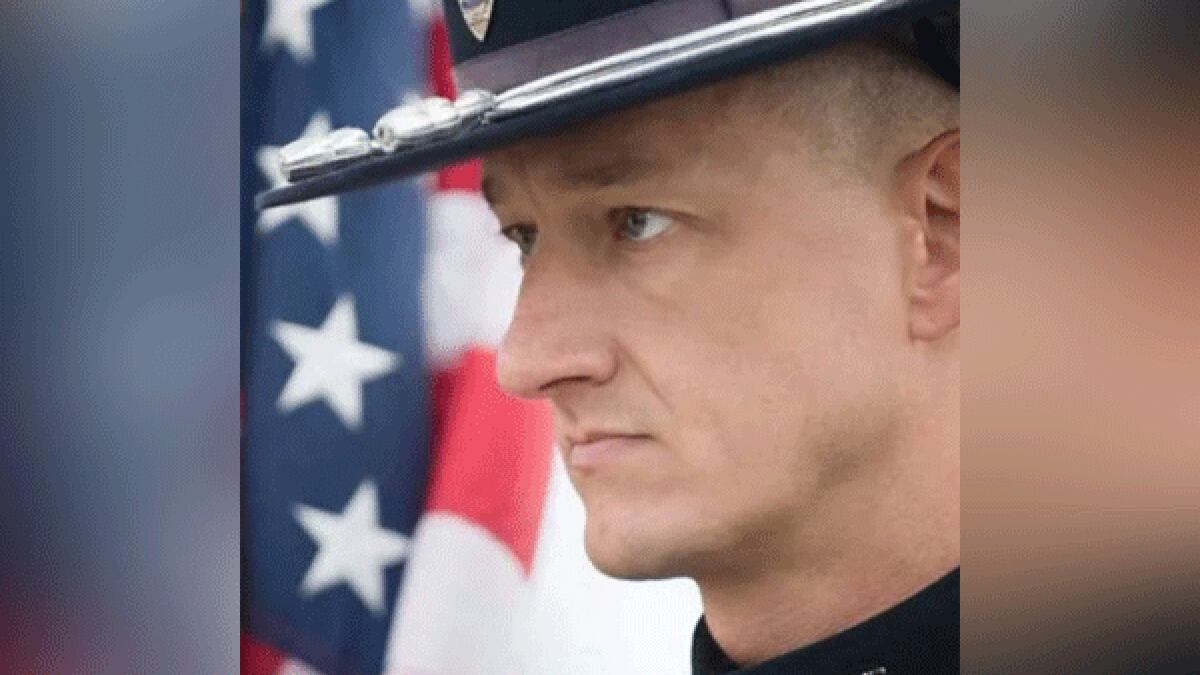 Updated: Feb. 15, 2019 at 4:28 PM EST
CINCINNATI, OH (FOX19) - Hamilton County Prosecutor Joe Deters announced no charges will be filed against the driver who struck and killed Colerain Township Police Officer Dale Woods in January.
Deters said the incident was a "terrible tragedy, but not a criminal act."
Woods, 46, died Jan. 7, three days after he was hit by a southbound, 2003 Ford F-150 pickup truck as he moved a traffic cone at the scene of a previous crash on Colerain Avenue near Harry Lee Lane, according to Cincinnati police.
It was about 11 p.m. and raining. Woods was wearing his reflective vest when he walked into the road to remove the cones, Colerain Township police have said.
A final farewell for Officer Dale Woods: 'He was a man of service'
Deters said there was no evidence that speed or impairment caused the accident.
"He was picking up cones from the scene of the original accident and either backed into the lane... we really don't know. The driver of the truck that struck him may have been looking at the accident scene - we just don't know the answer to that," Deters said after stating the driver was not impaired.
Cincinnati police have been investigating for weeks.
Their investigation included a response to the accident scene, interviews of witnesses and also did a reenactment of the accident.
Deters said the reenactment involved the shutting down Colerain Avenue at the same time of night as the accident occurred. The fire department sprayed water on the street to imitate the rainy conditions the time of the accident.
"Visibility was poor at best the night of the accident," he said.
Colerain Township Police Chief Mark Denney said he has appointed a committee of officers to review equipment and best practices in order to prevent accidents like this from happening again.
"I want our policies reviewed, our available equipment reviewed, best practices reviewed and they're going to provide me with a report... we purposefully left the command staff out of this because we may have some of the blame in this. I want to know if we failed to provide something for our officers. If we don't learn something from this or fail to even try... this is in vain. We truly believe we're going to come up with some suggestions to save officers lives in the future," he said.
Denney thanked the community for their support and said the department was appreciative of everyone who worked on the investigation.
The police department is having a full review conducted of the incident that is expected to take weeks/months, he added.
"My sympathy goes out to the family of Officer Woods and to our entire community for the loss of a dedicated and beloved public servant.
I want to thank the Cincinnati Police Department Traffic Section for their investigation. They went to great lengths to make sure that my office had all of the information necessary to make this important decision," Deters said in a statement.
In a letter released Friday by their attorney, Steven R. Adams, the driver expressed apologies and prayers for Officer Dale Woods and his family, the police department and the community:
"I do not have the words to express how sorry and said I am that this tragic accident cost the life of Officer Dale Woods. I hope that God will help and bless his family to heal. I cannot imagine the pain they are going through during this grieving process. I pray for Officer Dale Woods' family every day so that they can find peace. I want his family to know that I share their pain as well. I did not know Officer Woods, but from what I have heard and read, he was a hero, and I hope his kids can grow to be as strong as he was.
To the Colerain Police Department, I know you not only lost a coworker who you trusted your life with, but also, I know you lost a friend and a brother. I am truly sorry for your loss. I know he will be missed every day. I deeply appreciate that fact that you go to work every day to protect the citizens of Colerain Township and risk your life in doing your job for us. I pray for all of you that you will heal over this loss with time.
To the citizens of Colerain Township, I am truly sorry that one of your protectors and friends has left us so soon. I see the outpouring of support for Officer Dale Woods from the entire community. Myself, my family, and my friends will continue to pray for everyone involved so that God can guide us all through this painful time."
Woods was laid to rest last month after a procession where mourners from the public and fellow law enforcement lined the streets in the snow to pay their respects as his casket passed by.
His funeral service drew hundreds to the Cintas Center at Xavier University.
Denney eulogized Woods as a hero who dedicated his life to selflessly serving his community.
Woods worked 15 years each for the township's police and fire departments and left behind three children.
"Your dad's a hero," Denney told them. "And being a hero doesn't require that you die in fiery explosion or that you have some innate skill for carrying a football or a tune, but it does require that you give everything including your life for a purpose greater than yourself. If that doesn't describe your dad, I don't know what does."
Copyright 2019 WXIX. All rights reserved.