20 students hurt in school bus crash with Rumpke trash truck in SE Indiana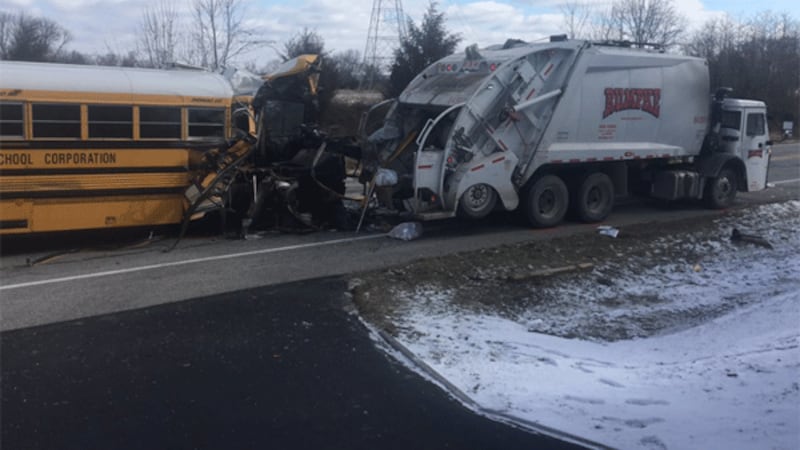 Updated: Mar. 6, 2019 at 4:49 PM EST
DEARBORN COUNTY, INDIANA (FOX19) - Twenty-two people including 20 students were hurt and taken to hospitals after a crash involving a school bus and Rumpke trash truck in southeastern Indiana Wednesday morning, Indiana State Police said.
Multiple rescue crews responded just after 8 a.m. to the 400 block of State Road 350 at Mt. Sinai Road near Aurora.
Air Care officials confirmed they were asked to fly to the scene but could not due to snow showers in the area at the time.
All of the injuries are considered non-life threatening, Indiana State Police said.
One of the students suffered severe injuries and went to Cincinnati Children's Hospital Medical Center, said Eric Lows, superintendent for South Dearborn Community School Corporation.
Cincinnati Children's Hospital Medical Center officials said in a tweet the patient they are treating is 13-year-old Jordan Cole: "He is in fair condition. The parents are requesting privacy at this time."
He suffered two broken legs, his aunt tells FOX19 NOW.
Most of the youngsters are middle and high school students.
The bus driver, 64-year-old Raymond Nies, and Rumpke driver, 38-year-old Brian Rumpke also were both hurt and taken to the hospital.
The initial investigation by Indiana State Police indicated that Rumpke was parked on the edge of the eastbound lane while picking up trash from a residence. The school bus collided with the rear of the trash truck. Both vehicles came to rest in the eastbound lane of State Road 350.
Both Nies and Rumpke submitted to blood tests while at Highpoint Health, but officials said alcohol and drugs are not suspected to be factors at this time.
State Police and the Dearborn County Sheriff's Office are continuing to investigate the cause of the crash.
One of the students on the bus, Dakota Jones, spoke with FOX19 NOW after he was treated and released from a hospital in Dearborn County about 10:30 a.m.
He turned around to show us a stitch in the back of his head.
"I heard screaming. I heard noises and I went to the back of the bus," Dakota said. He attends South Dearborn Middle School student. "A few kids were screaming. Most of them were crying."
He called the school bus driver a "nice guy. He's a good bus driver."
Christa Armbruster said she was "flying" down the road to get to Highpoint Health, about an hour away, to check on her nephew.
"I'm just in panic mode," she said.
Highpoint Health said they treated students and both drivers and it could have been much worse, according to Indiana State Police.
"The front, especially right corner of that bus was really badly damaged. I think we're very fortunate considering the nature of how this crash occurred and the damage to that bus that we're not dealing with more serious injuries to those students," police said.
Molly Yeager, a spokeswoman for Rumpke, the driver was out of the truck when it was hit.
"Our driver was out of the truck at the time of the incident servicing customer and sustained injuries from debris," she said. "First and foremost, our thoughts are with everyone involved in this morning's incident. We are working with the school district, the Dearborn County Sherriff's office as well as the Indiana State Police to investigate exactly what occurred this morning."
The school bus belongs to South Dearborn Community School Corporation, school officials said.
"Parents of students involved in this accident are being contacted. The investigation is ongoing and we will provide more information when available. If you have any questions, please contact central office at 812-926-2090."
Updates will be posted on the school district's website and Facebook page throughout the day.
"The Highpoint Health Emergency Department is receiving individuals injured in the school bus accident this morning on State Route 350. The hospital requests that parents of those injured come to the main lobby of the hospital when they arrive. More information will be provided as it becomes available," hospital officials said in a statement.
Several fire departments responded to the scene from from Moores Hill, Lawrenceburg, Aurora, Greendale.
Indiana State Police, Aurora Police, Moores Police and the Dearborn County Sheriff's Office all were on scene.
State Road 350 was closed in the area for approximately four hours for crash investigation and cleanup.
Copyright 2019 WXIX. All rights reserved.