Gang of Five: Council's secret texts are out - and they're explosive
Landsman: 'We should have played MLS. They need FC more than FC needs them'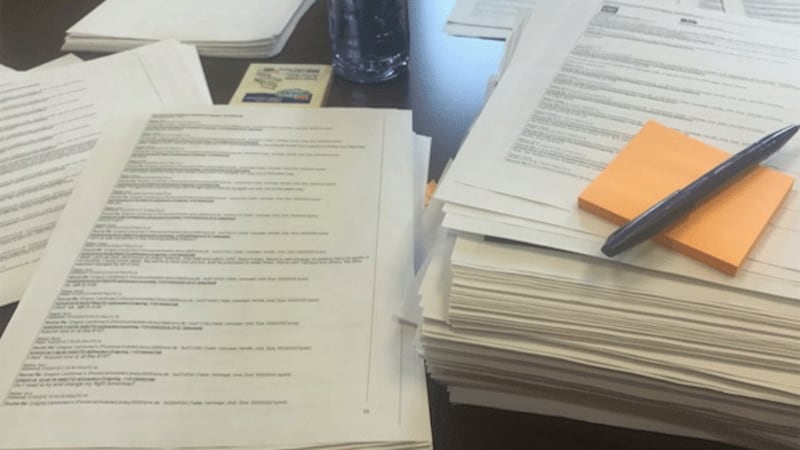 Updated: Mar. 7, 2019 at 11:20 PM EST
CINCINNATI, OH (FOX19) - Cincinnati City Council's self-proclaimed 'Gang of Five''s secret text messages were finally released by the city Thursday - and they're explosive.
The lunchtime copy dump came after a judge ordered P.G. Sittenfeld, Tamaya Dennard, Chris Seelbach, Greg Landsman and Wendell Young all into court and told them they violated the public trust and should resign.
Judge: 'You essentially lied to the people of this city'
There are thousands of messages, and we are still sorting through them.
These messages are more candid than ones connected to the case that already were released last year. Those texts were on a group string among the five that undermined Mayor John Cranley on several issues, especially his attempt to oust City Manager Harry Black.
The latest ones are between smaller groups, and one-on-one. They are more personal, with eye-raising insults, name-calling ("psychotic salty whiny nut"), plots and just plain gossip.
At one point in all the back-and-forth, Landsman pondered whether it was legal.
"I also worry that we're coming close to opening ourselves to a sunshine law issue with this text thread,' Landsman texted Sittenfeld on March 18, 2018.
Here's a sampling of what we've seen so far:
Sittenfeld and Seelbach discussed Vice Mayor Christopher Smitherman's remarks during a radio show earlier in the day Jan. 16, 2018.
They criticized him for "using his wife," who was battling breast cancer at the time, for for political gain.
'I guess you heard Smitherman was going after you super hard today on 700," Seelbach texted Sittenfeld.
Later in the texting discussion, Sittenfeld tapped: "He's so unhinged. I did hear it. Do you think it's worth my doing anything?"
Seelbach: "Do nothing. He wants to get under your skin."
Sittenfeld responded: "It seems so desperate, and like he feels so threatened."
"And the fact that he's using his wife, saying 'While I'm home caring for my dying wife...' is disgusting," Seelbach texted.
Sittenfeld: "It really is grotesque. Using that for a political agenda is actually staggering."
Seelbach: "As I've said for 6 years, both Cranley and Smitherman seem to have serious mental illnesses."
Pamela Smitherman, 48, lost her battle with breast cancer and died Jan. 15.
Vice Mayor Smitherman declined comment Thursday.
In another exchange, Dennard refered to the number-two ranking official in the Cincinnati Police Department at the time, Assistant Chief David Bailey, as "a racist."
"Just saw your tweet," she texted Seelbach March 8, 2018. "Not trying to undermine your friendship, but Bailey is a racist and has been for some time."
Bailey referred us to his lawyer, Brian Gillan, who declined comment.
The tweet went out just a few hours after Bailey was told to leave or be fired from the police department after more than 30 years on March 8, he said in a deposition related to a former Cincinnati police officer's lawsuit last year.
CPD's second in command: 'I was ousted after audit found 'exorbitant amounts of OT
"FYI I just called Dave Bailey about a dog issue. As I was explaining the issue, he stopped me. Started crying," Seelbach texted March 8, 2018. "And told me his attorney called him in an hour ago, told him he had to retire or be fired by Harry later today. Said Harry suspects he is the one who is doing everything. And so he agreed to resign. He's spent his entire career in the police dept. And he is not the leak. This is not the way he deserves to go."
Sampling of other texts:
Dennard: "Did Chris just send over all white people as recommendations for the SORTA board? I don't know all of them, but they are mostly, if not all, white."

Landsman: "We should have played MLS. They need FC more than FC needs them."

Seelbach: "Do anyone other than white men eat at Skyline Chili?"

Sittenfeld: Cincinnati deserves better than a man who constantly demonstrates the office of Mayor is too big for him."

Young: "Mini-Trump is lying again."

Seelbach: "Cranley and Smitherman comments on streetcar are exactly what is wrong with it. They continue to just blame Mark Mallory and the former admin instead of actually fixing the problems.

Sittenfeld: "In this instance, I'm most amazed that they'd literally use the occasion of a dead man's funeral as an opportunity to attack the street car and attack Mallory."

Seelbach: This 'sexual harassment' training is harassment itself. Not only have we had to listen to a video with people repeatedly using the actual n word, the presenter just shared a story of how someone in our own HR dept recently had to be reprimanded for saying something offensive about a name they couldn't pronounce."

Seelbach texted Sittenfeld and asked him to apologize to Councilman Jeff Pastor: "He is very upset you did not give him notice on your press conference? Please also issue a statement praising him for supporting FCC in the West End. And a box of tissues for his weekly crying."

A short while later, Seelbach texted Sittenfeld: "At a dinner party. Need to talk?" Sittenfeld texted back: "Not at all, was just calling to playfully gripe for a minute abut how Pastor is a psychotic salty whiny nut....enjoy the party."

Young: Just heard that you and mini-Trump are having it out re: the Park Board. Sorry I'm not there to help. I'm in my doctor's office. Give him hell!" Sittenfeld texted back to him: "Hope you're feeling better. As we know, he's capable of being so small."

Seelbach, referring to a park board vote: "How are we all voting on (Jim) Goetz today." Sittenfeld responded: "Abstain."

Sittenfeld: "Kinda fun teaming up to kick some as-!"

Dennard: "It is fun! Let's keep at it!"
You can read all of the text messages for yourself below:
Copyright 2019 WXIX. All rights reserved.