Pike County sheriff, prosecutor feud after prosecutor asks sheriff to avoid criminal investigations
Updated: May. 13, 2019 at 1:36 PM EDT
WAVERLY, OH (FOX19) - Pike County Sheriff Charlie Reader and Pike County Prosecutor Rob Junk traded accusations in a series of stunning feuding Facebook posts and statements to FOX19 NOW.
"Put your seatbelt on buddy.... no one else may stand up to you and your crooked a-- connections, but I will so help me God!!!" Reader wrote about Junk in a post Sunday night that was deleted by lunchtime Monday.
This comes after the prosecutor asked the sheriff in a May 3 letter to refrain from participating in any criminal investigation in which Reader may be a potential witness unless and/or until Reader has been cleared of wrongdoing.
A state auditor investigation is underway into alleged misconduct by Reader.
Auditor Keith Faber told us in recent interview the investigation was close to wrapping up.
PREVIOUS | Auditor: Investigation into Pike County Sheriff 'close' to wrapping up | Pike Co. sheriff under investigation after allegation of 'misconduct' | Pike County Commissioner: 'It's a really crazy situation' | Ohio Auditor: 'We are engaged in a very intense investigation in Pike County'
"I think we are close to having recommendations," he told FOX19 NOW in an interview back on April 16.
"I can't say what they are going to be because I have not been briefed on it yet, but I think the process is wrapping up. I think certainly by the end of spring, maybe sooner. Our people are close to moving forward with the information they have. We are closer to the end than we are to the start."
He has not publicly commented since, and his staff remained tight-lipped Monday.
"The investigation is ongoing and there is no new information to share in regard to findings or a timeline," said Matt Eiselstein, auditor's spokesman.
The Ohio Attorney General's Office also declined comment Monday.
Along with Junk, they are handling prosecution of the suspects in the state's largest and most complex homicide investigation ever, the 2016 Pike County massacre case.
Wagner family members arrested in execution-style murders of Pike County family
Four members of the Wagner family face the death penalty if convicted of the shooting deaths of eight members of the Rhoden family in Pike County on April 22, 2016.
The prosecutions are expected to take years and cost millions.
All four suspects have pleaded not guilty and are housed at separate jails. Two other relatives were charged in connection with the case.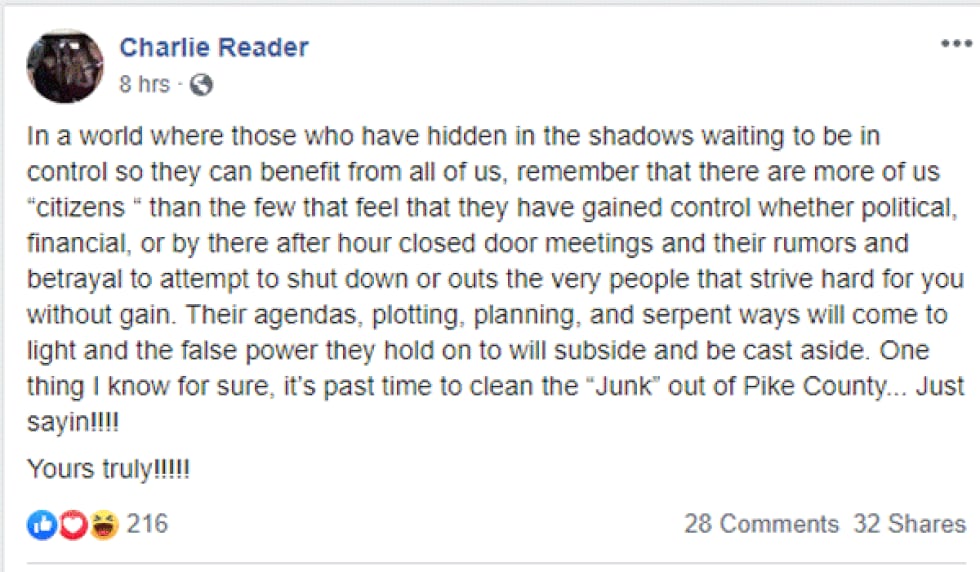 The sheriff is accused of using money from drug cases to fuel a gambling problem, owing two deputies several thousand dollars, a local car dealership owner more than $20,000 and letting his daughter drive vehicles impounded by the sheriff's office.
"Reader just does whatever he wants and no one ever calls him on it," the complaint states, later adding: "We are scared to death of him. He is unstable and threatens people."
Late last year, Junk asked for special prosecutor to investigate after the auditor's office received the detailed, anonymous complaint in November, just days before the arrests three generations of a family in connection with the 2016 Rhoden family massacre.
RELATED | Child custody battle was factor in Rhoden family massacre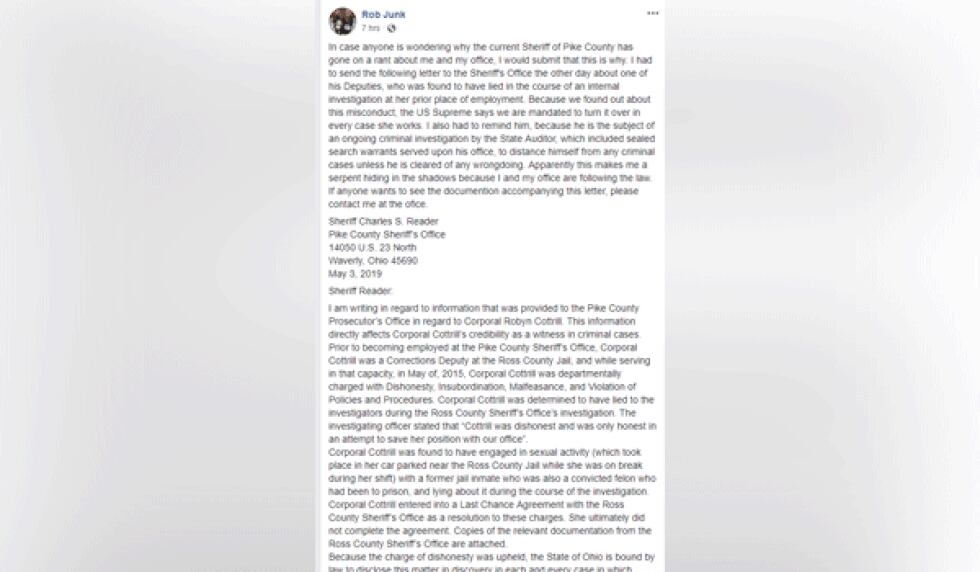 Junk removed his posts shortly after Reader did Monday afternoon, but the episode clearly showed concern over the sheriff's credibility.
"Whoa. Boy, it's a mess," said FOX19 NOW's legal analyst, former Hamilton County Prosecutor Mike Allen.
"It obviously muddies the water and makes it difficult for the prosecutor to go forward on any cases involving the sheriff's office. It sounds like it's an all-out war between two," Allen said.
""If Sheriff Reader has been found to have committed a wrongful act, that will impair his ability as a witness in that case greatly. The special prosecutor will have second thoughts calling him as a witness. He has not been charged with anything yet, obviously, but if he does and it rises to the level of theft or moral turpitude he's going to have a problem."
That could spell trouble for the Pike County prosecution.
"It depends on how deeply the sheriff was in the guts of the investigation. But when you are staring down the barrel of the biggest cases in Ohio history and you've got the sheriff and prosecutor in an all -out war, that's problematic."
Junk told FOX19 NOW he learned of Reader's Facebook post about him Sunday night while he was out of state with his family.
"I was given a heads up by several law enforcement members and other county officials and felt I needed to respond to it. It's all public record. Obviously, we run a risk with every case he's involved in if the state investigation is not resolved favorably."
Reader told us in a text message early Monday he has no confidence in Junk and feels Junk is "incompetent in performing his duties as a prosecutor."
"No one has ever served a search warrant on my office or any other county office," Junk told us in response.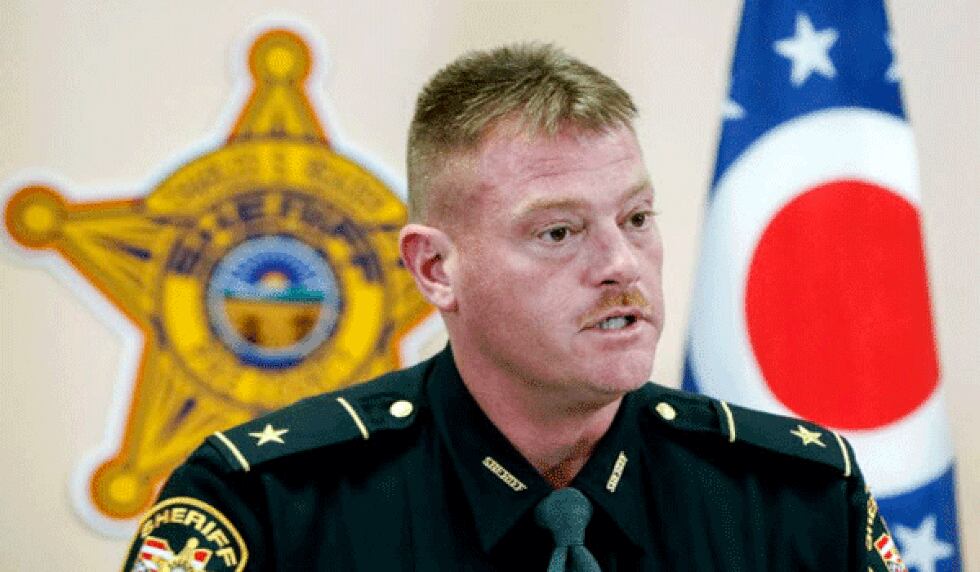 In his recent letter to the sheriff, in addition to asking Reader to recuse himself from criminal cases, the prosecutor asked Reader to supply a list of all deputy sheriffs who have been disciplined for any offense remotely reflective of untruthfulness, whether at the Pike County Sheriff's Office or any other law enforcement agency.
Junk's letter tells Reader the Pike County Prosecutor's Office "cannot in good conscience" call one of his employees, Corporal Robyn Cottrill, as a witness in any case now in light of new information about his felony investigator.
Junk told FOX19 he recently learned the information from "a very confidential, extremely reliable source. It was basically somebody whose word would be impeachable."
The corporal, Junk wrote on Facebook, had a charge of dishonesty upheld when she worked at the Ross County Sheriff's Office as a corrections deputy.
She was found to have engaged in sexual activity in her car parked near the Ross County jail while she was on break from her job "with a former jail inmate who was also a convicted felon who had been to prison and lying about it" during the course of an investigation, he wrote.
Junk contacted Reader about his corporal in respect to the Brady List after a U.S. Supreme Court decision requiring prosecutors to disclose to defense attorneys information about names of officers whose credibility could be impeached at trial based on information on their truthfulness, bias, or an issue central to a case such as use of force.
Cottrill worked at the Ross County Sheriff's Office from Oct. 7, 2013 to Oct. 145, 2015, when she resigned, according to the Ross County Sheriff's Office.
Late Sunday, Reader fired back in defense of the corporal, saying she "has had an excellent career and even the Ross County Sheriffs decided to keep her based on her acceptable work."
He then accused Junk of some alleged misconduct of his own.
"By the way, I think the state needs to look into an alleged over payment of FOJ funds you received years ago and hid an account for your victims and then later had it transferred to your drug fund," Reader wrote in a post.
"Also having at will employees that by federal law you owe money to for their over time, oh, I forgot, you don't keep track of that either. Good luck to you. You want to voice your opinions and try to ruin the reputation of someone that has already took the discipline. Put your seatbelt on buddy.... no one else may stand up to you and your crooked a-- connections, but I will so help me God!!!"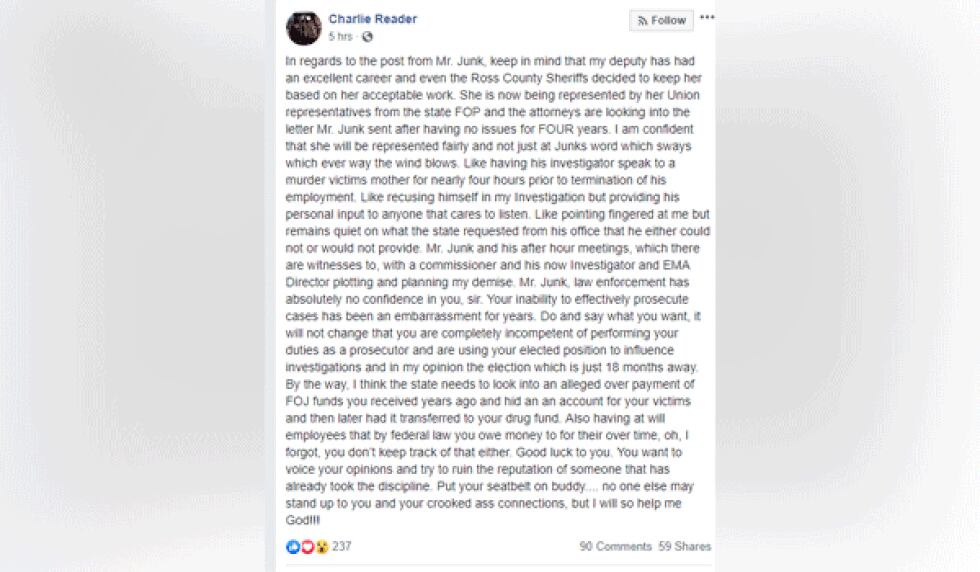 In a second Facebook post Sunday night, Junk rejected Reader's claims and hinted that the outcome of the current investigation might not come out in Reader's favor.
"Let's all just sit back, relax and see what the future holds. A very wise individual once said that if you don't want people to find out you do stupid things, don't do stupid things. As far as "secret meetings" and "plotting" someone's "demise", why would anyone need to drill a hole in the bottom of a boat that's already sinking?"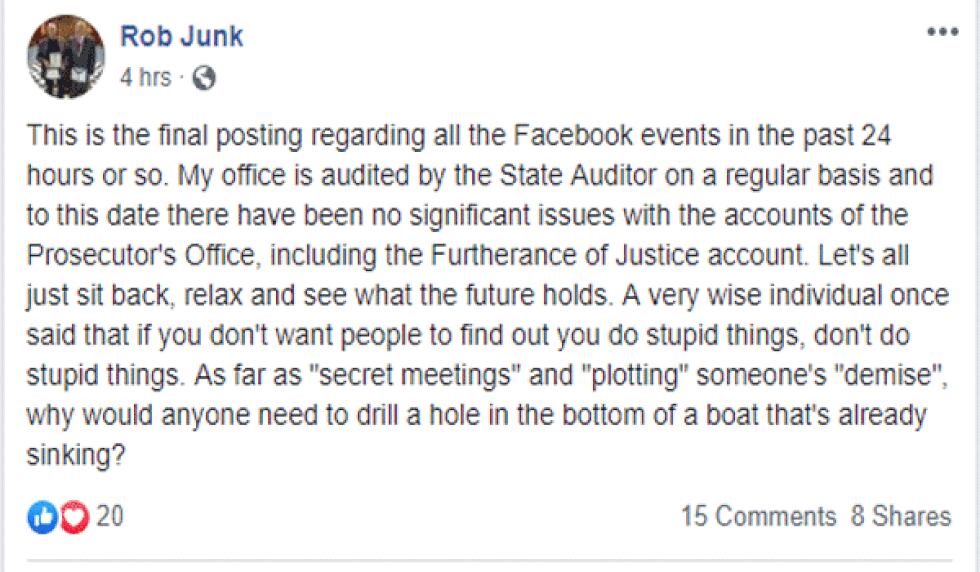 Reader told us Monday he has lost confidence in Junk and feels "that he is incompetent in performing his duties as elected Prosecutor."
Reader said his employee had union rights at the time of the previous incident and has FOP representation now.
"The FOP Attorneys are involved and will be assisting the deputy in what I believe is a vengeful act from someone who provided the information to the prosecutor," he wrote us in a text message. "Law enforcement for the majority in Pike County has no confidence in the Prosecutor. Unfortunately, he usually runs unopposed in each election and as a result we end up with him by default.
"He always contributes his unsatisfactory prosecutions to the law enforcement agency or witnesses and has never taken any accountability for his horrible prosecution rate and dismissals," Reader wrote us. "He has been the Prosecutor since 1996, you would think that in this time, obviously the problem is him and not the entire law enforcement system.
The sheriff continued:
"And in my case, who as a Prosecutor recuses himself due to working closely with me and being my legal adviser and then purposefully shares unconfirmed information with anyone that will listen to him to discredit me. It's almost like he is attempting to guide or stir the investigation in the direction he chooses to benefit himself and those around him and using an investigation to alter the turn out of the election next year which is illegal.
"His actions have been unprofessional and to the point of obstructing official business when it relates to my office. He has continuously hampered or impeded me as a public official in the performance of my duties.
This all began with him when I was subpoenaed to testify in a deposition against him with two former female employees that sued him. I testified in the deposition and told the truth and nothing but the truth and every since, he has used his position against my staff and I.
"Does it not seem weird to you that he (recused) himself because he is my legal adviser and then continuously condemns me? Does it not seem weird that he has never gad a problem with Robyn (Cottrill) for four years but someone provides him something from a different agency from aver FOUR years ago which should have been removed from her file May 22, 2017 from Ross County where another Sheriff seen her worth and kept her?"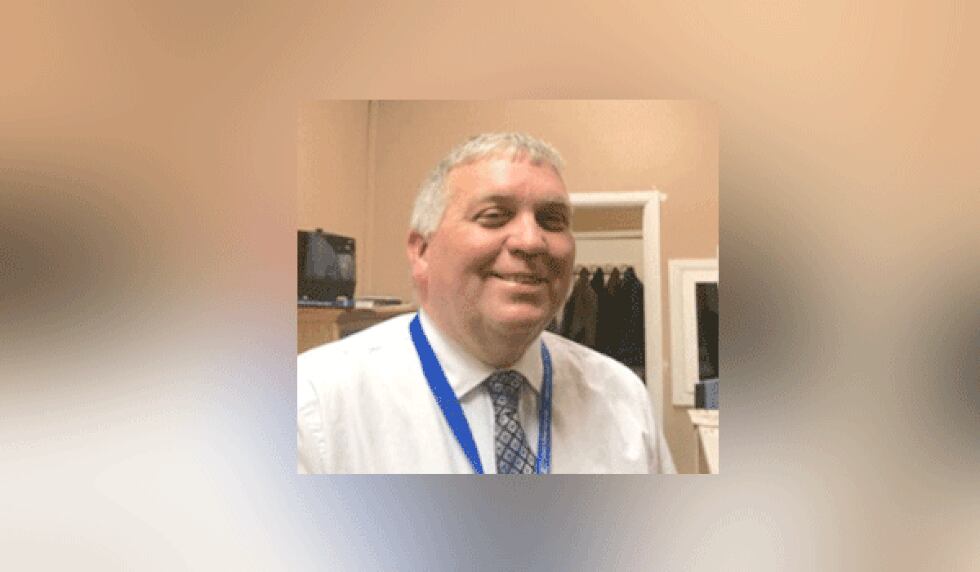 Reader also said he feels he has become a target because he is so popular with most of the residents he serves.
"I only want to serve the citizens as I was elected to do. I am by no means a politician, nor do I have a political agenda," he wrote.
"Once elected, I serve all people equally and no one is exempt. Because of this, my work ethic, the multiple hours I decide to work, and doing my job with a heartfelt conviction that it is my calling, I have become a target due to being so popular with most of the citizens.
"The commissioners and the prosecutor despise the fact that the citizen support me and believe in me and my staff. It's an absolute shame that this all started over power, Or the lack of.
"I have done everything in my power to reduce my office budget and to stay within a budget that has been cut to the point of almost not being able to provide the basic services I am obligated by the administrative code to do."
By lunchtime, however, Reader had removed his Facebook posts about Junk and put up a new one calling the whole thing "a political witch hunt."
In response, Junk told us "While I agree that Facebook is not the preferred method of addressing issues, that is the venue in which the conversations were initiated in this instance. My office door has always been open to anyone seeking to engage in productive and meaningful dialogue, and that is my preferred method of communication."
In an interview earlier Monday, Junk told us he should have asked the sheriff to avoid criminal cases he could be called as a witness in at the time the auditor's office "raided his office."
Now, the sheriff's office is investigating a homicide after a bag was found last month with decomposed human remains of a man last seen in December.
Shane Walls, 36, of Waverly, was reported missing to the sheriff's office on Feb. 19, Reader said a news release last month. Walls was last seen two months earlier, on Dec. 19.
Sheriff: Mushroom hunters find bag of human remains in Pike County
The sheriff requested the assistance of Ohio Bureau of Criminal Investigation to process and collect evidence from the scene.
Reader has said his office is handling the investigation.
"You would have thought if someone raided your office you would have stayed away from any pending investigations but apparently that's not happening," Junk told FOX19 NOW Monday. "I doubt if many counties have ever run into something like this."
The sheriff, however, is an elected official and works for the public. He cannot be fired, only removed from office upon criminal conviction of a felony.
If a public official is indicted of a felony in Ohio, the state supreme court can appoint three retired judges to conduct a review to suspend him or her from office pending the outcome of the case, the public official resigns or the term in office ends, Ohio Revised Code shows.
The process can take months and drag out if contested.
Junk said he could not comment on the ongoing investigation underway by the auditor's office because they are handling it and his office "has purposely stayed away from it."
"The problem is say, hypothetically, if he is charged with something or found to have done something reflective of dishonesty. You don't want someone like that as a witness in any type of case, I don't care if it's a speeding ticket or spitting on the sidewalk or a homicide or domestic violence.
"If someone does something that places their credibility at issue or there is an allegation they have been untruthful, that creates a problem for the case. It would create a credibility issue. It would be very hard to defend someone's credibility if they were convicted of a crime or were found to be dishonest. No prosecutor should ever have to get up in court and defend a law enforcement officer who has been found to have been untruthful or charged and convicted of a criminal offense.
"Obviously we are all waiting to see what the state auditor does. It is a concern if he charged or convicted of any type of felony or theft offense or anything or truthfulness. That would create a problem on any case he has dealt with."
Junk declined to discuss how that may impact the Pike County massacre case, citing the gag order.
He said the corporal at the sheriff's office is the only law enforcement official on the Brady List in Pike County.
Junk said would not have known about it unless a source "directly contacted our office and brought it to our attention."
Now, especially in light of this latest information, he said he hopes the investigation into Reader wrap up sooner rather than later.
"Obviously, I can speak on behalf of the other county agencies and offices. We would hope that this is concluded as soon as possible," Junk said.
"Nobody is charged or anything like that, but hypothetically if he would be charged or convicted on any theft or felony offense or documented to be dishonest, that places him on a Brady list and we would like to keep that from happening if at all possible. We are trying to be proactive."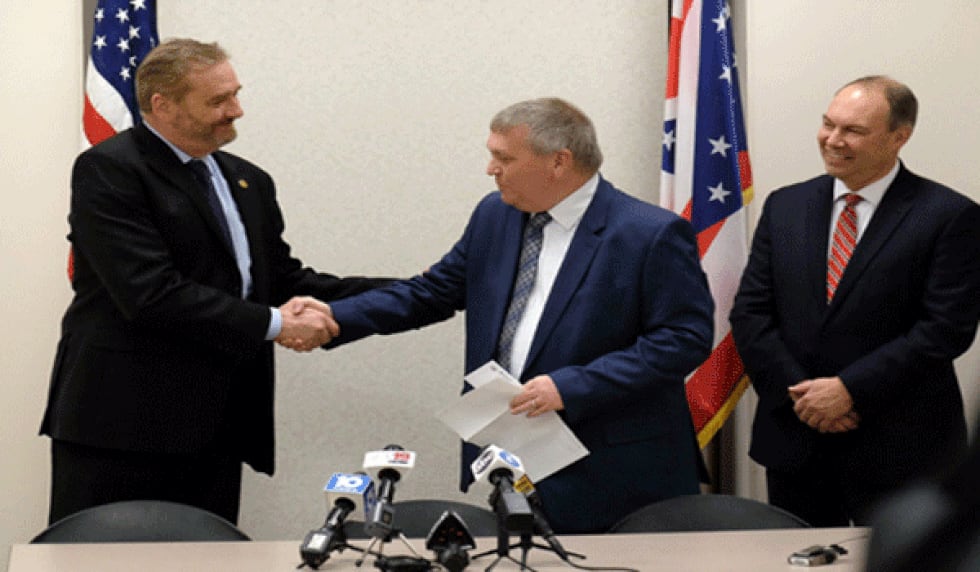 Junk and Reader have been at odds before.
Eary this year, Junk fired Reader's brother, Brian Reader, from his job as lead investigator for the prosecutor's office over attendance and sick time, according to Pike County Commissioner Blaine Beekman.
In February, Junk hired Reader's former lead felony investigator, Tracy Evans, to be his lead investigator.
The move came four months after Reader laid off Evans, who is a 20-year law enforcement veteran in Pike County, along with several other people.
Copyright 2019 WXIX. All rights reserved.