Cincinnati police captain arrested, facing federal charges
Updated: Jun. 6, 2019 at 9:13 PM EDT
CINCINNATI, Ohio (FOX19) - A veteran Cincinnati police captain is under arrest and facing federal charges, US Attorney Benjamin Glassman announced on Thursday.
The captain is Michael Savard, said Lt. Steve Saunders, police spokesman.
FOX19 NOW was first to tell you that Savard was suspended and was stripped of his gun, badge and police powers on Jan. 4.
He has since been on desk duty ever since, working an administrative assignment in CPD's Records Section.
Police have never said why they took away his police powers, but FOX19 NOW has confirmed his arrest is related to an ongoing federal investigation.
Savard was arrested Thursday at 801 Linn St., according to his jail booking sheet.
Several Cincinnati police offices are located, including the records section, which is where Savard was administratively assigned after he lost his police powers.
The arresting officer is listed as Dept. of Treasury.
Savard arrived at the Butler County Jail in Hamilton, a federal prisoner holding facility, at 5:03 p.m., according to Sheriff Richard Jones.
Savard is being secluded from the rest of the prisoners for his safety, a customary move when police officers are jailed, the sheriff said.
"He is the highest ranking police official held at the jail in at least the past 26 years," Jones said.
Savard appears in a green jail uniform in his booking photo. Inmates in green uniforms are on suicide watch.
More details about Savard's arrest and charges are expected to be announced at the U.S. Attorney's Office for Southern District of Ohio at 2:30 p.m. Friday.
Glassman, William Cheung, Acting Special Agent in Charge, IRS Criminal Investigation and Cincinnati Police Chief Eliot K. Isaac will attend, according to a release from the U.S. Attorney's Office.
IRS Criminal Investigation looks into potential violations of tax laws such as tax evasion and related financial crimes like money laundering.
Police and city officials declined to discuss the case in detail Thursday, and a spokeswoman for the U.S. Attorney's Office said she had no information to provide.
Savard, an officer since April 1994, oversaw the department's Special Services Section, which includes the K-9 and traffic units, and worked scores of off-duty details, including several at bars and clubs, while he was a lieutenant, police records show.
He was promoted to captain in April 2017 and was transferred to the Special Services Section in 2018, according to his personnel file.
His latest available job performance evaluation, from 2017, rated him "Exceeds Standards" on all sections, a copy of it shows.
Internal investigations, however, determined he violated police procedures for off-duty police details in 2015 and was reprimanded at least once, records show.
One of the reprimands, from June 2016, was for failure of good behavior. An an internal investigation concluded he violated procedures in 2015 related to personally dispersing lump sum cash given to him from representatives of Celebrities Nightclub in Roselawn to pay officers working off-duty details there, according to a copy of the reprimand.
Savard supervised "virtually every Tuesday, Friday and Saturday night detail at the club, other police records show.
"The Department prohibits employment that presents a potential conflict of interest or reflects an abuse of official position that could give rise to illegal or unethical practices," his reprimand states. "Sworn personnel, whether on duty or working a detail, may not handle currency or deposit bags. Sworn personnel are limited to escorting a responsible business employee.
"No sworn employee will receive lump sum payments for disbursement to officers working details. The outside employer must pay each detail officer directly or through City payroll," the reprimand states. "Secondary employers are required to document cash payments to officers working detail. An officer receiving a cash payment must sign for the cash payment."
Cincinnati police recently changed its procedure for outside employment for officers by prohibiting them from taking cash payments. The new policy, effective May 1, came just shy of two years after another police captain, Jeff Butler, recommended to Police Chief Eliot Isaac in a June 2017 memo that preparations be made to eliminate cash details in 2018.
The policy states: "In the case of extension of police service employment, the employer hires not the individual but the uniform, badge, gun and authority of the officer. This activity must remain closely regulated. All rules, regulations, policies, procedures and directives applicable to officers in an on-duty status also apply to officers engaged in extension of police service outside employment."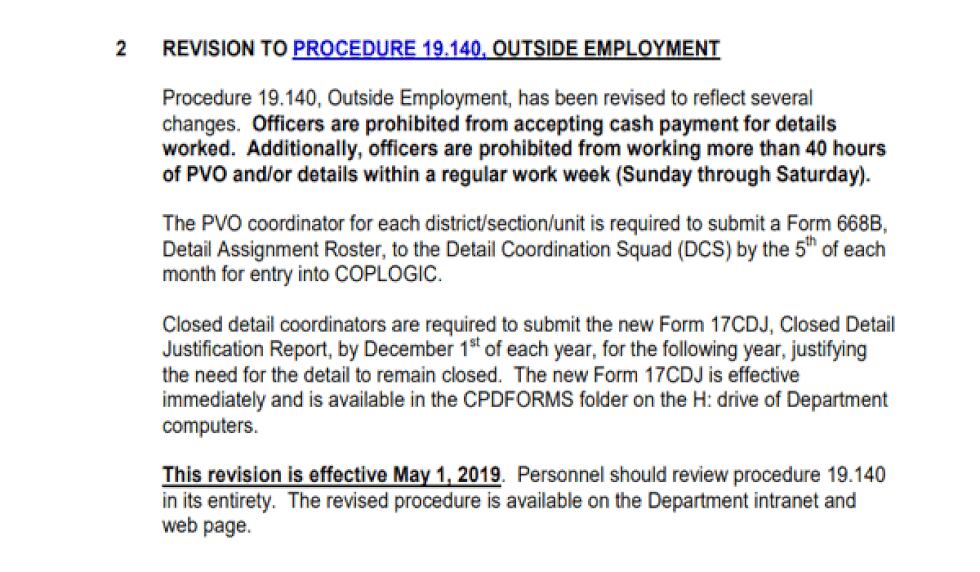 Late last year, Hamilton County Prosecutor Joe Deters announced to local media on the radio and in one-on-one phone interviews Cincinnati Police Department's Vice Unit was under federal investigation, and two officers were suspended as a result: Vice Officer Patricia Simpson, 42, and Officer Quiana Campbell, 38, who worked most recently in the impound lot and also worked several off-duty details at nightclubs and bars as well as other venues like Cincinnati Reds games.
Both officers were stripped of their police powers, guns and badges in November, police records show.
The scope of the federal investigation was not immediately clear.
MORE | Cincinnati police confirm another officer suspended | Veteran Cincinnati police officer's powers suspended | Attorney to Cincinnati: Reinstate officers suspended amid federal probe 'It's not fair'
Simpson, is CPD's "subject matter expert on the liquor permit process and has extensive knowledge on liquor laws and regulatory violations," according to her latest job evaluation.
Last week, a police spokesman said 13 Cincinnati Police Department employees were without police powers "due to administrative causes."
Police provided FOX19 NOW with the following list of names:
An attorney for one of the officers on the list, Donte Hill, however, told FOX19 NOW he is no longer suspended and was back on patrol.
Hill's powers were restored last month after they were suspended in late December, he said.
Hill and another officer, Dennis Barnette, were caught on body camera footage using the N-word during separate police responses months apart, police records show.
RELATED | 9 Cincinnati police officers suspended in 2 months | Veteran officer suspended amid outside investigation | Cincinnati sergeant, officer suspended | Officers who said "n-word" sue Cincinnati police chief, city manager, allege unfair punishment
The two received their police powers again the same day they filed separate suits against Police Chief Eliot Isaac and City Manager Patrick Duhaney, each in their capacities and personally.
Copyright 2019 WXIX. All rights reserved.