Pike County Sheriff pleads not guilty to 16-count indictment
Updated: Jul. 2, 2019 at 6:53 PM EDT
WAVERLY, Ohio (FOX19) - Pike County Sheriff Charlie Reader pleaded not guilty Tuesday to a 16-count indictment amid calls from state officials for him to be suspended and resign.
The Ohio Supreme Court appointed retired Fairfield County Common Pleas Judge Chris A. Martin to hear the case.
The sheriff can remain free on his own recognizance, the judge ordered, but he must turn over all keys and not have contact with witnesses. Martin also imposed a social media/electronic communication gag order on the sheriff and witnesses. He specifically asked them to refrain from discussing the case on social media.
"It could be harmful to both and the state and the defense in this case if that were to occur," the judge warned.
Reader, who has been sheriff since 2015, was indicted Friday on eight felonies and eight misdemeanors during his time in office, and now Ohio Attorney General Dave Yost is calling for him to resign. The State Auditor's Office announced Tuesday it filed a motion with the Ohio Supreme Court to begin suspension proceedings against Reader.
Reader was served the motion Tuesday. He declined comment.
"The details of this case demonstrate that Charles Reader has abused his position for personal gain and violated his oath to faithfully and lawfully serve the people of Pike County," State Auditor Keith Faber said. "His suspension is necessary to restore the trust of the public in the members of law enforcement that have sworn to protect and serve them. Like all defendants, Charles Reader is entitled to a presumption of innocence until convicted by a court of jury of his peers."
Yost announced his office filed an "amicus brief" with the Ohio Supreme Court in support of Faber's request to remove him from office.
"As the chief law officer in the state, Attorney General Yost has an obligation to protect Ohioans," reads a news release from his office.
It also states: "Sheriff Reader violated the public's trust when he used his office to benefit himself rather than the public. Reader has been credibly accused and indicted. Under these circumstances, I don't see how he can be an effective law enforcement officer."
MORE | Pike County Massacre
Yost reiterated that, "Removing Reader from office will improve, not undermine, criminal justice in Pike County … Reader's removal will have no effect whatsoever on Ohio's ability to prosecute the defendants who stand accused of murdering the eight members of the Rhoden, Gilley, and Manley families in April of 2016."
The Attorney General's Bureau of Criminal Investigation arrived at the Pike County scenes hours after the incidents were discovered. BCI's Special Investigations Unit led the investigation from that point on. Reader played no direct role and had no direct involvement in the investigation. His presence was only in conjunction with, not independent of, BCI, according to the news release.
Reader is charged with:
Two counts of theft - one is a fifth-degree felony and the other is a first-degree misdemeanor

Two counts of tampering with evidence, a third-degree felony

Four counts of theft in office, three are fourth-degree felonies and one is a fifth-degree felony

One count of securing writing by deception, a fifth-degree felony

Seven counts of conflict of interest, a first-degree misdemeanor
Reader was accused in an anonymous complaint sent to the State Auditor's Office in November of stealing cash seized from drug cases handled by the sheriff's office to fund a gambling problem and other alleged misconduct.
The indictment alleges Reader requested and/or accepted various loans from county employees and vendors. Those loans, according to the indictment, tended to range in value from $1,000 to $2,500. The indictment also mentions multiple vehicles, including a 1991 Chevy Silverado that was "secured" by Reader.
In light of the allegations, Pike County Prosecutor Rob Junk requested a special prosecutor handle the case, which was investigated by the Ohio Auditor of State's Special Investigations Unit.
Junk and Gov. Mike DeWine declined comment last Friday and again this week.
PREVIOUS | Auditor: Investigation into Pike County sheriff 'close' to wrapping up | Pike Co. sheriff under investigation after allegation of 'misconduct'| Pike County sheriff, prosecutor feud after prosecutor asks sheriff to avoid criminal investigations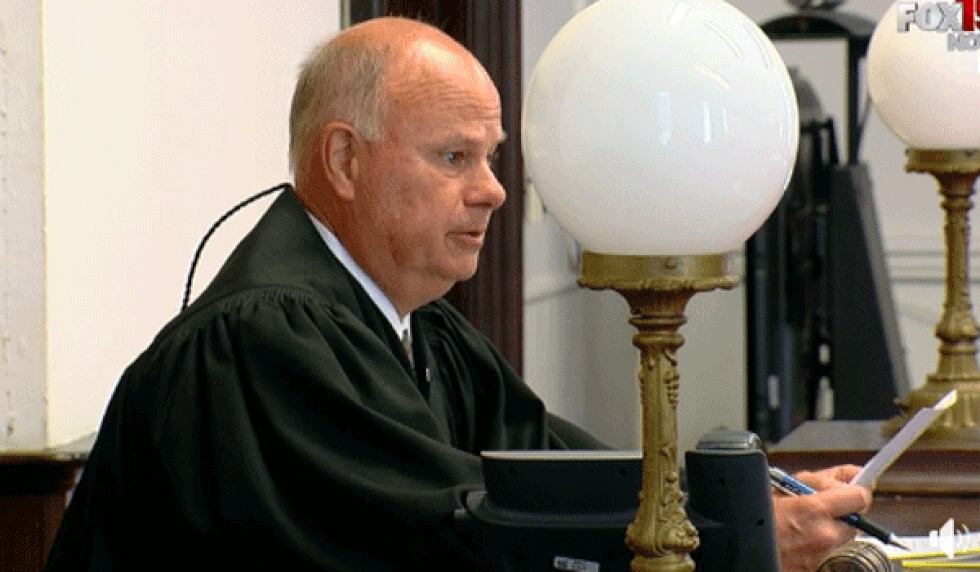 Still, the sheriff remains one of the county's top law enforcement officials, at least for now.
He was appointed to the job in May 2015 amid an investigation into an officer-involved fatal shooting (see below for more on that) and was elected as Democrat later that year by 76 percent of the vote.
Removing the accused law enforcement official will not be immediate.
When a local elected official in Ohio is charged with a felony and it's related to their administration of or conduct in the performance of his or her duties of office, prosecutors are required by law to file a notice of the indictment with the Ohio Supreme Court to begin suspension proceedings, state law shows.
Not sooner than fourteen days after the chief justice receives the request, he or she is to establish the special commission, according to Anne Yeager, a spokeswoman for the Ohio Supreme Court.
The process was most recently followed when the mayor of Put-in-Bay was indicted on public corruption charges last fall.
The Supreme Court appointed a special commission of three retired judges.
According to state law, at least one member of the panel has to be of the same party as the public official and all members are compensated for their services and reimbursed for expenses.
The staff attorney for the Office of Chief Legal Counsel at the Ohio Supreme Court serves as the secretary to the special commission and has authority to contact them, schedule hearings, and sign orders on behalf of and at the direction of the special commission.
Recently, Reader told FOX19 NOW in a statement he didn't intend to go anywhere anytime soon.
His remarks came after Junk asked him in a letter to recuse himself from criminal cases due to the ongoing investigation by the auditor's office and to supply a list of all deputy sheriffs who have been disciplined for any offense remotely reflective of untruthfulness, whether at the Pike County Sheriff's Office or any other law enforcement agency.
"I will continue doing my job as the Sheriff for the citizens of Pike County, without exception," the sheriff wrote us on May 30.
"I have an excellent staff and always have assistance from any other agency when I request them. I am the administrator of the Sheriffs Office and an elected official by the great people of Pike County.
"I have not personally investigated any criminal case since being the Sheriff, although I do work countless hours with my staff guiding and directing and being the Chief Law Enforcement Officer of this county. In the four years that I have been Sheriff, I have not once been called to the stand in any criminal investigation as a witness.
"There is a misconception and communication as to being an elected official and other elected officials, regardless of their elected position can attempt to control or run another county agency of that particular elected official," his statement continued.
"I lead my staff and I'm very available to my citizens. I have no intention of providing anything less than the best law enforcement available in Pike County, always have. As far as conducting criminal investigations, I assign them to particular deputies or investigators, I do not personally complete them myself. I will take a stand when it comes to anyone attempting to hamper or delay the performance of my public officials duties which, in fact, is a criminal act."
Copyright 2019 WXIX. All rights reserved.