Hamilton warehouse is suspicious, fire chief says
Updated: Jul. 25, 2019 at 3:53 PM EDT
HAMILTON, Ohio (FOX19) - The cause of a massive fire that destroyed a vacant warehouse in Hamilton and forced nearby residents to evacuate early Thursday is being called suspicious, Hamilton Fire Chief Mark Mercer said.
Fire crews responded to the building at Laurel and Zimmerman avenues just before 5 a.m., according to Butler County dispatchers.
When the fire was at its peak, flames and smoke were visible for miles. The smoke was so thick, it was picked up on the weather radar.
No injuries were reported.
Fire crews remain on scene dousing hot spots.
Mercer said they received reports of people leaving the warehouse during the time of the fire.
The investigation remains ongoing.
Crews will be on scene most of the day, he said.
"Early this morning, another vacant (factory) building was engulfed in flames," City Manager Michael Ryan said in a tweet. "Our @HamiltonOH Fire Dept. did an amazing job putting out this massive fire and protecting area residents. We are blessed to have the best! @IAFFHamiltonL20 @kwittm3."
Laurel Avenue has been shut down all morning between Van Hook Avenue and Dixie Highway.
It will remain closed until further notice.
FOX19 NOW has learned the warehouse was sold by CTP Funding, LLC of Phoenix, Ariz. on July 23 to Coast Boulevard Associates, LLC of Glendale, Ariz. for $200,000.
The sight of the destroyed building reduced one neighbor to tears.
Lori Mason's father worked at the warehouse when it was Mosler Safe Co.
"I grew up in Lindenwald," she said. "It was a beautiful building on the inside and out.
"The last memory I have of it is walking in to tell my father his mother passed away. I am heartbroken," she said, choking up and crying.
"It's very hard to see. This area has gone downhill quick. Mosler Safe went out of business and (GM's) Fisher Body Plant and all of those, they lost a lot of good people in the area."
Mason still lives along Laurel Avenue but said the evacuations stopped at the house in front of her.
She wouldn't have left anyway.
"I'm on oxygen," she said. "I'm staying right here. That, and I'm stubborn."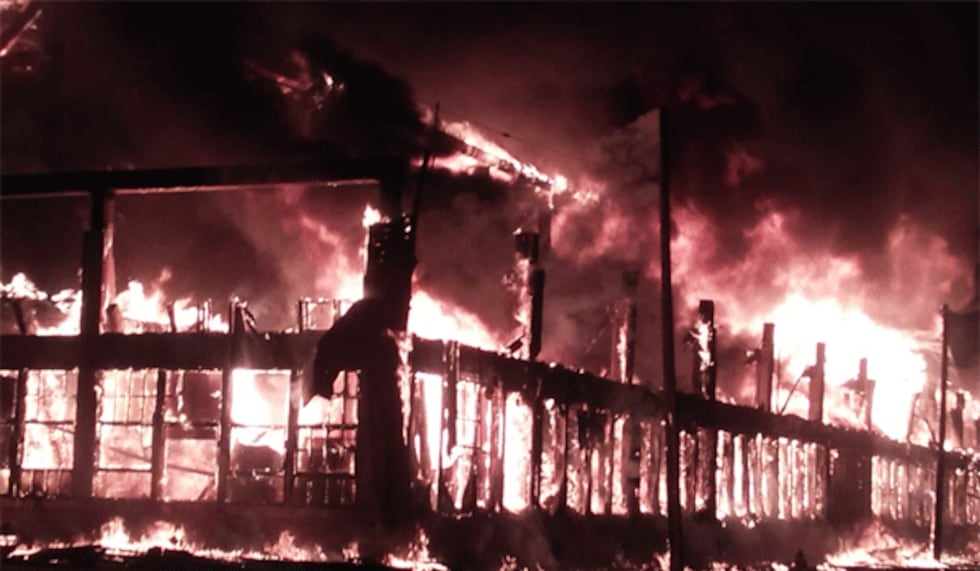 Copyright 2019 WXIX. All rights reserved.