Ohio lawmaker blames mass shootings on 'drag queen advocates', 'homosexual marriage,' 'open borders'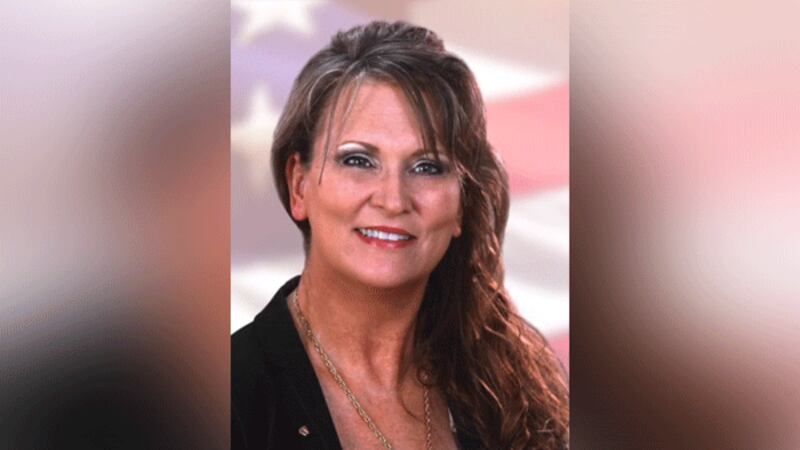 Updated: Aug. 5, 2019 at 8:34 AM EDT
MIDDLETOWN (FOX19) - A lawmaker from the northern Cincinnati suburbs ignited a firestorm of controversy and calls for her resignation for a social media post blaming mass shootings on "drag queen advocates," homosexual marriage," "the relaxing of laws against criminals (open borders)," and "snowflakes who can't accept a duly-elected President."
"After every mass shooting, the liberals start the blame game," wrote State Rep. Candice Keller, R- Middletown, in a Facebook post on her personal page Sunday.
"Why not place the blame where it belongs?"
Screenshots of the post, which are not visible to the general public, were given to FOX19 NOW and other media and shared on social media.
It happened just hours after a 24-year-old gunman killed nine people and injured 27 others in a downtown Dayton nightlife district and one day after another assailant gunned down 22 people and injured several others at a Walmart in El Paso, Texas.
Keller was not alone in turning to social media in light of the shootings, but her remarks made headlines across the nation with most major news outlets picking up the story.
Several 2020 Democratic candidates and current Democratic office holders such as State Sen. Cecil Thomas, D-North Avondale, took to Twitter or Facebook decried the shootings and expressed frustration and blame over what they called lack of action to curtail gun violence.
FBI issues warning about shootings in Dayton, El Paso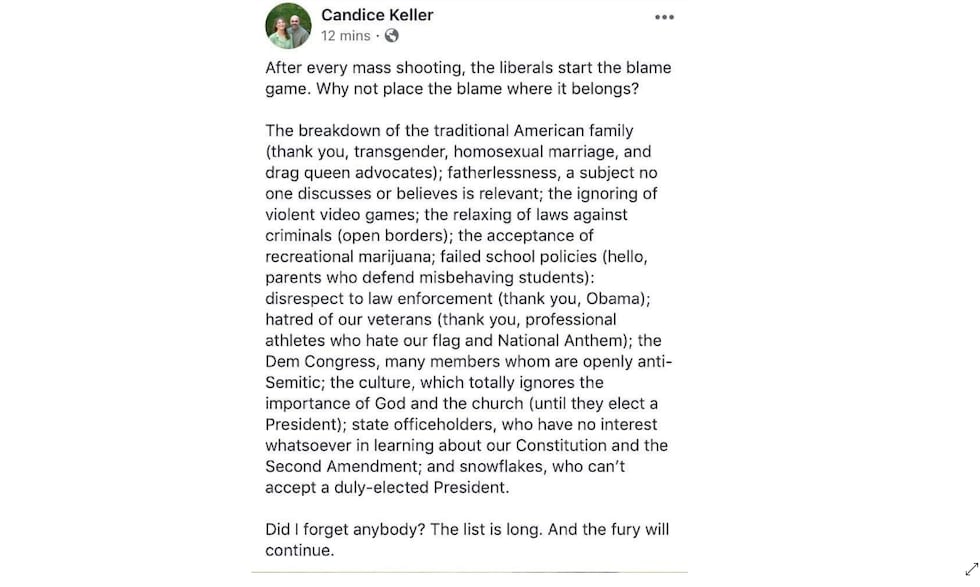 We reached out to Keller and her spokeswoman for comment Monday morning.
Keller responded by asking us to leave messages at her Columbus office phone, not her cell phone, and told us her spokeswoman's phone is her personal one, too.
RELATED | Victims identified in Dayton mass shooting | Police release surveillance videos of Dayton mass shooting, gunman stopped in 30 seconds
Her controversial post drew criticism throughout the day from Democrats and leaders of her own party.
By the end of the day, some leaders were calling for resignation.
The state's GOP leader was one of the first ones to condemn the remarks.
"As El Paso, Dayton and the nation grieves, her Facebook post was inappropriate," Jane Timken, chairwoman for the Ohio Republican Party, said in a statement Monday morning to FOX19 NOW.
Later Monday, the state GOP party leader issued a stronger statement and called for Keller to resign.
"While our nation was in utter shock over the acts of violence in El Paso and Dayton, Republican State Representative Candice Keller took to social media to state why she thought these acts were happening. Candice Keller's Facebook post was shocking and utterly unjustifiable," reads Timken's second statement.
"Our nation is reeling from these senseless acts of violence and public servants should be working to bring our communities together, not promoting divisiveness. I am calling on Candice Keller to resign."
Dayton Mayor Nan Whaley also called for her to quit.
"I don't often agree with @ohiogop chair @JaneyMurph, but state Rep. Candice Keller needs to resign," the Democratic mayor said in a tweet late Monday. "No matter where you're from, who you love, or what you look like, you're welcome in Dayton."
The state's top cop, Ohio Attorney General Dave Yost, a Republican, rebutted Keller's post in a two-sentence tweet.
"We are recognizing that this is the time for prayer and reflection. Some want to politicize these events, and I cannot condone such comment and behavior," Todd Hall, chairman of the Butler County Republican Party, told FOX19 NOW.
Two law enforcement leaders in Keller's district also spoke out.
Butler County Sheriff Richard Jones said she should step down, and Middletown Police Chief Rodney Muterspaw said in a tweet "This isn't Middletown."
Cincinnati City Councilman Chris Seelbach, a Democrat, was among the first to call out Keller out on Twitter Sunday, shortly after the post became public knowledge.
He urged voters to call her Columbus office to tell her what they think.
Once Timken said Keller should resign, Seelbach followed suit.
"I agree with the chair of the Ohio Republican Party, State Representative Candice Keller should resign immediately following her comments blaming gay marriage, among others, on the mass shootings in Texas and Ohio," he said in a tweet Monday night.
Keller is serving her second full term in the Ohio House. She was appointed in November 2016 following her election win, according to her biography on www.ohiohouse.gov.
She represents the 53rd House District, which is made up of portions of Butler County.
Keller recently announced she is running to replace term-limited State Sen. Bill Coley in 2020.
In a statement to our news partners at the Cincinnati Enquirer Monday, Keller said of Timken's call for her to resign: "establishment moderates have never been fans of mine because I ran against their endorsement and won. As the only conservative in this race, I will be taking my Senate campaign to the voters to decide."
She faces Republicans State Rep. George Lang, R-West Chester Township, and West Chester Township Trustee Lee Wong.
No Democrats have announced to run so far.
"Unfortunately, Candice Keller's hateful views are typical of today's Republican Party," said a spokeswoman for the Ohio Democratic Party, Kirstin Alvanitakis.
"Earlier this year, the Ohio House GOP leader attacked public libraries for hosting LGBTQ-themed events. Congressman Steve Chabot refused to vote for the Violence Against Women Act re-authorization because it would have protected undocumented women and children. It's clear that hate-filled rhetoric by the president and his flunkies like Candice Keller is leading to more violence."
Ohio House Speaker Larry Householder, R-Glenford, did not issue a statement on Keller's Facebook post or respond to requests for comment Monday from FOX19 NOW.
Copyright 2019 WXIX. All rights reserved.