Governor calls for gun sale background checks, red-flag law after Dayton shooting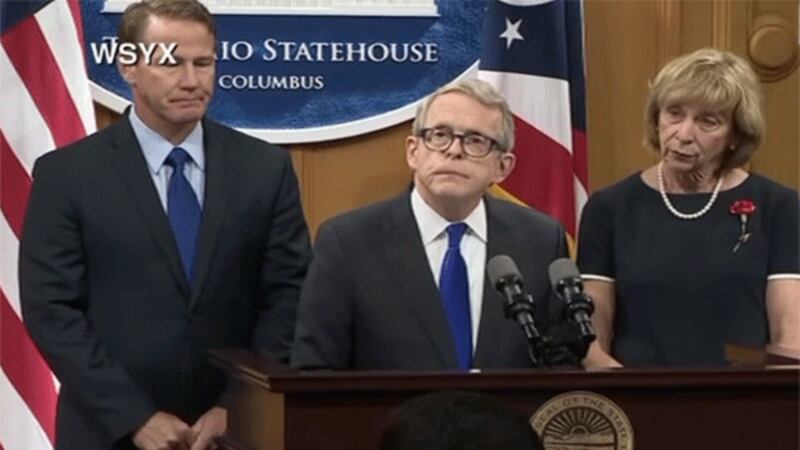 Updated: Aug. 7, 2019 at 9:38 AM EDT
COLUMBUS, Ohio (FOX19) - Gov. Mike DeWine called on state lawmakers Tuesday to pass laws requiring background checks for most gun sales and allow courts to restrict firearm access for potentially dangerous people.
The proposals come two days after a gunman with a .223-caliber rifle and high-capacity magazines killed nine people including his own sister and injured 27 others in a mass shooting in a popular nightlife district of downtown Dayton.
"We have to come together and do these things to save lives," he said at a news conference, standing between his wife, Fran, and Lt. Gov. Jon Husted.
He said the crowd at a vigil for the victims Sunday night was angry, so was he and his wife. The crowd chanted "Do something" at him "They were absolutely right," he said Tuesday.
Then, while acknowledging Ohio needs to do more while keeping people's rights to own firearms and have due process, he announced a 17-item plan to address gun violence and mental health.
Safety Protection Orders: Wants the legislature to pass a law to allow courts to issue these orders remove firearms from potentially dangerous individuals and get them the mental health treatment they need all while maintaining an individual's right to due process.

Increased Access to Inpatient Psychiatric Care. Over the past several years, Ohio's state psychiatric hospitals have become predominantly used by patients who are court-ordered there for restoration to competency to stand trial, DeWine said. This week 79 percent of the adults in our state psychiatric hospitals are under court order. The Ohio Department of Mental Health and Addiction Services (OhioMHAS) is working to create a process where courts and community-based providers can work together to restore competency for those to stand trial in an outpatient setting which will free more hospital beds and decrease wait time for admission. The Ohio General Assembly will need to pass legislation to create this community-based misdemeanor competency restoration process.

Early Intervention. As part of the 2019-2020 biennium operating budget, the state is investing $675 million in wrap-around services for schools to design individualized programs, working with local mental health providers or social service organizations, to address the social and emotional challenges our students face.

Access to Behavioral Health Services. The Ohio Department of Medicaid is investing $15 million in telehealth mental health services to students, so no matter where a child lives, they have access to high-quality mental health care.

Risk Factor and Resource Identification. Ohio MHAS will be working with communities to increase knowledge of risk factors, help parents identify when their child is showing warning signs of a mental illness. The department will share screening tools with clinicians and help connect community-based services to link parents, families, and schools with proven supports and strategies to manage a child's wellness over the child's lifetime.

Background Checks. DeWine called on legislatures to pass a law requiring background checks for all firearms sales in the state of Ohio with certain limited, reasonable exceptions, including gifts between family members.

Increased Penalties for Felons Who Illegally Possess Firearms. Gun violence occurs in neighborhoods and communities every day across Ohio and the nation. Law enforcement reports that the majority of this violence is perpetrated by a relatively small number of individuals who don't have the right to possess a gun. DeWine wants lawmakers to increase penalties on felons who illegally possess or use guns.

Increased Penalties for Violent Felons Who Illegally Possess Firearms. He is asking lawmakers to increase penalties violent felons and other people found with a gun they do not have the legal right to possess. The crime of having a weapon while under a disability is currently a third-degree felony punishable by a maximum of three years in prison. On a first offense, the crime should be a second-degree felony punishable by two-to eight-years in prison, and for subsequent offenses, it should be a first-degree felony punishable by three- to eleven-years incarceration.

Increased Penalties for People Who Commit Felonies while in Possessing Firearms. This proposal would increase penalties for people who commit felonies with a firearm or who possess a firearm while committing a felony to a mandatory additional one- to three-year sentence.

Increased Penalties for Brandishing a Gun. The General Assembly should pass a law that increases the penalty for those who commit a felony while brandishing a firearm to a mandatory three- to five-year sentence.

Increased Penalties for Straw Purchases. So-called "straw" purchases, the act of purchasing guns for or giving guns to another individual are currently illegal under Ohio and federal law. However, this practice is far too common, so Governor DeWine is calling on the General Assembly to increase the penalty for a straw purchase to a second-degree felony punishable by two to eight years in prison.

Increased Penalties for Illegally Obtained Guns. We should increase the penalty for a person who possesses a firearm that they know was obtained through an illegal or fraudulent purchase in order to avoid a federal background check. A person who possesses the gun should be punished in the same manner as a person who bought the firearm, increasing the penalty to a second-degree felony punishable by two- to- eight years in prison.
Increased Penalties for Those Who Improperly Provide Firearms to Minors. Too many kids are carrying guns on the streets often with tragic consequences. Adults who furnish firearms to minors must be held accountable. Governor DeWine proposes that the General Assembly increase the penalty for improperly providing a firearm to a minor to and a third-degree felony punishable by up to three years in prison.
School Tip Line. The DeWine administration is expanding the state's school safety tip line, where kids and adults can call or text anonymously to 844-723-3764 with tips about potential school violence.
Social Media Monitoring. In a 24-7 world of social media, threats can arise at any time. The Hub at the Ohio Department of Public Safety is expanding their ability to monitor and track potential threats on social media and will share that information with local school and local law enforcement.

Community Safety. The operating budget provides nearly $9 million to help harden soft targets like non-profits and religious organizations to make their facilities more secure.

School Safety and Intervention Programs. Working closely with Sandy Hook Promise, Ohio's schools are implementing their "Know the Signs" safety program across the state. This program equips school staff with knowledge and skills to identify potential threats of violent action and take steps to intervene. There are 23 training dates already scheduled.
"We have a serious mental health crisis among our children in Ohio today," DeWine said. "It is growing worse."
Ohioans for Gun Safety commended the governor.
"We applaud Gov. Mike DeWine and we are calling on state lawmakers to follow his lead and pass common sense background checks for gun safety," the grassroots group's spokesman, Dennis Willard, said in a prepared statement.
"In the aftermath of the tragedy in Dayton, where 9 innocent people lost their lives and 27 were injured, the time for action is now. Ohioans for Gun Safety is continuing to actively and aggressively collect signatures and we will continue to do so because 90 percent of Ohioans, including 87 percent of gun owners, support background checks for gun safety. It's simple. If you buy a gun, get a background check and we can reduce gun violence and save lives."
A Republican congressman from Dayton whose daughter was nearby when a gunman opened fire with a .223 caliber rifle and high-capacity magazines, killing nine people and injuring 27 others, is calling for gun control measures.
U.S. Rep. Mike Turner announced in a statement Tuesday he backs a ban on "military-style" guns, magazine limits and so-called "red flag" legislation to identify potentially dangerous people and remove their firearms under a court order.
He said he plans to discuss the measures with President Donald Trump when the president visits Dayton Wednesday.
Connor Betts, 24, fired at least 41 rounds in 30 seconds before police took him down entering Ned Peppers Bar on East Fifth Street in the Oregon District just after 1 a.m. Sunday.
PREVIOUS | 'Fundamentally problematic': Dayton police chief reacts to amount of ammunition, firearm gunman was able to purchase
Dayton Police Chief Robert Biehl has said Betts potentially had a maximum of 250 rounds in his possession at the time of the shooting if all of the magazines he had on him were at full capacity. The weapon had been modified to have it function as a rifle.
This includes the loose rounds found on the ground near the gunman and those in his backpack. 41 spent shell casings were found on the ground that came from the weapon he used.
Betts was wearing a mask, bulletproof vest and ear protection, according to Biehl.
MORE | FBI issues warning about shootings in Dayton, El Paso | Ohio lawmaker blames mass shootings on 'drag queen advocates', 'homosexual marriage,' 'open borders' | Community mourning those killed in Dayton mass shooting | Police release surveillance videos of Dayton mass shooting, gunman stopped in 30 seconds
Copyright 2019 WXIX. All rights reserved.