Jury will hear audio recording of Butler County RV business owner's alleged attack on wife
Updated: Aug. 28, 2019 at 11:30 AM EDT
HAMILTON, Ohio (FOX19) - The jury will hear an audio recording a neighbor took on her cell phone of the voices of a Butler County RV business owner and his wife during a dispute in their driveway that landed him behind bars and her in the hospital, a judge decided Wednesday.
Butler County Common Pleas Court Judge Greg Stephens also rejected a motion from Jeffrey Couch's defense attorney, Scott Croswell, to keep out statements made by Couch's wife, Shelley, to neighbors and hospital workers early March 1. He did grant a motion to exclude her statements to police, Croswell said.
He argued they shouldn't be permitted because she was intoxicated, but the judge decided that wouldn't nullify them.
Mike Allen, a criminal defense attorney who is FOX19 NOW's legal analyst, called the audio recording "a blow for the defense."
"It sounds like it's pretty strong evidence for the prosecution," he said. "It makes it more difficult to defend the case if you have an audio recording that is detrimental to the defense. That's just something a jury can grab onto. The fact that you hear her screaming is probably something the jury will give a lot of weight to. I mean, really, it's evidence that happened pretty close to when the crime was committed so it's good evidence for the prosecutor."
Couch, 51, owner of Jeff Couch's RV Nation in Trenton, was indicted March 12 on two charges of felonious assault and one count each of attempted felonious assault and misdemeanor domestic violence.
He has pleaded not guilty and remains free on $16,000 bond.
Couch is under court order to stay away from his wife and not attempt to contact her in any way.
PREVIOUS | Court docs: Butler Co business owner slammed wife's head 'onto a paved driveway multiple times'
The jury will visit the scene of the alleged attack outside the couple's home in the gated Wetherington subdivision off Tylersville Road west of Interstate 75, the judge ruled.
They will go out after opening statements and before testimony begins when the trial starts Sept. 23.
Couch's wife told officers he punched her in the face multiple times and "slammed her head "onto a paved driveway multiple times causing serious physical harm," when they arrived home after an evening out, according to a copy of a criminal complaint.
She went to a neighbor's house for help and was taken to a hospital, treated and released, police records show.
In newly filed court records, Butler County Prosecutor Mike Gmoser wrote that the couple's neighbor, Ericka Naber, heard what she described as an argument close in time to the alleged assault through her bedroom window.
"She had the good sense to record the voices she heard by her cell phone and recognized the voices she heard as her neighbors, Defendant Jeffrey Couch and Shelley Couch, the alleged victim," Gmoser wrote.
"In addition to her recollection and impression of the words spoken, on the recording (Jeffrey Couch) is clearly heard saying 'F--- you. Go call the cops. Let's go inside first.' Shelley Couch responds yelling 'help' and is then heard with a shrieking scream."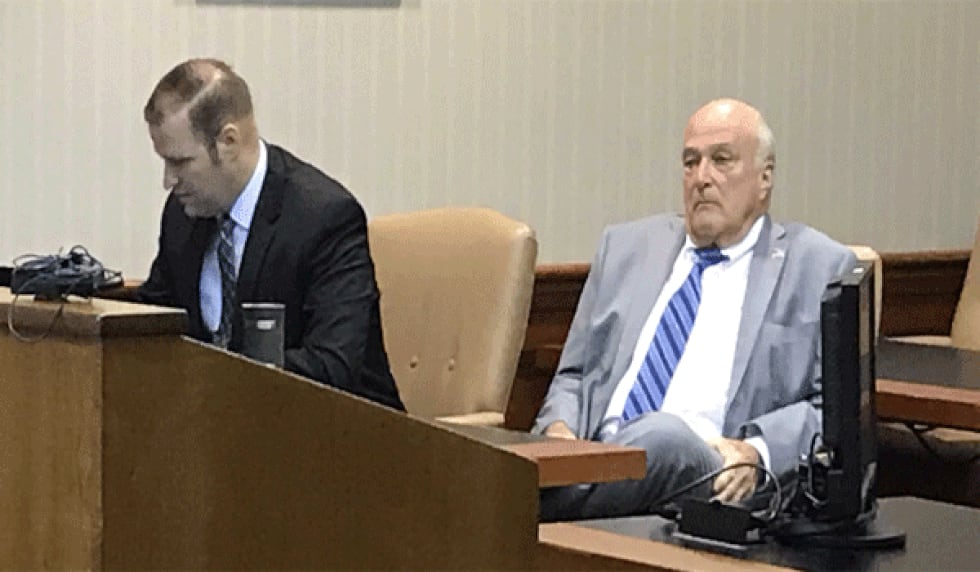 His attorney claims that what Naber heard is heresay and without any analysis of law or authority, Gmoser wrote.
"In response, what was heard is not heresay to which an exception would even apply. It is simply admissible evidence of an event, an argument that was heard at a relevant time and at a relevant location," he contends in the court record.
Three other witnesses, Jen Davis, Scott Davis and Amy Austin, recount essentially the same events on the night of the alleged assault, Gmoser continues.
Shelley Couch appeared at the Davis' residence and she "was literally covered in blood from a head (wound), claimed in detail that she was beaten by the defendant, was in fear of her life, extremely upset and without shoes in the dead of winter," the prosecutor wrote. "Her statements are classic excited utterances, and are admissible as substantive evidence...."
Gmoser disputes the defense claims these statements are "highly prejudicial and inflammatory," and calls the witnesses "perfect reporters of an event." He says they meet all the required criteria to testify and, in fact, their testimony must be admissible.
In addition to the neighbor's testimony, Couch's defense tried to keep out statements from workers at West Chester Hospital, where Shelley Couch was treated March 2, and from West Chester police.
The defense also sought to restrict Shelley Couch's testimony to "her now claimed memory loss concerning the events immediately before the assault and structurally destroy the prosecution's case," Gmoser wrote.
The defense "spends a great deal of time on a theory involving Shelley Couch as a 'hostile' witness, but even assuming such a hostile setting, it does not result in the inadmissibility of" the statements, and the state has aright to rely on them as evidence," the prosecutor maintains.
"At no time," Gmoser notes in the court record," has she recanted the assault as not happening. The fact that Shelley Couch later claimed a memory lapse concerning the assault segment or made subsequent statements less dramatic than made to the witnesses does not require the prosecution to impeach her on that memory loss claim and statements she made."
Jeffrey Couch's lawyer, Croswell, didn't comment on the case Wednesday.
Gmoser also wasn't talking.
Couch's first lawyer, Erik Niehaus, said in court March 4 when Couch made his initial appearance in the case that Couch's wife told him she wasn't afraid of her husband and she indicated to Niehaus she had no fractures.
Niehaus, who is West Chester's former police chief, also said he didn't think there was serious physical harm and was not sure felonious assault had occurred.
Couch was held without bond the entire weekend of his arrest before that initial court appearance.
While he was locked up, West Chester Police Chief Joel Herzog asked an employee of the Butler County Sheriff's Office to visit Couch "as a friend" at the jail, Butler County Sheriff Richard Jones has told FOX19 NOW.
The veteran law enforcement official said the request surprised him. He refused to allow it and then picked up the phone and alerted the prosecutor.
RELATED | 'I refused' police chief's 'inappropriate' request to visit Butler Co business owner in jail 'as a friend'
Jones declined to identify the employee, but Herzog's cell phone log released to FOX19 NOW via a public records request shows the device had three calls with Jones' second-in-command, Chief Deputy Tony Dwyer, that weekend, one on March 2 and two the following day.
"This has never happened before," said the sheriff, who took the office in January 2005 and served 12 years prior as the second-in-command Chief Deputy under former Sheriff Don Gabbard.
"I felt it was not proper to allow him to visit as his friend in my jail and also be the police chief of the agency that made the arrest," Jones told FOX19 NOW back on March 6. "I refused. I thought it would be a conflict of interest."
We reached out to the police chief through a township spokeswoman. We also requested an interview with the chief and several public records, including copies of emails, text messages and his cell phone call log.
The township spokeswoman, Barb Wilson, told FOX19 NOW March 6 the chief would not be commenting on any of his "personal relationships."
She said the police department responds to nearly 200 domestic violence calls and about 30 felonious assault calls annually.
"This incident has been handled in the same manner as all the others - with integrity and professionalism," Wilson said in a statement. "The investigation of this incident is closed by arrest and the case is now in the hands of the prosecutor."
Gmoser has said the police department conducted a "complete and professional investigation."
However, he took the case away from local authorities and directly to a grand jury for consideration, saying: "Because of early, unsubstantiated reports of possible undue influence, this matter proceeded immediately to grand jury consideration to avoid any implications of such untoward conduct."
Copyright 2019 WXIX. All rights reserved.