1,300 people sign petition for Pope to intervene in Father Drew scandal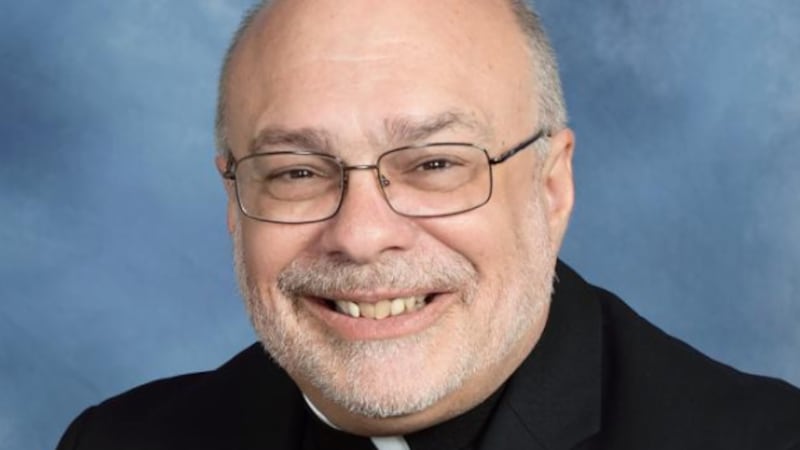 Updated: Oct. 28, 2019 at 2:40 PM EDT
CINCINNATI (FOX19) - A Cincinnati organization recently began a petition asking for the Pope to intervene in the scandal surrounding a former Cincinnati pastor.
Father Geoffrey Drew, 57, pleaded not guilty to nine counts of rape. He is held in lieu of $5 million bond at the Hamilton County jail.
PREVIOUS | Archdiocese of Cincinnati: We anticipate Vatican may order full investigation into handling of Father Drew case | Trial date set for Cincinnati priest accused of raping altar boy
Monday, the organization Concerned Catholics announced a petition with nearly 1,300 signatures that made its way to Vatican City asking Pope Francis to investigate 'Archdiocesan commitment to the Decree of Child Protection.'
"The document requests the investigation into how Archdiocese leaders continued to allow Drew to be around children, ignoring grave lay complaints concerning his behavior," the statement said in part.
The statement reads:
"It is apparent our Archdiocese ignored alarming claims by parents by allowing Drew to be around children." said Teresa Dinwiddie-Herrmann, a concerned Catholic from St. Ignatius. "It matches the pattern of warnings unheeded, abuse and cover up by bishops at many dioceses in recent scandals across the country." she continued. A group of concerned parents from St. Ignatius Loyola, Sacred Heart, and other concerned Catholics started the petition, available at www.concernedcatholic.org and members from over 50 parishes within the Cincinnati area have signed it.
"The timeline from the Archdiocese includes multiple warnings about Drew. How many other priests may have had similar warnings?" asks Sarah Mierke, another concerned Catholic. She added, "It is time to open personnel files and allow a thorough audit." In June of 2019, Francesco Cesareo, PH.D., chair of the National Review board to the Body of Bishops on the Sexual Abuse Crisis in the church announced that some dioceses have begun to allow audits of their records by third parties or Attorney Generals. In November of 2018, the National Review Board gave a list of suggestions for bishops to handle the increasing national crisis over sex abuse scandals, "…state your intentions to conduct a review of your diocesan and seminary files, especially archives and clergy personnel files dating back to at least 1950, if possible, and share the findings with the public." Francesco Cesareo suggests that following their recommendations will allow for reconciliation, accountability of bishops and will help to rebuild trust of the faithful and clergy.
PREVIOUS | Judge denies request to reduce $5M bond of priest indicted on 9 counts of rape | Prosecutor: Warning to archdiocese about Drew was verbal, not written
The Archdiocese of Cincinnati responded to the organization's petition saying they've submitted a report to the Vatican and are awaiting their response.
"The Archdiocese of Cincinnati has submitted a report to the Vatican concerning the handling of allegations of abuse against Fr. Geoff Drew. The report was sent on Aug. 30th and we are waiting for the Vatican's response. We anticipate that the Vatican may order a full investigation into the handling of this case. Archbishop Dennis Schnurr takes any accusation of sexual abuse very seriously, as well as any possible lapse in internal procedures for handling allegations."
The Archdiocese submitted their report Aug. 30.
Hamilton County Prosecutor Joe Deters said in August Drew raped an altar boy while serving as music minister at St. Jude School in Green Township between 1988 and 1991.
PREVIOUS | Hamilton Co. priest indicted on 9 counts of rape | 'This was an act of an unloving man': Man who accused priest of rape encourages others to come forward
Drew was not a priest at the time, Deters said.
The victim, who is now 41, told authorities the abuse occurred in Drew's school office after school hours for about two years when he was 10 and 11.
Deters described the victim's grand jury testimony as compelling, convincing and emotional.
The priest was put on administrative leave in July.
The Archdiocese of Cincinnati has said they fully cooperated with the investigation.
Earlier this year, they released a sequence of events related to Drew.
PREVIOUS l Cincinnati-area parishioners question archbishop over removal of priest l Hamilton Co. priest on administrative leave following allegations of misconduct
According to the archdiocese, Drew's alleged behavior involved a pattern of things such as uninvited bear hugs, shoulder massages, patting of the leg above the knee, and inappropriate sexual comments about one's body or appearance, directed at teenage boys.
In addition, there was a report of Drew texting some of the boys "teasing them about their girlfriends."
Copyright 2019 WXIX. All rights reserved.