Dayton detective shot in 'grave' condition, 'on advanced life support'
Updated: Nov. 6, 2019 at 5:09 AM EST
DAYTON, Ohio (FOX19) - A veteran Dayton police detective who was shot in the line of duty Monday night is in "grave" condition and "on advanced life support," Dayton's police chief said Monday.
Detective Jorge Del Rio, who has been with Dayton Police Department 30 years and is part of a DEA task force, was shot twice in the face as he and others served a drug-related search warrant, said Police Chief Richard Biehl.
The 55-year-old married father with grown children and grandfather remains in critical condition at Grandview Medical Center, according to the chief.
"Please keep Detective Del Rio and his family in your prayers along with this department and this community," Biehl said in a news conference.
"Detective Jorge DelRio dedicated his entire career to combating illegal drugs that have plagued our community. There's no doubt that through his hard work and dedication, Detective Del Rio has saved and changed countless lives. Through his own sacrifice and peril, Jorge exemplifies the Dayton Police Department's motto of 'Honor through Service and Service with honor."
Four men are now held at the Montgomery County Jail facing federal charges in connection with the incident. A juvenile who also was taken into custody was released without being charged.
The men were identified Tuesday as Nathan S. Goddard Jr., 39; Courtney L. Allen, 34; Cahke W. Cortner Sr., 39; and Lionel L. Combs III, 40.
Del Rio and other officers and agents encountered them when they arrived at the residence in the 1400 block of Ruskin Road just before 7 p.m. Monday.
Del Rio was shot when he and other authorities entered the basement. They went into the home after no one responded to repeated knocks at the door and calls of: "DEA," and "search warrant," the chief said.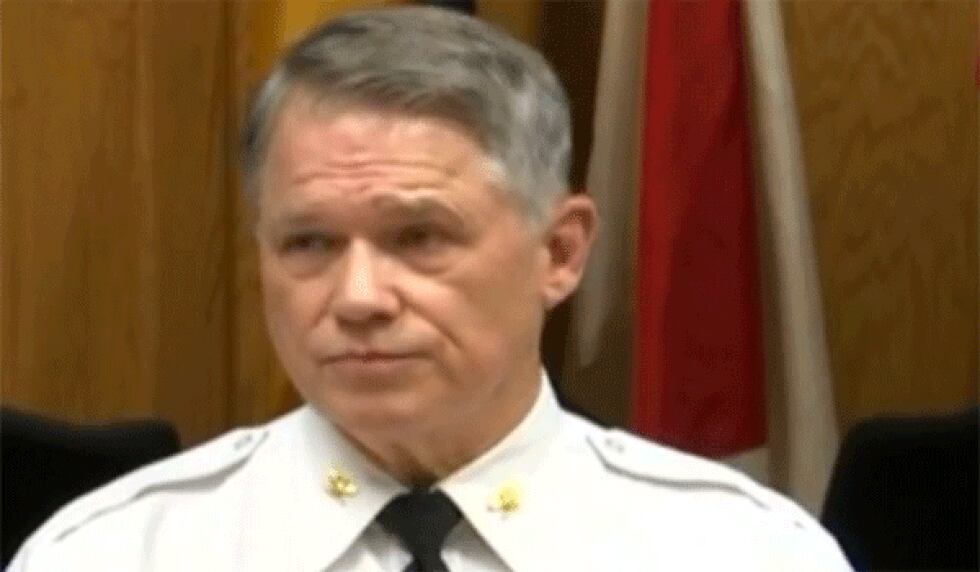 Officers and detectives worked to secure anyone inside the home but, upon descending the basement stairs, agents came under gunfire from a person in the basement, Biehl said.
Del Rio managed to fire his weapon after he was struck, he said. He was the only one shot.
Fellow officers put Del Rio into a cruiser and took him to Grandview Medical Center because it was closest, according to radio traffic released Tuesday.
The men in custody now all face federal charges.
Goddard is accused of assaulting a federal officer with a deadly weapon, conspiracy to possess with intent to distribute more than 400 grams of fentanyl and 500 grams or more of cocaine and marijuana, according to the Southern District of Ohio U.S. attorney's office.
Cortner and Combs are also facing conspiracy to possess and distribute drugs.
All three are facing possible life sentences.
Between mid-July and late-October, the DEA's Dayton Resident Office conducted an investigation into a Dayton fentanyl trafficking organization.
As a result of that investigation, Goddard was named as an alleged source of supply of narcotics and a federal search warrant was authorized for 1454 Ruskin Road, according to the Department of Justice.
Federal officials say nine kilograms of fentanyl was found in a duffel bag, a bag holding 50 to 60 pounds of marijuana was found on the floor of the basement, $11,000 in cash was spread along the coffee table, $40,000 was found in a duffel bag on the stairs, and two pistols also were recovered.
Each man is set for a detention hearing at 1:30 p.m. Friday.
Del Rio's shooting won't deter drug agents from going after dealers, authorities vowed.
DEA Special Agent in Charge Keith Martin said in a direct message to drug dealers: "This won't stop us. We will come after you. We will put you in jail. If anything, we are more resilient now than ever before. This is a brotherhood, and we stand together."
Dayton City Manager Shelley Dickstein called the incident "yet another tragedy" and "a difficult period for this city."
It comes after a year that already has brought tornadoes and a mass shooting to Dayton.
Armed with an AR-15 style rifle, Connor Stephen Betts shot and killed nine people on Aug. 7. Twenty-seven people were injured, 17 of whom were shot by the gunman, who was killed by police within 32 seconds of the first shots.
Montgomery County Prosecutor Mat Heck Jr. called the shooting of Del Rio "an assault on this community."
Hamilton County Prosecutor Joe Deters weighed in on the incident on Twitter Tuesday.
"Absolutely sickening to read. My heart goes out to this brave officer and all of the Dayton Police this morning. We should never take for granted the heroic and dangerous work our police officers do to keep each of us safe every day," Deters wrote.
Copyright 2019 WXIX. All rights reserved.