'Young, Not Silent': Citywide youth summit this weekend at UC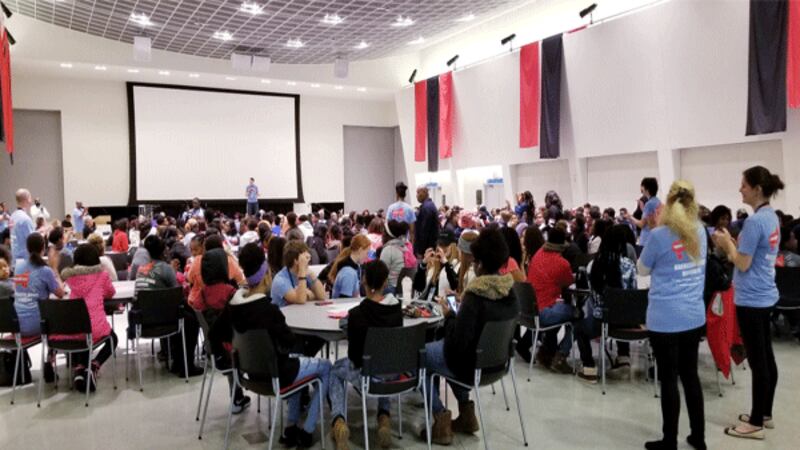 Updated: Nov. 20, 2019 at 6:22 AM EST
CINCINNATI (FOX19) - Hundreds of students are expected to attend an annual citywide youth summit at the University of Cincinnati this weekend.
The 7th annual "Young, Not Silent" will be held 10 a.m. to 6:30 p.m. Saturday at Tangeman University Center.
You can register Saturday or do it right now here.
The all-day free event is open to all students from throughout the Greater Cincinnati region in grades 7-12.
Over 300 students are expected to be in attendance to enjoy the workshops, entertainment, music and food, organizers say.
"Since this summer, a dedicated group of diverse young people have met to organize the event," a news release states.
"Young, Not Silent strives to challenge the old adage "Children should be seen and not heard." Instead, Young, Not Silent asks young people "What are you not silent about?" and creates a day dedicated to exploring the topics they identify."
The 2019 "Young, Not Silent" theme is "Taking the Torch."
"The theme highlights how young people can step up to will be present in our workshops through one of our signature 4 BE's: Be A Leader, Be Aware, Be The Change, Be Your Best Self."
Be a Leader: Workshops should help participants identify their leadership style and grow their confidence in order to be a positive influence among their peers.
Be Aware: Workshops that explore aspects of diversity and inclusion or encourage young people to step outside of their comfort zone.
Be The Change: Workshops that help young people engage in activism. Workshops should provide practical ways for young people to be more assertive and how to have their voice heard.
Be Your Best Self: Workshops that promote physical and mental health and/or provide pathways for students to advance their future goals.
The summit will open with interactive activities led by young people and a keynote speech by Cincinnati Public Schools Board member Mike Moroski on "The Importance of Youth Voice on Decision Makers."
"Young, Not Silent" also will feature workshops, a resource fair highlighting community exhibitors sharing resources and service opportunities, and a Youth Showcase featuring spoken word, dance and musical performances.
The event is organized by Youth At The Center with support from the Cincinnati Police Department Youth Services Unit, NEX College Tours, Prevention Action Alliance, and Ohio Mental Health and Addiction Services.
Additional information can be found at www.youngnotsilent.org
Here's the agenda:
10:00 a.m. - Registration Opens

11:00 a.m.- Opening Forum & Youth Speak Out

12:30 p.m. - Workshop Block #1

1:15 p.m. - Lunch/Opportunity Fair

2:30 p.m. - Workshop Block #2

3:30 p.m. - Workshop Block #3

4:15 p.m. - Youth Showcase/Dance

6:30 p.m. - Event Ends
For more information, visit www.youngnotsilent.org; Facebook: Facebook.com/youngnotsilent; Twitter - @youngnotsilent or Instagram @youngnotsilent
Copyright 2019 WXIX. All rights reserved.