Reds lawsuit over foul ball dismissed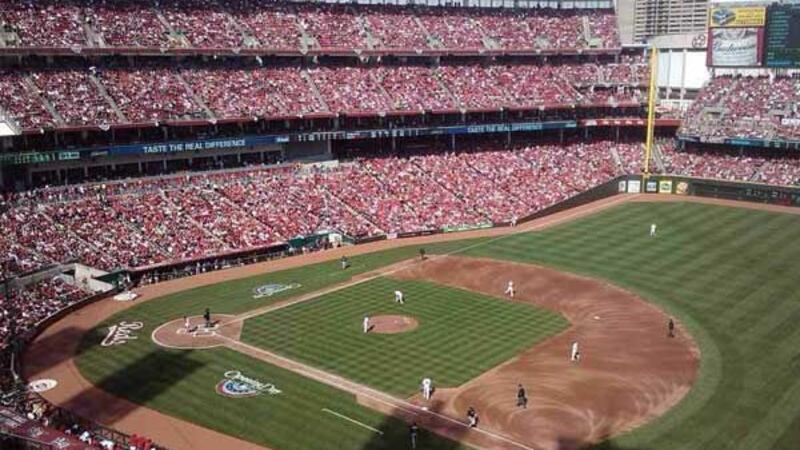 Updated: Dec. 11, 2019 at 8:01 AM EST
CINCINNATI (FOX19) - A Liberty Township couple who sued the Cincinnati Reds LLC, Hamilton County Board of Commissioners and others after a foul ball hit one of them in the face two years ago has voluntarily dismissed their suit.
An attorney for Kimberlee and David Slusher last week filed a notice of voluntary dismissal without prejudice of the defendants at cost of the Slushers, Hamilton County court records show.
The suit, filed in August, alleged Kimberlee Slusher suffered severe and permanent injuries requiring extensive treatment when the ball struck the right side of her face on Aug. 25, 2017, at Great American Ballpark.
The suit claimed those injuries include but are not limited to concussion, dental injuries causing loss of teeth and resulting in surgery, headaches, right hip sprain.
It also alleged she experienced severe pain and suffering, incurred medical expense, lost wages and "sustained a loss of the enjoyment of life."
The suit claimed the Reds and county knew or should have known of the risk of injury to park guests caused by foul balls.
According to the Reds website however, ticket holders assume all risks incidental to the game of baseball, including, but not limited to, the risk of objects leaving the field of play, including bats and bat fragments, and thrown or batted balls.
We reached out to the Reds for reaction on the lawsuit dismissal.
A spokesman said they do not comment on matters of litigation.
Less than one month after Slusher's injury, according to the suit, the Reds announced a plan to install expanded netting at Great American Ball Park ahead of the 2018 season.
The new netting would stretch to the far ends of each dugout.
RELATED | Reds will install additional netting at GABP for 2018 season
Major League Baseball announced in early 2018 that all Major League ballparks will have protective netting extending to at least the far ends of both dugouts by 2018 Opening Day.
The decision came after a young girl was injured by a foul ball at Yankee Stadium during the 2017 season. The foul ball came off the bat of Todd Frazier, a former Reds player.
For Opening Day in 2018, additional netting was installed that extends to the end of each dugout and the existing netting behind home plate has been replaced, the Reds have said.
In addition to the Reds and county, the suit also named Humana, Delta Dental of Michigan, ABC Corporation and John Does #1-3.
Copyright 2019 WXIX. All rights reserved.