FC Cincinnati reveals details about garage, future developments around stadium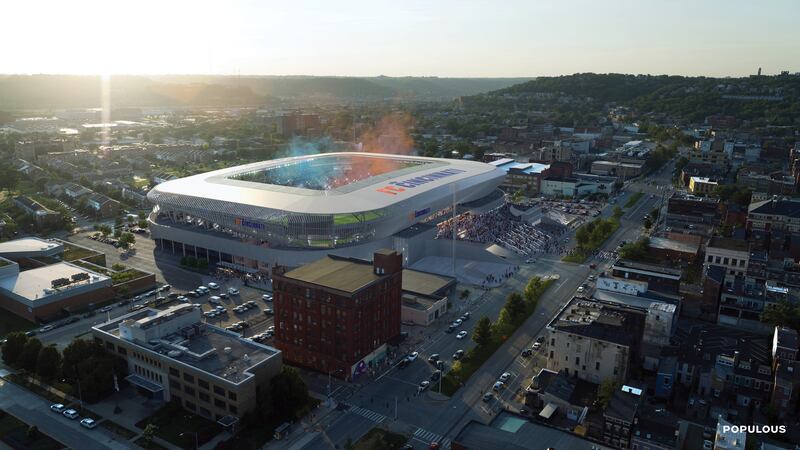 Updated: Jan. 16, 2020 at 11:41 PM EST
CINCINNATI (FOX19) - The Cincinnati Planning Commission will consider a major amendment to FC Cincinnati's West End Stadium when it meets on Friday, Jan. 24.
The amendment involves the construction of an 850-space, six-level parking garage north of the stadium between John Street and Central Avenue, according to planning commission documents submitted by Elevar Design Group, the stadium's local architecture firm.
The garage will be built and owned by Hamilton County.
In future phases, the parking garage will be wrapped with mixed-use developments to the north and east, according to the planning documents.
FC Cincinnati's stadium is currently under construction.
The stadium's Final Development Plan has been been amended several times since it was first proposed to the commission in January 2019, most significantly in September, when the commission approved adding 1.56 acres to the development site for the east parking garage and plazas.
The current amendment would add 2.1 acres of land to the development site for the planned county garage, bringing the total site to 17.6 acres.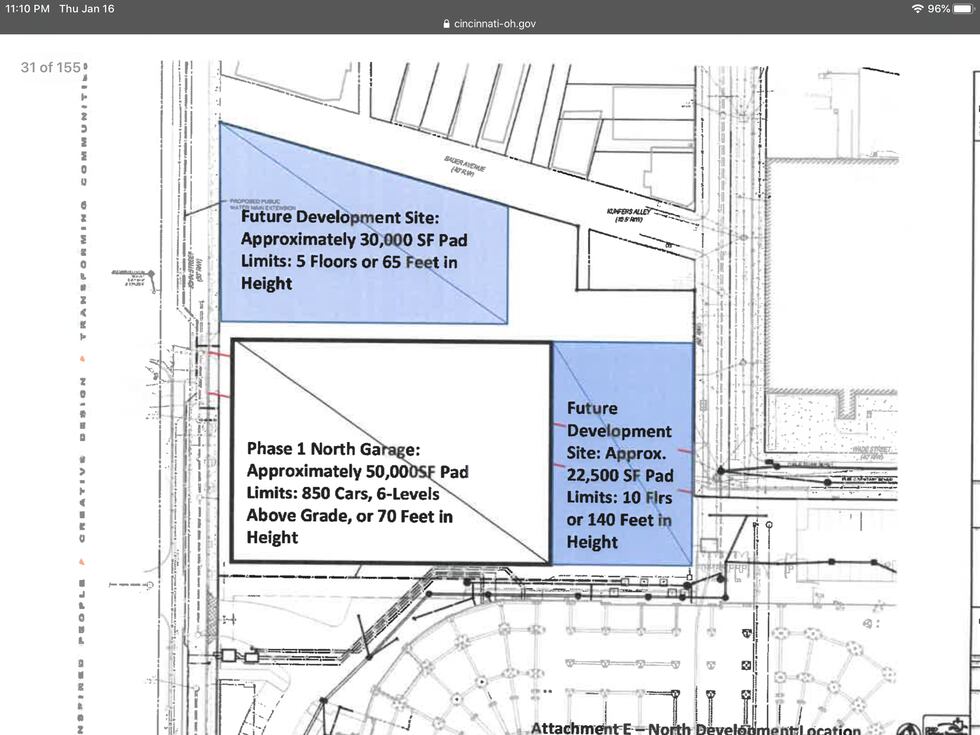 As for future development wrapping the garage, the planning documents describe a 5-story building totaling 150,000 square feet of mixed-use space at Bauer Avenue and John Street and a 10-story building with 225,000 square feet of mixed-use space along Central Avenue.
Potential uses, according to the club, include residential, dining, office, banking and finance, a community learning center, a daycare center, a food market or more parking facilities.
Those future developments would still need to come before the planning commission before they are built.
Related | WATCH: FC Cincinnati hosts hard-hat tour of its stadium construction site
The club and Hamilton County had reportedly been in negotiations to build a county-owned parking garage close to the stadium site for almost a year.
In December, the Hamilton County Board of Commissioners passed a deal in which the county would build an 800-space parking garage near the stadium, after which it would build another garage near Findlay Market with at least 300 spaces.
According to FOX19 NOW's media partners at the Cincinnati Enquirer, the club will get 85 percent of parking revenue on game days from the West End garage.
The team would also get 85 percent of revenue from another 100 surface lot spaces on land where the Findlay Market garage will go, and later when it is built, from 300 garage spaces. That site has not been disclosed.
On other days when there isn't a soccer game, concert or other stadium events, the county is set to get 100 percent of the garage revenue.
The stadium garage is expected to break ground as soon as February, opening when the stadium does in 2021. The deal calls for the Findlay Market garage to start construction no more than 12 months after that.
Copyright 2020 WXIX. All rights reserved.