Kentucky governor recommends churches cancel weekend services; prisons not allowing visitors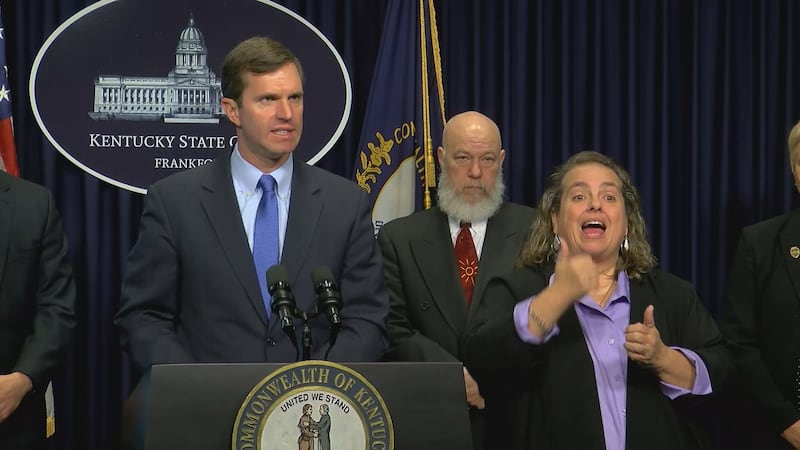 Updated: Mar. 11, 2020 at 11:04 AM EDT
FRANKFORT, Ky. (WAVE) – Gov. Andy Beshear recommended that churches across Kentucky cancel weekend services to help prevent the spread of COVID-19.
Beshear made the recommendation during a press conference at the Capitol Wednesday.
"I don't believe whether you go to church during this period of time is a test of faith, I believe God gives us wisdom to protect each other and we should do that," Beshear said. "I know it's a big step and I know some won't agree with it, but I believe that it's our job to offer those protections."
Additional steps are also being taken to stop the spread of COVID-19 by stopping visitation in state prisons and similar institutions.
Kentucky Justice and Public Safety Cabinet Secretary Mary Noble said they are doing their best to maintain the health of people in closed environments.
"We decide it was the best thing to do to stop outside visitation and that's a very hard decision to make because for a confirmed person seeing your family and friends on that weekly visit is very important," she said.
Noble was not sure how long the visitation restrictions would be in place.
"To assist in this process, we are going to provide them with a free phone call each week and up to two, I believe, contacts through a controlled social media source," Noble said.
Beshear said he was going to suspend non-essential travel for state employees and advised businesses to do the same.
"We are recommending that every individual in Kentucky do what they can to minimize their interaction and going to large meeting or groups, that includes community services, so I'll announce today that we are going to cancel the prayer breakfast that we were going to have this week," Beshear said.
As of Wednesday morning, there were eight COVID-19 tests in Kentucky; five in Harrison County, two in Fayette County and one in Jefferson County. Of those, four are being treated in hospitals and four are being treated at home. Beshear said all of the patients are stable, have been doing well and a couple may even recover soon.
Officials stressed the importance of hand washing and social distancing. Beshear encouraged Kentuckians to go all of their information about the number of cases in the state and additional information about COVID-19 from kycovid19.ky.gov.
Copyright 2020 WAVE 3 News. All rights reserved.