Ohio Democratic Party sues state elections chief over new primary date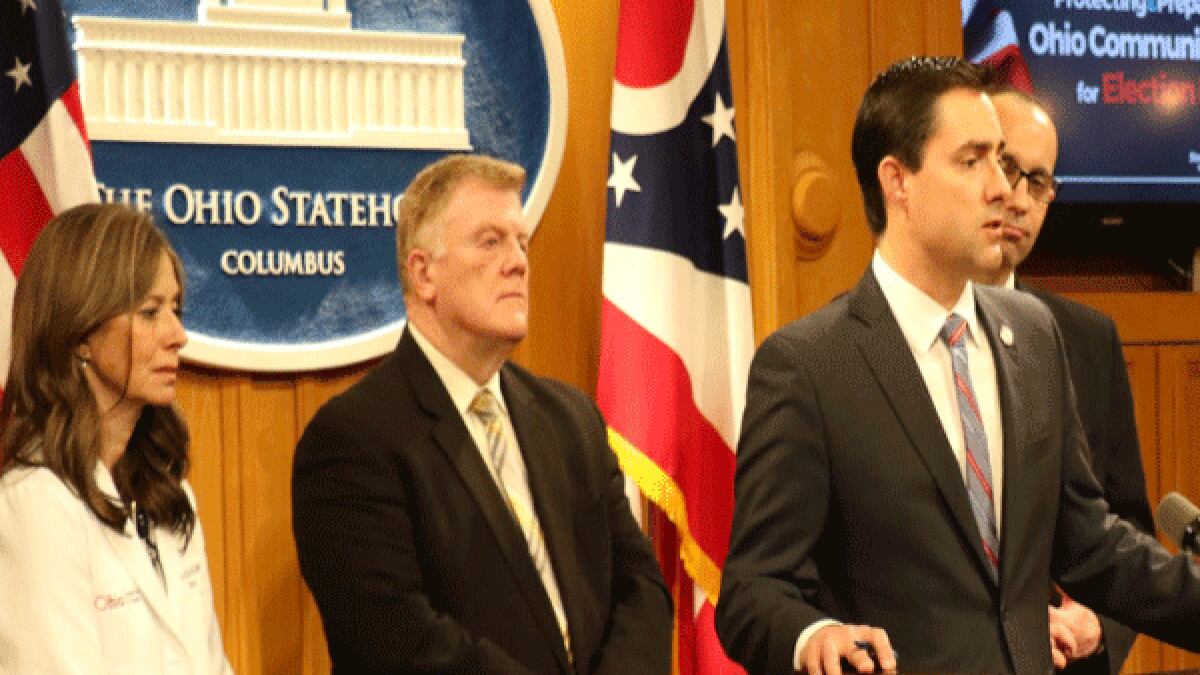 Updated: Mar. 18, 2020 at 11:27 AM EDT
COLUMBUS (FOX19) - The Ohio Democratic Party and a suburban Columbus woman have sued Republican Secretary of State Frank LaRose over the chaotic, last-minute decision to postpone the state's election to June 2 due to the coronavirus pandemic.
The lawsuit was filed Tuesday in the Ohio Supreme Court.
Only Ohio lawmakers, not LaRose, can set an election date, it contends.
Ohio's primary election delayed until June 2 over coronavirus pandemic
"Given the chaos, confusion and mixed messages of the past 24 hours, it's clearly impossible for in-person voting to move forward today in Ohio," Ohio Democratic Party Chairman David Pepper said in a statement. "However, this primary election must move forward, and Ohio Democratic legislative leaders and Ohio Democrats must be part of the negotiations over how that happens.
"Yesterday's postponement does not create unchecked authority with the governor or secretary of state to run a new election. In fact, the dangerous precedent of postponing an election requires an immediate return to the approach provided by Ohio law."
The lawsuit calls for the state's top court to order "adequate" opportunities for Ohioans to vote via absentee balloting until April 28.
"The Ohio Democratic Party strongly supports concluding the primary election earlier than June 2," Pepper's statement reads. "Extending for that long is highly problematic for any number of reasons, and it is not at all clear that in-person voting will be possible on that date anyway."
LaRose, the suit alleges, was "patently and unambiguously without jurisdiction and legal authority" to direct county boards of education to move the election to June 2 and should rescind it.
His "reliance upon factual findings and declarations of the Ohio governor and the director of the Ohio Department of Health to assert jurisdiction to move the date of Ohio's 2020 presidential primary election ... was a quasijudicial act unauthorized by law," the lawsuit states.
FOX19 NOW is seeking comment from LaRose and Ohio Attorney General Dave Yost, who represents him.
"The Secretary of State acted promptly and properly in response to a legally declared public health emergency. My office will vigorously defend his actions," Yost told FOX19 NOW Wednesday morning.
Citing the health emergency presented by coronavirus, Gov. Mike DeWine directed Ohio Department of Health Director Amy Acton to order polls closed Monday night, just hours before polls were to open statewide early Tuesday.
"During this time when we face an unprecedented public health crisis, to conduct an election tomorrow would force poll workers and voters to place themselves at an unacceptable health risk of contracting coronavirus," DeWine said in a tweet late Monday.
The Ohio Supreme Court upheld the decision early Tuesday by denying a legal challenge.
The ruling was issued by four justices who did not explain their reasoning.
Two justices who are seeking re-election this year, Sharon Kennedy from Butler County and Judith French, didn't participate; neither did Justice Patrick DeWine, the governor's son.
LaRose tweeted Monday and Tuesday about the decision.
"Last night, @DrAmyActon and @GovMikeDeWine took decisive action which saved the lives of Ohioans and I took action to carry out my duty to ensure Ohioans have their voices heard at the polls," he said in one tweet.
Polling locations were ordered closed Monday night, according to his spokeswoman.
Maggie Sheehan, told FOX19 NOW late Monday LaRose "issued a directive to county boards of elections that primary election day will be on June 2nd. From now until May 26th, voter may request absentee ballots on VoteOhio.gov, and submit absentee ballots by June 1."
Absentee voting already has been underway for several weeks.
At a news conference about coronavirus Tuesday in Columbus, DeWine defended the decision to delay the election. He said he didn't want anyone to choose between their health and their constitutional right to vote.
House Speaker Larry Householder, R-Glenford, however, decried "unprecedented chaos and confusion" and the undermining of Ohio's "system of government," the Associated Press reports.
He said he was contacting legislators about their ability to attend a session to "legally" address the primary.
On Wednesday, he told FOX19 NOW the "primary hasn't been moved. According to Ohio Law, the Election Day was yesterday. Only the vote of the Ohio legislature can change a law in statute. That said, the legislature may decide to extend absentee voting."
"Voting yesterday," Householder said, "would have been safer than people going to a grocery store or a Walmart."
Pepper wants lawmakers to update Ohio's election statutes "to address this emergency situation."
"House Democratic Leader Emilia Sykes, Senate Democratic Leader Kenny Yuko and their colleagues are ready and eager to get back to work and resolve this and other urgent issues," Pepper's statement reads.
Asked during a White House briefing Tuesday about DeWine's decision, President Donald Trump praised him for "doing a great job" during the crisis, although he said he prefers to see elections go on as scheduled.
"I just think an election is a very special thing," Trump said. "That would be a decision that would be made by him. He felt it was necessary. ... Somebody's challenging it, so the courts will ultimately decide."
The Democratic presidential candidates, former Vice President Joe Biden and Vermont Sen. Bernie Sanders, are vying for 136 delegates in Ohio, where there also will be congressional, state and local races.
Biden picked up easy victories in Florida, Illinois and Arizona Tuesday, where primary elections were held despite the coronavirus pandemic.
He has been increasingly pulling away with the Democratic presidential primary race and building pressure on Sanders to abandon his campaign.
With 3 more victories, Biden pulls further away from Sanders
Copyright 2020 WXIX. All rights reserved.