'Extreme and devastating:' City furloughs 20 percent of workers, 1,700 employees
Updated: Mar. 30, 2020 at 9:40 PM EDT
CINCINNATI (FOX19) - Cincinnati Mayor John Cranley announced Monday the city will furlough approximately 20 percent of its workforce, or 1,700 workers, amid the COVID-19 pandemic.
The decision, which goes into effect Monday, comes from City Manager Patrick Duhaney's office and does not require approval by city council.
Workers will not be fired but will be placed on temporary leave and will remain city employees. They will keep their health benefits.
Cranley said he hopes the workers can be brought back in four weeks.
No sworn-in members of the city's police or fire departments are affected by the furlough.
Ninety-percent of the city's water and sewer workers will also remain.
The mayor explained two-thirds of the city's budget is tied up in its water and sewer departments. Of the third that remains, 60 percent goes to police and fire.
The remaining share of the city's budget goes to functions such as law, economic development, internal auditing and more. Those departments will see workforce furloughs of around 50 percent, which the mayor described as "extreme and devastating."
Cranley was often emotional during the press conference announcing the furlough.
"You do not deserve this," he said speaking to the workers affected. "You did nothing to deserve this. It is not your fault. This is only temporary. You will be back."
He continued: "The number of people being placed on temporary emergency leave is staggering, and it is understandable to be scared by it. This decision has nothing to do with your performance, and in fact, we are taking these dramatic steps now while the federal government is providing these dollars because it will give us the resources we need to bring you back."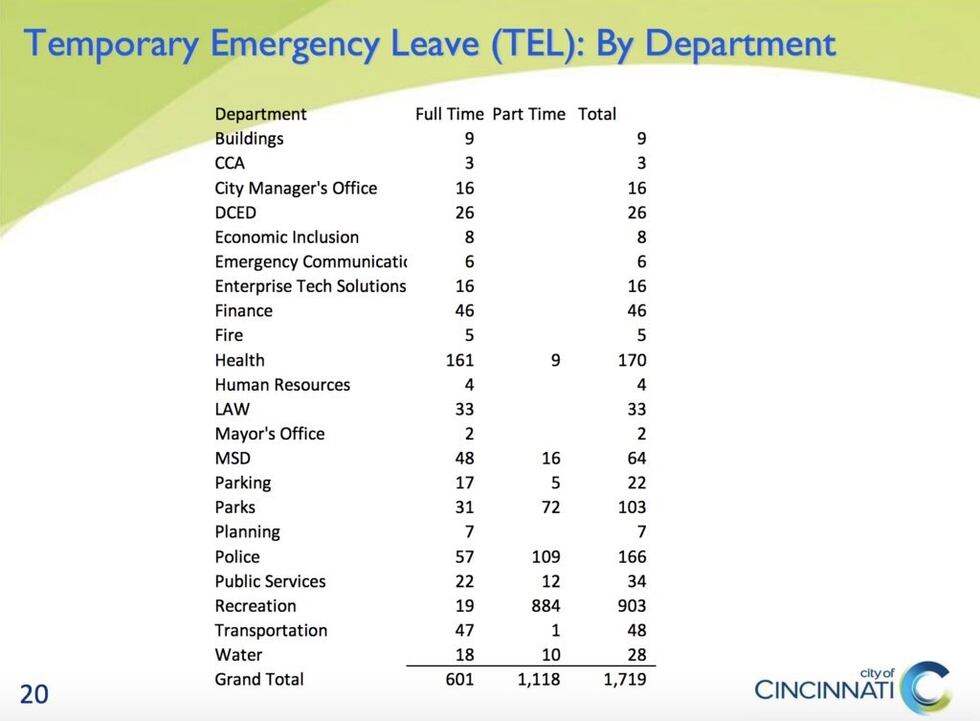 Cranley also touched on the city's "miraculous turnaround" from the heights of urban disinvestment in the early 2000′s, saying the city will "bounce back faster than other communities" because of the progress seen over the last decade.
"We will bounce back, and we will bounce back together once it is safe to go back to work."
The city faces a $60-80 million budget hole as a result of COVID-19, according to a city memo released Friday. That includes dramatically reduced tax receipts during what Cranley described as a functional "shutdown" of the economy imposed by state and federal governments in response to the spread of the virus.
Furloughing city workers, Cranley said, appears to be what the recently passed federal aid bill "wants us to do."
Last week Cranley said the city will not receive direct money from the federal government as part of the aid bill due to the city being too small for the bill's population criterion of 500,000. He repeated Monday he believes the decision is "unfair" because cities like Cincinnati that are relatively small municipal entities within larger metropolitan regions nevertheless provide services that are indispensable to those regions.
But it looks like that's by design, he said, citing the bill's generous increases to unemployment benefits and benefits for furloughed workers without much in the way of support for cities.
"This is the way the stimulus bill was set up, to allow people to weather the storm and get the public health benefit of keeping as many people at home as possible," he said. "This is how we get through this crisis."
The city directed Red Bike, Cincinnati's bike share nonprofit, to temporarily cease operations Sunday night.
Monday, the mayor said the streetcar and electric scooter sharing services will cease operation as well. The streetcar will stop service Tuesday.
Despite being pressed by another media outlet on the possibility of the streetcar's closure being permanent, the mayor said he had "no intention" of shutting the streetcar down and that such unsupported conjecturing was untimely.
The mayor said he and the city manager have taken immediate 10 percent pay cuts, as have all department heads and staff in the mayor's office.
The mayor spoke on preparations underway to meet an expected surge in cases over the next two weeks.
"It is ongoing and going well," he said, adding his meetings with local hospital CEOs and his phone calls with Gov. Mike DeWine and Department of Health Director Amy Acton, MD, have left him "inspired."
He said plans to transition the Duke Energy Convention Center to surplus bed space will be finalized in the coming days. He also said he would be asking city council on Wednesday for authority to use Federal Community Block Grant dollars to spend on actions needed to prepare the convention center for that use.
Copyright 2020 WXIX. All rights reserved.