Why fewer flu cases could signal good things for Kentucky's fight against COVID-19
Updated: Apr. 4, 2020 at 8:17 PM EDT
FRANKFORT, Ky. (FOX19) - Social distancing is working in Kentucky, Gov. Andy Beshear says, and commonwealth's curve is flattening.
As evidence, the governor pointed Saturday in his daily briefing to Kentucky's "steady" growth in cases, contrasting it with the growth curves of states where cases are doubling every few days.
He also pointed -- literally -- to a chart showing a decline in Kentucky's cases of influenza in the time since social distancing measures, including the governor's Stay-at-Home order, were imposed.
"Social distancing is working," Beshear said. "It is preventing wider spread of the flu. Now, we believe the coronavirus spreads a lot faster and more aggressively, but look at that downward trend and know if we stick with this, if we follow through with the restrictions, we will absolutely slow the spread of the coronavirus."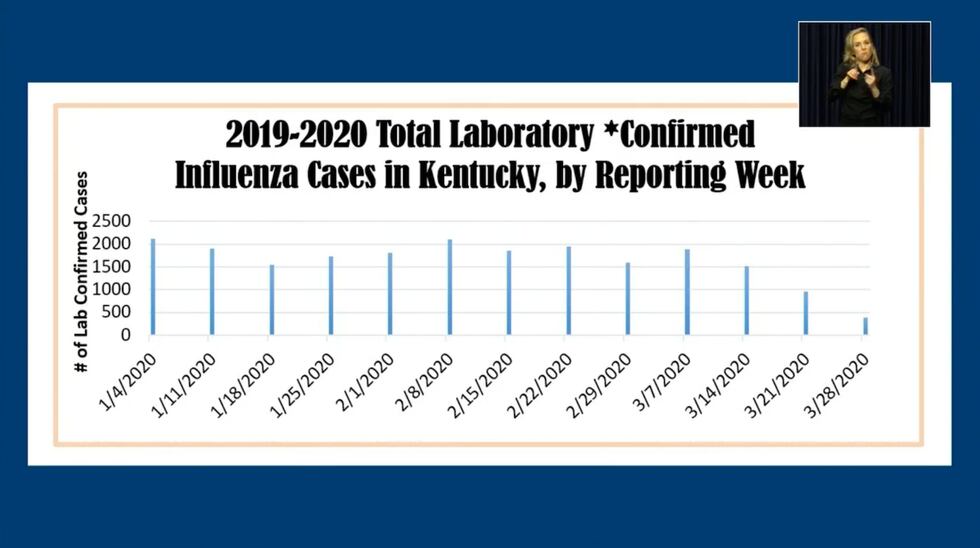 That doesn't mean the work is over, Beshear cautioned.
To that end, he pointed to another chart Saturday, saying defiantly, "For anyone out there that disagrees with the actions we have taken, I hope you look at this."
This chart showed the grim reality of non-compliance with the statewide Stay-at-Home order.
Without an order, Kentucky stands to lose as many as 47,000 lives due to the virus. With an order that is strictly followed, the state could lose as few as 2,000. Meanwhile, an order that is followed poorly could still cause 13,000 deaths.
"What you do matters, what we all do matters," the governor said. "That is a significant number of people. How great would it be if we could look back five years from now and say, 'Well, it wasn't easy, but we did what it took and we saved 11,000 lives.' I think that's something worth sacrificing for. I know it's something worth sacrificing for."
He continued: "I can't tell you the final number we think we will lose. What I can tell you is, there will be individuals who are still here for their family and friends if everyone does their duty."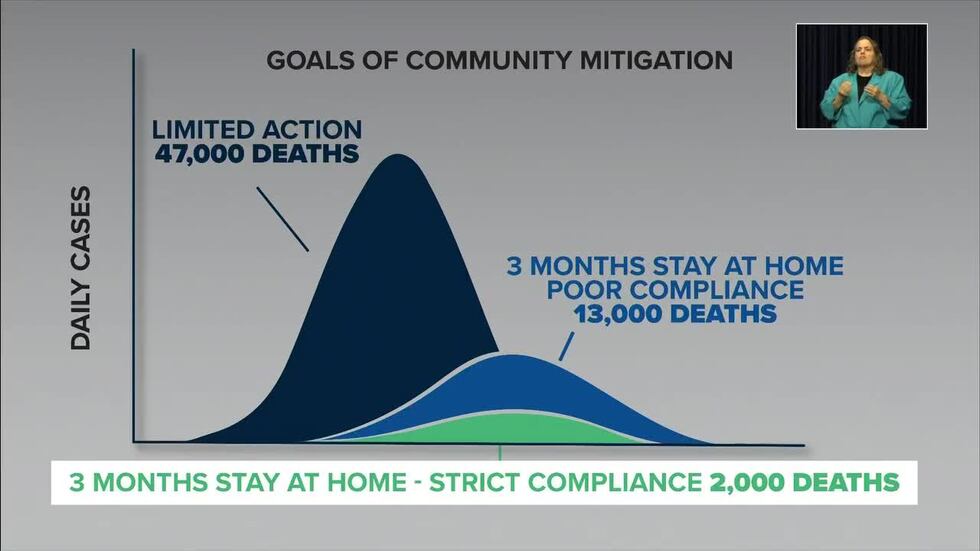 Kentucky currently has 40 coronavirus deaths, the governor added, including three new deaths reported Saturday.
Related | First COVID-19 death reported in Boone County
There are currently 917 cases confirmed in the commonwealth on 16,663 tests, though the governor says that testing number is low.
Beshear says Kentucky has plans in place to create a total of 25,000 hospital beds, up from the state's pre-pandemic capacity of 18,500. That includes creating a field hospital on the state's fair grounds, increasing capacity at the state's hospitals and using hotels, of which three are already under contract.
Ventilators are "becoming almost impossible to procure," Beshear said. He added doctors are working on plans to attach multiple patients to single ventilators.
Regarding person protective equipment, the governor reiterated how difficult it is for the commonwealth to acquire PPE as it must bid against the federal government.
"What'll happen is either the vendor who is supposed to are sending (a PPE order) to us will tell us the federal government bought it instead, typically FEMA," Beshear explained, "or we will be told there is an issue with (the order), and what we will find out in the next couple of days is the federal government has bought it."
The governor said he is encouraging Kentucky companies to help manufacture PPE.
"If you are a Kentucky company and you think you can do any of this, give us a call. If we create our own manufacturing base to create PPE, we will be in a better place than just about any other state," he said. "If you can manufacture it, we will buy it."
A new hotline (1-833-GIVE PPE) and website (giveppe.ky.gov) streamline the entire donation process. In addition, PPE donations now will be accepted at all 16 Kentucky State Police posts across the commonwealth and at Transportation Cabinet offices in Louisville and Lexington.
A CDC guidance issued Friday that recommends citizens wear face coverings in public settings where other social distancing measures are difficult to maintain, such as in grocery stores.
Beshear said h supports the guidance but added a warning.
"No one outside of a healthcare provider ought to be wearing an N95 mask. And if you are wearing a surgical mask, you ought to think if there is a healthcare provider who needs it more."
The governor continued: "Wearing a mask does not replace social distancing retirements. It does not mean you get within six feet, that will still spread the virus."
Complete coronavirus coverage | County-by-County COVID-19 tracker
Copyright 2020 WXIX. All rights reserved.