'None of it is true': Portsmouth attorney under state investigation speaks out
Federal officials received complaints for years about Michael Mearan being involved in prostitution and sex trafficking, a federal record shows.
Updated: Apr. 5, 2020 at 6:15 PM EDT
PORTSMOUTH, Ohio (FOX19) - A Portsmouth lawyer and former city council member under state investigation is linked to prostitution, sex trafficking and the drugs, federal court records show.
Federal authorities received complaints for years about Michael Mearan, 74, according to a 2015 affidavit filed under seal with the Southern District of Ohio that FOX19 NOW obtained.
Agents with Ohio Bureau of Investigation recently raided his home, which also serves as his office and is across the street from the Scioto County Courthouse.
Ohio AG seeks info on Portsmouth attorney amid reports of sex trafficking investigation
Mearan has not been charged and in an interview with FOX19 NOW, he categorically denied all allegations.
"It would be a frustrating job to investigate me because I lead kind of a boring life getting up every morning and going across the street to work and going to the jail to visit my clients," he said.
Federal court records obtained by FOX19 NOW, however, tell a different story.
Mearan was suspected of supplying young female prostitutes with drugs "in exchange for and as an incentive to participate in acts of prostitution," a copy of the August 2015 affidavit shows.
A federal agent filed it under seal to get permission for a wiretap in a drug case involving one of Mearan's former clients, according to a copy of it.
The sworn statement contends some of the women said they were sent as far as New York, New Jersey, Florida and Nevada for paid sexual encounters.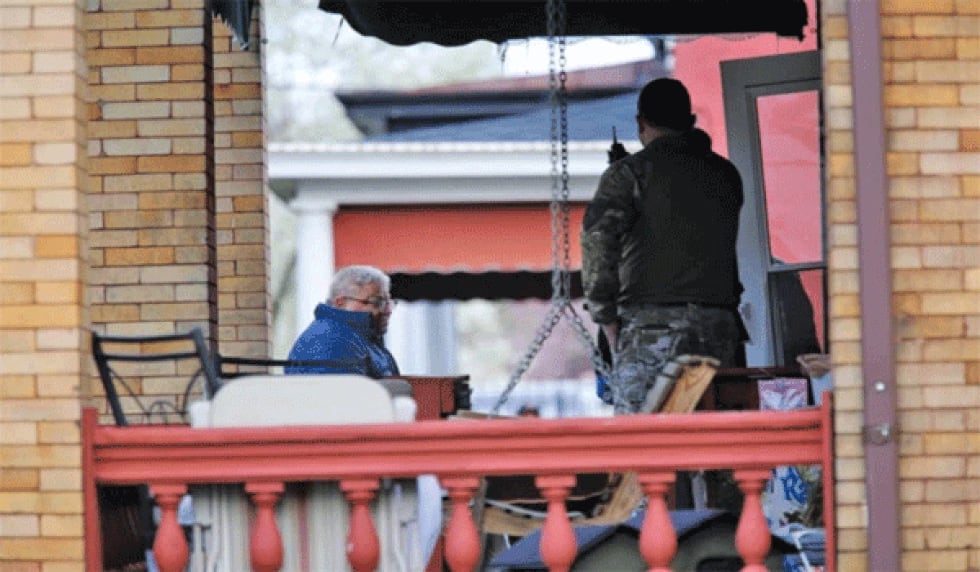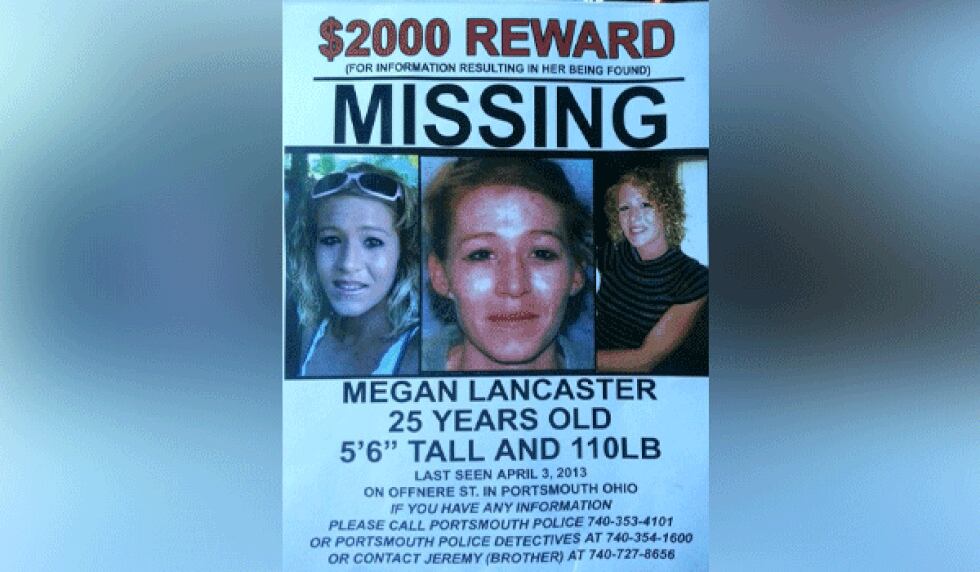 According to the affidavit, Mearan was connected to more than two dozen women who worked for him as prostitutes, including one who has been missing for seven years as of Friday, and another found dead of "multiple traumas."
What's more, Mearan has been known to law enforcement in Portsmouth for more than 40 years and has been indirectly tied to multiple prior FBI investigations into human trafficking, extortion, violent gangs and "White Slave Trafficking," the court record reads.
"Numerous complaints have been received and, subsequently, documented by the FBI Portsmouth office and FBI/HIDTA/Southern Ohio Drug Task Force (SODTF) relative to this criminal activity," the affidavit states. "Also, witnesses and source-information interviews have indicated that Mearan offers his legal services, clothing residence, food, etc., to females in return for them becoming prostitutes for him and conducting sexual acts for his clients including a Portsmouth, Ohio judge, Southern Ohio Correctional Facility Staff members, and local businessmen.
"Mearan also has been reported as being involved in purchasing drugs, including Oxycodone and heroin, in order to provide them to his prostitutes and clients. Mearan also has been suspected as being in collusion with a Portsmouth, Ohio judge to get females out on bail, parole, etc., in order to use those females as prostitutes and with unknown law enforcement or legislative officials to tip off Mearan's drug suppliers, including (a then-client of Mearan's) Mark Eubanks."
Eight people pleaded guilty to conspiracy to distribute heroin and other drugs, including Eubanks.
Mearan pointed out he was not charged then and is not charged now.
He said the affidavit is based on nameless, confidential informants trying to get deals for lower sentences, trying to set him up.
Still, rumors about Mearan, sex trafficking and local corruption long have been circulating for years in Portsmouth.
Police detectives began looking into Mearan in late 2018, about the same time our news partners at the Cincinnati Enquirer began reporting on rumors of sex trafficking in the southern Ohio city.
Ten women previously told The Enquirer they had worked as prostitutes for Mearan, with several of the women saying they had traveled to numerous states to have sex at his behest over the last two decades. Records show that Mearan had represented six of the women facing drug charges.
The women also told The Enquirer that Mearan's operation included some of the most powerful men in Scioto County as customers and participants.
One said she had slept with a former police chief for money.
Four women said that a now-retired Scioto County Common Pleas Court Judge, William T. Marshall, was associated Mearan.
The Enquirer also published another report outlining other possible sex trafficking and sexual misconduct by two brothers who worked in the Portsmouth City Probation Office. The paper ran another story reporting state investigators were taking a more active role in the sex trafficking case with Portsmouth police.
When BCI raided Mearan's house late last month, Ohio Attorney General Dave Yost was at the scene.
Portsmouth police guarded the perimeter of the house, blocking the streets around it off to vehicles and pedestrians.
Two days later, on Friday March 27, the AG's office, which oversees BCI, sought help on the case from the public.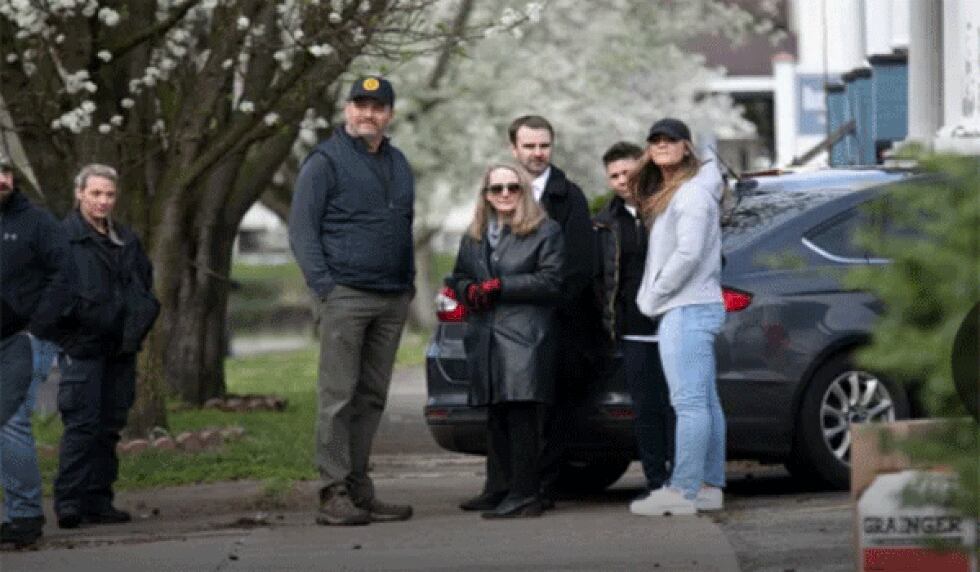 When we contacted Mearan for comment, he insisted he's done nothing wrong and also defended the judge.
He said all he's ever tried to do was help people, especially his clients which included many female drug addicts.
Mearan said:
"There is no case"

"None of it is true"

"I know of nothing that I have done wrong"

"The thing of me taking prostitutes to the judge's house? It's all false."
When he called us back to do the interview, he said he was calling from a different phone than the one we reached him on earlier that day.
He said BCI took his phone, so he had to buy a new one but still felt he should call us on yet another line.
He said he didn't know if he was "tapped."
"I don't know. I'm not taking any chances. I have nothing to hide. They have 10 years of my emails and messages and pictures. If they don't find anything there- I like my privacy when I talk."
'Am I under arrest?'
Mearan said BCI agents broke his front door down about 8 a.m. Wednesday, March 25, shined a flashlight on him and told him to put his hands up.
They asked if he had any weapons.
'I said the last one I touched was 50 years ago."
His grown daughter, who lives with him, took his five dogs outside.
"I asked them right away 'Am I under arrest?' Mearan recalled. "They said no, they were searching. The said it was an inquisitive search for discovery."
He said he detained and handcuffed for about 10-15 minutes.
"I have never been handcuffed," he said. "It was uncomfortable."
Other than that, he had no complaints about BCI, who he also referred to as "the goon squad who came in here."
"I think other than breaking my door down and putting handcuffs on me, they were just doing their jobs," he said. "They were very professional."
He was seen outside on his front porch in the morning chill while BCI began to scour all four floors of his home, including the basement and attic.
"It was cold. I said 'Could I get a jacket?' They said 'We can't just yet. We're going to take pictures,'" he recalled. "I'm 74 years old, home like I'm supposed to be, and you're doing this during this virus situation?"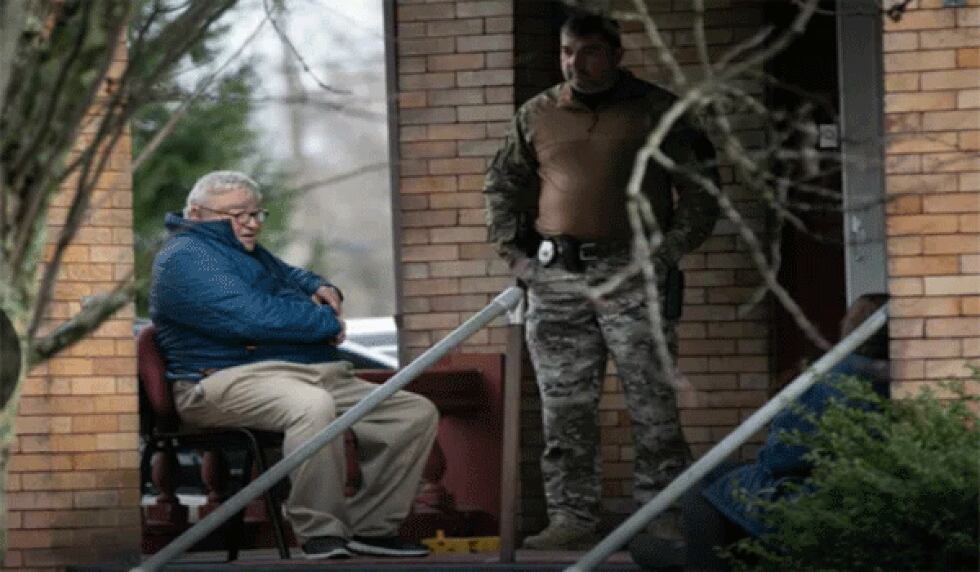 Mearan said they brought two dogs, including a drug-sniffing one, and equipment to dig under his basement floor if they felt they needed to, but ultimately did not.
He said he sat outside on his porch for an hour or two, authorities interviewed him and his daughter and told him that he could leave and come back that night.
They drove away in an SUV.
He said they were there for more than eight hours. When he returned, he said he found they took "everything," all his computer equipment, client records and his cell phone that he said he had data dating back to 2013.
"They've, like, shut me down," he said but then added: "That doesn't stop me. I am just to practice law in full standing and have clients every day. I don't need computers to practice criminal law. My secretary did all that, divorces and things. But I can still handle it. I can still work, just cut back and there's less because of the virus anyway."
Several clients have called since the raid to offer their support, he said. They also told him they sent letters backing him to BCI.
He said he was given a copy of the search warrant authorities obtained to have the right to enter and search his property.
Mearan declined to give us a copy of it, but he did read it to us when asked.
He said the warrant informed him the search involved the Ohio Organized Crime Task Force. It indicated they were searching for telephone records, call history, all communications, credit cards and debit cards regarding grooming, sexual activity, pandering for sexual activity, travel arrangements, he said.
The search warrant, according to what Mearan read to us, also indicates authorities were checking for evidence related to allegedly engaging in a pattern of corrupt activity, trafficking persons, promoting enticement or soliciting and patronizing prostitutes; tampering with records and permitting drug abuse.
"I guess they just threw in the kitchen sink," he said.
Authorities also asked for a copy of the deed to his house.
"I welcome it," he said of the investigation. "Maybe there won't be any more rumors.
We asked him what he thought about the AGs office soliciting information about him from the public, asking people to contact BCI if they had any information about "suspicious activity" involving him.
"Now what does that tell you, that after researching for a year and going through my house, they ask 'do you know of any suspicious activity on Mr. Mearan,'" he said.
"I've been a lawyer in this town for 50 years, never had a case go through the disciplinary process. I've had disgruntled clients before, but nothing like this."
When we reached out to the Ohio Public Defender's Office about Mearan, we received this response from their chief legal counsel:
"We do not have information we can share at this time and we are awaiting the disclosure of more information related to Atty. Mearan."
We reached out to BCI for the status of the case, if they considered Mearan a suspect or person of interest and/or they had received tips since appealing to the public for information about him.
"We do not have any additional information to share about this investigation," BCI spokesman Steve Irwin wrote in an email to FOX19 NOW.
We checked with the Cincinnati office of the FBI and U.S. Attorney's Office for the Southern District of Ohio.
They referred us to BCI.
"I feel sorry for Judge Marshall the way they talked about him," Mearan said.
He retired, went through rehab and now lives in Florida, Mearan said.
"The judge had an alcohol abuse problem," he said. "I took him to Columbus. That's what a person who cares about someone does. Forget about his job. I saved his life."
He also said there has not been a single case of the judge's that has been overruled.
"Judge Marshall was a very conscientious judge," Mearan said.
Marshall also has been accused of being a severe alcoholic by his family, which tried to take control of his personal and financial affairs last year, the Enquirer reported. That prompted the Ohio Public Defender's Office to launch an investigation into as many as 2,700 of Marshall's previous criminal cases.
'I've been through hell'
We contacted Marshall in Florida.
He repeatedly insisted he is not the Portsmouth, Ohio judge mentioned in the affidavit.
"I've never cheated. I've never had a prostitute in my life, I swear on my mom - and she's still alive - or paid for anybody else to have sex," he said in a phone interview.
He said since the Enquirer story came out, "it has been a nightmare. It really has. I had a great reputation as a judge."
Marshall said he started the first drug court in southern Ohio, served as prosecutor for 12 years and the municipal court judge in 1995 before becoming common pleas court judge in 2002.
"I've been through hell. It's driving me crazy. I just hope nobody here finds out about it and then I'd be ruined in Florida, too."
He said Mearan called him and told him the case made the newspaper in London, England.
"He feels really bad about it," Marshall said of Mearan. "He knows I didn't have anything to do with it."
Marshall retired suddenly in 2018 after a 16-year career as a common pleas court judge as well as running the Scioto County Drug Court through his courtroom.
He left the bench just before being suspended from practicing law for six months by the state's legal watchdog agency on an unrelated case.
That same office previously reprimanded Marshall after he wrecked his car and was convicted of driving under the influence in 2013.
Marshall mentioned the OVI and incident involving his daughter's speeding ticket when we talked to him.
"My daughter got a stupid little speeding ticket. She handed me the phone to talk to the trooper. I asked 'what did she do?' He got snappy with me. Stupidly, we plead not guilty to the ticket. Right before we went in to court, I called the sergeant an a--hole. That was not a good idea."
Marshall said he was asked to retire. "I wasn't ready for that. I was never fired from a job in my life. It was stupid. It was stupid. She got babied more than the other two, but it was my fault. I accept full responsibility for it.
Marshall said he wants to prove the rumors and allegations are lies. "Everybody in my town thinks I am some kind of sexaholic. I think the only connection they can make between Mike and me is drug court. Mike wanted to give his time. I am not the kind of guy who is going to pay out a criminal defendant."
Marshall said has never seen anything to make him suspect Mearan of illegal activity.
He said everyone who meets Mearan likes him, he is always supporting anything in downtown Portsmouth and he devoted a lot of times on drug court cases, including some he was not paid for and ones no other attorneys wanted.
"He hangs around with young girls. I've seen him with two young girls. He just likes to be seen with pretty girls, I guess. I don't know anything or if he paid them. If I had asked him, if he had done anything like that, I would have turned him in. A judge is supposed to turn someone in and Mike's never told me anything like that. If I know an attorney is breaking the law in any way I have to contact the disciplinary council."
Marshall said he never thought sex trafficking was going on in his county.
"I think it's awful. What happens to these girls, they get these little girls or little boys, that's what really gets me, and they take them and start giving them drugs, get them hooked, and take them when they are 16 when they are still pretty and then they are done with them and most of them just die. They disappear from the face of the earth."
He said he thinks that might be what happened to Megan Lancaster, though he doesn't know for sure. He said he had two cases involving her, civil protection orders filed against her.
"I had her in my courtroom for stalking older men. She was stalking them and taking their money. My theory is Megan was taking advantage of older men, taking a lot and the families were filing stalking on the cases. I gave orders for her to stay away from them."
He said he was running for re-election for what would wind up being the last time when she went missing.
"This rumor started that Mike Mearan used her and killed her and we buried her in Mike's basement. I've never been in his basement. I've been in his office one time in my whole life. I never socialized with him or anything like that."
'The ball is in their court'
Mearan said he called BCI since the raid and told them he needed his things returned.
"They have to give me my stuff back," Mearan said. "That's privileged (client) information."
He said they told him it would be a priority.
On Monday, March 30, he received some paperwork back he said he needs for an adoption case he's handling.
In the meantime, he said he went out and bought a new phone and downloaded his contacts through his iCloud.
"I'm going to sit here and wait until I get my stuff back," he said.
He said he didn't know what is going to happen, but he didn't think he would be arrested.
He said no one at BCI has informed him he is going to be charged - or is even under investigation for that matter.
"The ball is in their court," he said.
When we asked if he had a lawyer, he responded: "He who represents himself has a fool for a lawyer, but I haven't been charged with anything."
He later said he did have an attorney and told us: "You can't let this thing get you down. I think positive thoughts. I know nothing is there. We have enough going on with this virus to let something like this get me down."
He said his family is the most important thing to him.
"My family knows me. They know I'm not that kind of person."
He said he has been practicing law with an unblemished record for 50 years, served in the U.S. Army in the medical service corp in San Antonio and then returned to Portsmouth and served in the reserves.
"Where do you go to buy your reputation back?" He asked. "The people who know me support me. I've had clients called me unsolicited and told me they wrote letters into the (BCI) office hotline."
His license plate says "pro bono" and he is proud to say he has never turned down a client because they didn't have the money to pay him.
Many of his clients have success stories, getting off drugs and finding good jobs including some working for law enforcement, he said.
"I hope I can continue to do what I am doing. I am not hoping. I am doing it. I live one day at a time. I don't worry. I think positive."
We asked him what he thought of sex trafficking and prostitution:
Sex trafficking: "Is horrible. Because I think the victims are preyed upon for their drugs habits or whatever, I don't know."
Prostitution: "It's against the law. But I think in some circumstances where there might be someone - I really don't know. In some circumstances, it's like gambling. Is gambling OK? Well, they now say it's OK because 18 states have passed it. It's legal in Las Vegas. So I don't know. I don't have any strong feelings one way or the other."
We asked him if he ever used a prostitute.
"The last person to ask me that question," he responded, "was asked to leave my house. That's a private matter. My daughter is telling me breakfast is ready."
'Men who give money'
There are people watching the state's investigation of Mearan closely.
One of them is Kadie Lancaster.
Her best friend and sister-in-law, Megan Lancaster, 25, is the woman who vanished seven years ago Friday, on April 3, 2013.
She has not been seen since.
The case remains open. There have been no arrests.
Her son, Rhys, was 7-years-old when his mom left one day and never came back.
He is 14 now and is being raised by his grandparents (Megan Lancaster's mother and father).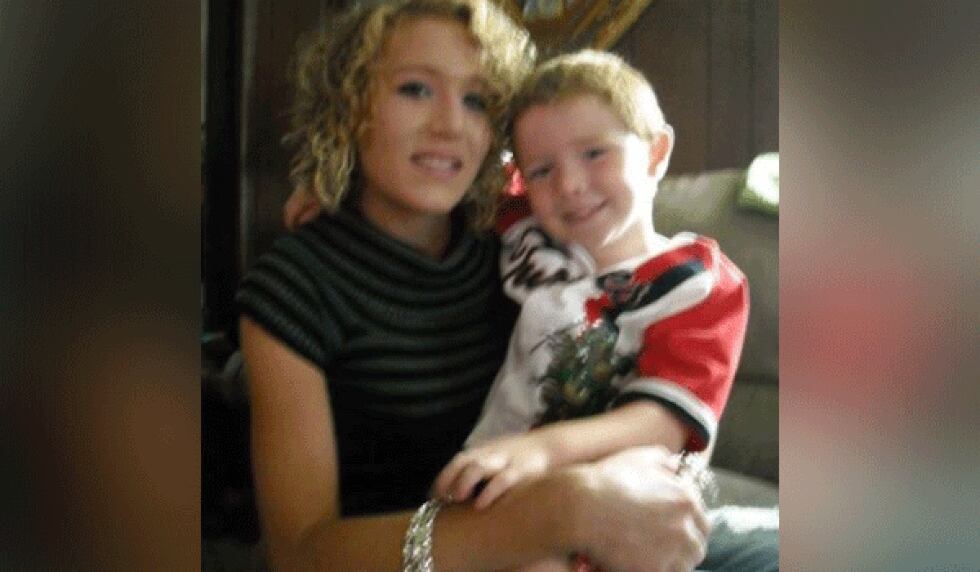 Megan Lancaster's story is one that concerns women who have information about Mearan, Kadie Lancaster said, but "they are afraid to speak out because they don't want to wind up like her."
Megan Lancaster told her family she knew Mearan and worked for him selling vacuums, but they didn't really believe her, according to Kadie Lancaster.
At the time of her disappearance, Megan Lancaster - who once was a talented athlete with a softball scholarship to school - was using drugs and prostituting.
Megan Lancaster kept a black notebook with names and phone numbers among pages that have "dance for" and "men who give money," written on them, according to Kadie Lancaster and a copy she provided to us.
One page lists Mearan's name and phone number next to "$80."
Kadie Lancaster said she has called nearly every phone number listed. One man who answered under the listing for "e" was a now-retired police captain, she said, who claimed he didn't know what she was talking about.
She wonders why Megan had his phone number.
Lancaster's drug dealer was the first one to sound the alarm she was missing.
He went to her mother's house on April 5, 2013, and told her he thought something was wrong because her car was still parked at Rally's fast food restaurant and she hadn't contacted him looking for drugs, Kadie Lancaster said.
Megan's white Ford Mustang was locked and parked outside the restaurant with her wallet open on the front seat.
"No money was in it despite the fact that she had picked up money from the money center at Walmart that night," Kadie Lancaster said.
She thinks Mearan was involved somehow or knows what happened.
"He gets women who have been into trouble, takes them into court and they work for him as a dog walker or he says they are getting their GEDs, he says several things," she said.
"Really, they are dancing and prostituting for him. They have this club, a group of business guys and they will have parties. They have these private parties in homes and businesses. He makes money. We call him the Million Dollar Man. He doesn't have a lot of assets. We can't find his money as far as where he keeps it."
When FOX19 NOW asked Mearan about Megan Lancaster, he responded:
"The only involvement that I had with Megan was she was a snitch on a client. That's it. She did not work for me. The lady that's doing my house cleaning now was in prison for five years as a result of Megan. Megan lured her down to a hotel in Portsmouth and bought drugs from her and when she left the police were waiting on her. I don't want to speak bad about the dead, but she lived a rough life. "
When we asked him what happened to Megan, he responded: "She died about five years ago. She just disappeared. Her car was found but they never found out what happened to her. In her business, she had not made friends. I don't want to talk bad about her."
He also said: "She had a lot of enemies. This one elderly man she ripped off for than $50,000. She went to his house. He thought he fell in love with her. But then she was like I need this, I need that."
He said that was something he never liked, that he was somehow rumored to be involved.
"I don't have nothing to do with that. The police have been looking on it for five years and they don't know. I don't know."
Mearan called after we initially spoke and said he wanted to stress he has no personal knowledge of Megan Lancaster's case or whereabouts.
He said he also wanted to state that, as a father of two daughters himself, he felt sympathy for her parents over her disappearance.
"I want to make it clear that I feel sorry for the Lancaster family for losing Megan. I think everyone does. I didn't want to do that lightly. I can't imagine if one of my daughters disappeared. It would be a horrible thing to go through. So I feel sorry for them. I don't want to come off like she deserved it or nothing like that. I really feel sorry for her."
When we asked again him what he thought happened to her, he responded: "I think she was murdered and her body put someplace. I have no reason to base that on any facts, but the whole police force worked very hard for a long time and still are working and they don't know."
He said he never used her as a prostitute and/or engaged in sex trafficking with her. He said he never engaged in a sex ring, period and said he was not aware of related to Portsmouth.
"They'd go broke in Portsmouth," he said.
Mearan said he saw a news story about Jeffrey Epstein. To him, that's sex trafficking.
"That's the definition. Him and Harvey Weinstein. I've tried to live a clean life. I feel very sorry for the family."
'He's a very good man'
At one point during our interview, Mearan put us on the phone with a woman who he said was in his house cleaning it, a client who went to prison as a result of Megan Lancaster.
She told us her name was Angie Compton and she cleaned his house on Mondays. She and her husband had used Mearan, whom she referred to as "Mike" over the years and considered him a very good friend.
"I think it's a horrible thing," she said of all the speculation about Mearan. "He's a very good man, a very good father, grandfather, friend. We've had him for years for an attorney. He's been a longtime friend for years."
She said she was friends with Megan Lancaster and then felt she set her up to buy two 80-milligram OxyContin pills from her at a hotel in Portsmouth.
"As soon as I left and got around the corner, the cops pulled me over and she set me up. I went to jail. She walked. I went to jail and did six months in the county and I got a 9-year prison sentence out of. I did 6 1/2 at Marysville. Then when I was in prison she came up missing. I'm assuming she's dead or hiding out. I don't know where she's at. "
Kadie Lancaster said Megan Lancaster was "forced" by a Portsmouth police detective into setting Compton up for the drug buy.
"She told me and her mother that she bought pills off Angie Compton, she walked back in the Ramada and it was just a few minutes later and there was bang bang bang on the door and she looked out and saw the cops."
"Her heart obviously sunk. Around here, you can't trust the cops, some of them. And so they came in the hotel room, they searched it and they told her you need to get Angie back to wherever you met. They told her 'you either get her back or you lose your son and never see him again.'"
Mearan said he thinks Lancaster's family told Portsmouth police "Check Mike Mearan" as they investigated her disappearance. So, he reached out to them first.
"I called the detective who is a friend of mine - well, not a friend an acquaintance," he recalled. "I said, 'look, if you think I had anything to do with it I'll come over or whatever, and he said 'Mike, we know you had no involvement.'"
He identified the detective as Steve Brewer.
We got a hold of Brewer to try to get an update on the investigation into Megan Lancaster's disappearance.
We also wanted to try to confirm what Mearan told us about their conversation and how thorough the police investigation had been.
Kadie Lancaster said Portsmouth police didn't investigate her sister-in-law's disappearance as suspicious for six months. The family feels that by then, what likely was key evidence in her vehicle had been compromised
'I do fear more serious circumstances'
Brewer wrote in an email to us he took over the case in 2014 when the previous investigator changed assignments.
"I have kept the former chief, as well as the current acting chief, informed on the case. Neither has expressed any displeasure with the way the case has been handled thus far.
"The case was originally assigned to then-Detective Ron Davis. I inherited the case when he moved on to become a school resource officer in January of 2014 and I was assigned to the detective bureau. All cases of missing persons, including the Lancaster case, are handled as a high priority by our department.
"Her vehicle was processed for evidence by the FBI. I do not believe any evidence was lost, based on what I read in Detective Davis' notes. I am still actively investigating the case whenever I get any new potential leads. Unfortunately, those have slowed considerably over these seven years.
"I have spoken to Mr. Mearan on more than one occasion in reference to this case and I assure you no one has received any kind of special treatment. I was not directly involved with the current investigation of Mr. Mearan.
"We would be acquaintances in the fact of being active in the local criminal justice system for many years. Being a much smaller community in relation to the Cincinnati area, it is easy to become more familiar, not necessarily friendly, with the people in that setting.
"I did look into Mr. Mearan in relation to the Lancaster investigation. As to his comment about the phone conversation. For the most part, what he said sounds about right. The only difference in my recollection is I believe I told him I did not have any reason to suspect him of any involvement at that time.
"As to a police captain being one of her contact numbers, the family has never provided anything to me that would support that claim. If Megan Lancaster was an informant, I would not be aware as it is likely it would have been a confidential status for our drug task force.
"I do not have any suspects or persons of interest at this time. There are a couple of leads I am still working on, but obviously I cannot elaborate any on them due to the sensitivity and open status of the case.
"As to the question about the case still being a missing person status. That would be correct in definition. That being said, based on the circumstances and time since her disappearance, I do fear more serious circumstances. I have related this to the family as a possibility as well.
"Rest assured I, as well as others at the Portsmouth Police Department, will continue to work toward hopefully solving this case and bringing answers to the family and friends of Megan Lancaster."
Kadie Lancaster and her husband said they have never been informed by Brewer or anyone at the police department that the detective fears more serious circumstances in her disappearance.
"In our eyes, in many, many community members' eyes, Megan is a hero," Kadie Lancaster said.
"She is a hero because without this horrible tragedy happening to her. this never would have gone as far as it has. We feel that she has saved and changed so many women's lives that would have not been changed or saved if Megan had not one through this."
Copyright 2020 WXIX. All rights reserved.