Covington company to provide state with thousands of COVID-19 tests per day
Updated: Apr. 5, 2020 at 7:30 PM EDT
COVINGTON, Ky. (FOX19) - A Northern Kentucky company will soon be turning out 2,000 COVID-19 tests per day, according to Gov. Andy Beshear, significantly expanding the state's testing capacity.
As of Sunday, Kentucky has performed 18,767 tests in total, Beshear said during his daily briefing.
Gravity Diagnostics, the testing company, is a private clinical diagnostics laboratory located in Covington.
The company began testing for the novel coronavirus in the middle of March after the FDA issued emergency guidance for labs specializing in molecular virology, according to a company statement, though Gravity says it began laying the groundwork in January "after recognizing that expansive testing would be a critical component of a national response to the outbreak."
The statement continues: "Because of this, the Gravity Diagnostics lab team was uniquely positioned with the equipment, kits, and expertise to quickly and compliantly launch the COVID-19 testing."
Julie Brazil is the Chief Operating Officer of Gravity Diagnostics.
"We have been humbled and amazed at all of the people that have jumped in to help our company get this crucial testing to those in need and I know we are just getting started," she said in the company's statement.
Beshear explained the tests will provide next-day turnaround, which he described as both "critical" and "exciting."
"Some national labs take 7-10 days to get tests back," the governor said, "and that's not really helpful. So the ability here in 24 hours means that if you have a group of healthcares workers that are self-quarantining, and we really need them in the hospital, we can get those back and get them back to work."
Beshear added the number of Kentucky's reported tests is likely low, as the state's 30-plus labs and 60-plus local health departments do not always provide reliable data about the amount of tests they perform when they submit case reports.
Still, at an expected capacity of 2,000 tests per day, Gravity Diagnostics will double the amount of tests the state can confirm in a week, Beshear said.
The testing will be prioritized for symptomatic and high-risk individuals, healthcare workers and first responders.
Ramp-up for full capacity testing will begin April 7 and scale out from there.
"I want to say thank you to Gravity, which has significantly increased their capacity and what they're doing at a really rapid rate," Beshear said. "They're a Kentucky group and we're proud of them. And we appreciate them putting us first."
Related | Why fewer flu cases could signal good things for Kentucky's fight against COVID-19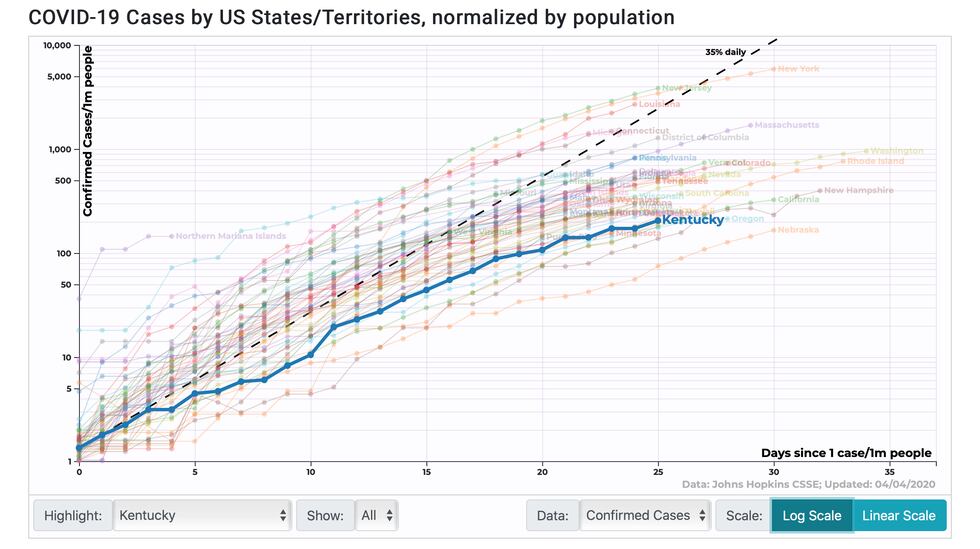 As of Sunday, Kentucky has 955 new cases, up 38 from Saturday.
Beshear said 306 people have recovered from the virus.
The governor cautioned laboratory reporting is down on Sundays, but celebrated the fact that Kentucky has had moderate increases several days in a row as compared to other states where cases are doubling every few days.
"Our growth curve is flatter and better than just about any other state out there, except a small handful," Public Health Commissioner Steven Stack, MD, said.
Beshear also reported five new deaths for a total of 45.
Copyright 2020 WXIX. All rights reserved.