$72K raised for Freestore Food Bank; donations to virtual food drive still needed
Updated: Apr. 20, 2020 at 12:42 PM EDT
CINCINNATI (FOX19) - FOX19 NOW teamed up with Kroger for the Heart of Cincinnati Virtual Food Drive supporting the Freestore Foodbank and has raised more than $72,000.
FOX19 NOW has helped raise $72,298.28 since the campaign started on April 10. It runs until May 10 and donations are still needed.
On April 15, all donations were matched by P&G's CEO David Taylor and his wife Marsha Taylor.
Freestore distributes 900,000 lbs. of food to 270,000 people throughout the year — including 80,000 children.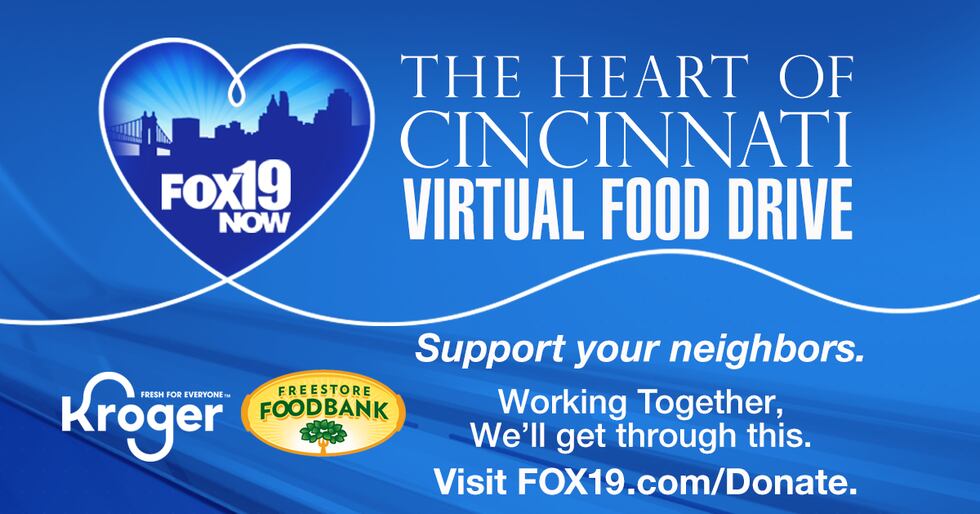 Freestore Foodbank President and CEO Kurt Reiber said the virtual food bank is a great way for the public to raise money so they can provide meals to those in need in Greater Cincinnati.
"Eight out of ten children in our Tri-State area are eligible for free lunches," he explained. "So them not being able to get breakfast and lunches at school, it really drives the demand up at the 500 food pantries in 20 counties that we support."
Virtual Food Drive | Donate Now
$5 could buy 15 cans of soup;

$10 could buy 14 boxes of oatmeal;

$25 could buy 17 5-oz cans of tuna;

$50 could buy 100 boxes of whole grain pasta;

$100 could buy 80 18-oz jars of peanut butter.
Copyright 2020 WXIX. All rights reserved.