Coronavirus: Push to cut power of Ohio's top health official gains steam
Published: May. 6, 2020 at 6:19 PM EDT
CINCINNATI (FOX19) - Led by Republican lawmakers, the Ohio House of Representatives passed legislation Wednesday cutting the power of the state's top health official as Democrats and Gov. Mike DeWine blasted it.
In a 58-37 party-line vote, lawmakers approved of an amendment to a Senate bill that limits Ohio Department of Health Director Dr. Amy Acton's ability to issue stay-at-home orders to 14 days.
The amendment to Senate Bill 1 also requires a bipartisan House committee of five state representatives and five senators review the order in the meantime and approve it by at least three members from each chamber.
The legislation gives the state health director flexibility to respond to emergency health crises while also providing necessary legislative oversight, said House Speaker Larry Householder.
"The COVID-19 pandemic has had a dramatic impact on the lives of all Ohioans. So, too, have these state health department orders," said Householder (R-Glenford). "This bill ensures the people of Ohio, through their elected lawmakers, have a voice on these issues."
He said Ohio Revised Code 3701.13 is a little used, 1908 state law, that grants the state's health director with broad authority to issue sweeping orders. Unlike many state agency rules, these orders are not subject to legislative oversight. That changes under Senate Bill 1.
The amendment also makes clear that any Ohioan has standing to seek a court order requiring the governor or state health director to comply with the committee oversight requirement without having to prove they will be irreparably harmed if the court does not intervene, he said.
The legislation will go onto the Ohio Senate, where it's future is uncertain.
The governor issued a rare statement blasting lawmakers while they were still in session.
"My administration is focused on the important things we need to do to help businesses responsibly open while protecting Ohioans' health and safety," he said.
"This week alone, this included increasing coronavirus testing and tracing, balancing Ohio's budget, and working on plans to move Ohio's economy forward. Ohioans need their legislators focused on these important issues. Creating more uncertainty regarding public health and employee safety is the last thing we need as we work to restore consumer confidence in Ohio's economy."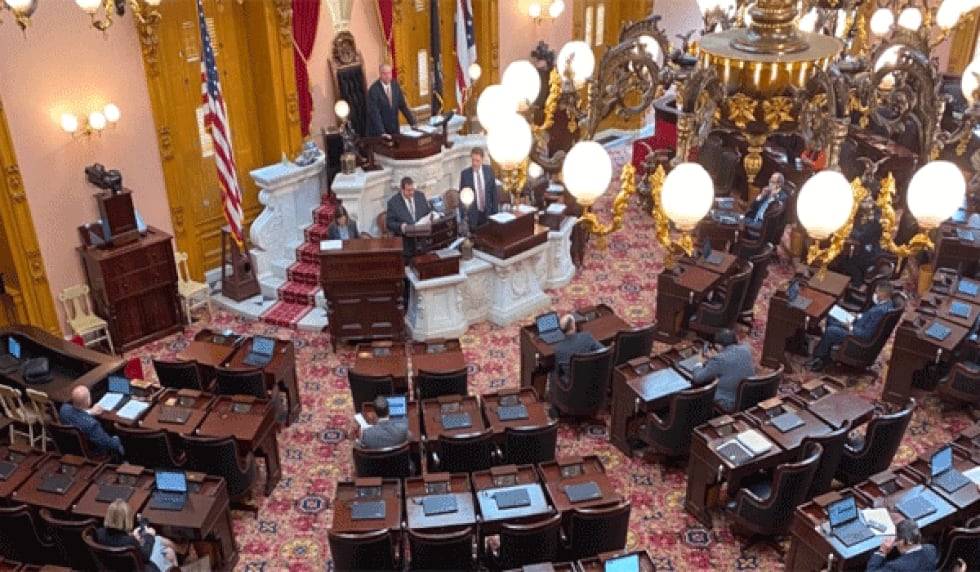 All House Democrats voted against it, State Rep. Bridget Kelly, D-Cincinnati.
She decried the legislation, noting it was attached to the Senate bill in Wednesday's State and Local Government Committee meeting without advance notice or any public testimony.
"During a crisis where time is of the essence, this amendment flies in the face of reason. This entire bill flies in the face of public health. It is bad policy," she said.
"This bill hasn't had a hearing since June 12. This amendment was provided to the committee just this morning. The process for this bill and its accompanying amendment was last minute. It was not transparent for legislators, the Department of Health or the public whose lives will be most endangered by this change."
Acton's March 23 stay-at home order to try to curtail the spread of coronavirus was rebranded and extended last week until May 29 as a "Stay Safe Ohio" order, sparking upset and protests outside the Statehouse.
The new "Stay Safe" order has exceptions to allow more businesses to reopen. Restrictions prohibiting non-essential surgeries and medical procedures also have been lifted.
DeWine has said he expects more businesses will open in the coming weeks as rules are developed to protect employees and customers at places like restaurants, barber shops and hair salons.
But GOP lawmakers have made it no secret over the past several weeks they do not approve at all the restrictions from DeWine's administration. The criticism only increased after the amended order was issued.
State Rep. George Lang, R-West Chester Township, said lawmakers wanted to act fast to have the ability to curtail future orders Acton may issue in the event of another virus outbreak if they do not agree with them.
They brought the legislation forward through Senate bill amendments, he said, because proposing it through traditional bills "would have taken 30 months to get approved it even if the moon and the stars lined up and everyone supported it."
"There is no better way to get this done," he said. "We have been working on this for over a month. We have been focusing on this for a long time. This came out of a subcommittee task force that was set up and met for hours, even over the weekends. There's a lot of thought that went into it. About 90 to 10 of my constituents are for what we did today. Bottom line, people want to be responsible of themselves. I trust free markets and free people more than I trust government."
DeWine and medical experts nationally repeatedly have warned, however, that quickly resuming normal activity will result in a surge of COVID-19 infections.
Reported cases fell much lower than one-time predictions Ohio could see about 8,000 a day. The latest modeling showed a mid-April peak of about 2,000 cases a day, but the largest daily increase was 1,317 on April 20.
Ohio's coronavirus cases surpass 20K total, more than 1K deaths
DeWine and Acton have repeatedly said Ohioans adherence to public health orders, social distancing and other recommendations has worked.
Still, last week, Ohio House Speaker Larry Householder issued a statement criticizing DeWine's administration for ordering small businesses closed during the coronavirus pandemic while larger ones have been allowed to remain open and profit.
Nearly 1.1 million people in Ohio have filed for unemployment over the last six weeks.
Ohio House Speaker: 'Tremendous frustration' with DeWine administration
In remarks to FOX19 NOW, Householder also said last week: "House Republicans believe it's not government's role to manage people's lives. What you can wear, where you can go, when you can go there or if you can leave your home are decisions people make for a child or pet.
"House Republicans believe a vast majority of Ohioans understand their own circumstances and can make their own decisions without government mandates and orders. Now that we know there will be no surge, then if a citizen is worried about getting sick, don't go out. It's that simple."
Ohio House speaker announces COVID-19 Economic Recovery Task Force
Copyright 2020 WXIX. All rights reserved.