Bengals release full 2020 schedule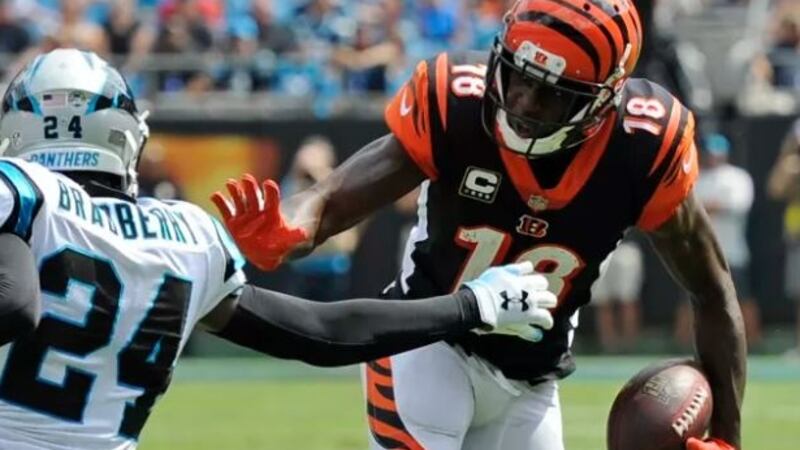 Updated: May. 7, 2020 at 7:39 PM EDT
CINCINNATI (FOX19) - The Cincinnati Bengals revealed its full 2020 NFL schedule on social media Thursday evening.
The season-opener will take place Sept. 13 at 4:05 p.m. against the LA. Chargers in Cincinnati.
"I think it's just exciting that we can focus in finally on one opponent," said Bengals head coach Zac Taylor. "We know we're going to be at home. It's a really good team. The Chargers are really well coached with a lot of talent. We'll be ready to go, but that's going to be a tough week-one opponent."
On Dec. 6, the Bengals will travel to Miami to play the Dolphins in a showdown of first-round picks, Joe Burrow and Tua Tagovailoa.
Former Bengals quarterback Andy Dalton will return to Cincinnati Dec. 13 when the Cowboy make the trip up from Dallas.
Related | Bengals select Joe Burrow with first overall pick in 2020 draft
The team has two prime-time matchups: Thursday Night Football on Sept. 17 at the Cleveland Browns and Monday Night Football on Dec. 21 at home against the Pittsburg Steelers.
Four of the team's first six games are away from Paul Brown Stadium.
The full schedule is as follows:
L.A. Chargers: Sept. 13 at 4:05 p.m.
@Cleveland Browns: Sept. 17, Thursday Night Football
@Philadelphia Eagles: Sept. 27 at 1 p.m.
Jacksonville Jaguars: Oct. 4 at 1 p.m.
@Baltimore Ravens: Oct. 11 at 1 p.m.
@Indianapolis Colts: Oct. 18 at 1 p.m.
Cleveland Browns: Oct. 25 at 1 p.m.
Tennessee Titans: Nov. 1 at 1 p.m.
BYE WEEK
@Pittsburgh Steelers: Nov. 13 at 1 p.m.
@Washington Redskins: Nov. 22 at 1 p.m.
New York Giants: Nov. 29 at 1 p.m.
@Miami Dolphins: Dec. 6 at 1 p.m.
Dallas Cowboys: Dec. 13 at 1 p.m.
Pittsburg Steelers: Dec. 21 on Monday Night Football
@Houston Texans: Dec. 27 at 1 p.m.
Baltimore Ravens: Jan. 3 at 1 p.m.
The full schedules for all 32 teams will take place in a three-hour release show on NFL Network beginning at 8 p.m.
Copyright 2020 WXIX. All rights reserved.