No. 2 bishop at Archdiocese of Cincinnati resigns in fallout over priest charged with raping altar boy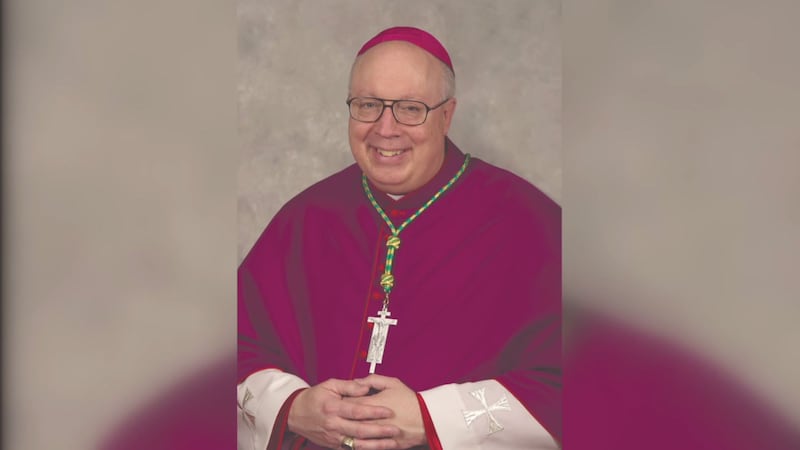 Updated: May. 7, 2020 at 2:22 PM EDT
CINCINNATI (FOX19) - The second-highest ranking official at the Archdiocese of Cincinnati has resigned in the fallout over a West Side priest accused of raping an altar boy 30 years ago.
Auxiliary Bishop Joseph Binzer offered to resign in late April, Pope Francis has accepted it and the resignation is effective Thursday, a spokeswoman for the archdiocese announced in a news release.
The archdiocese removed Binzer last year from overseeing priest personnel matters in Cincinnati, saying he failed to report accusations Father Geoff Drew behaved improperly with children to Archbishop Dennis Schnurr and the Priests' Personnel Board.
"I am deeply sorry for my role in addressing the concerns raised about Father Drew, which has had a negative impact on the trust and faith of the people of the Archdiocese of Cincinnati," Binzer said in the archdiocese's statement Thursday.
"In April, having studied this matter since last summer, the Holy See informed me that it agreed with this assessment. As a result, and after much prayer and reflection, I offered my resignation from the Office of Auxiliary Bishop of the Archdiocese of Cincinnati. I believe this to be in the best interest of the archdiocese."
RELATED l Report: Auxiliary bishop in Cincinnati archdiocese accused of failing to report accusations
Although Binzer has resigned from his office of Auxiliary Bishop, he remains a priest of the Archdiocese of Cincinnati.
"I have been blessed to serve the people of the Archdiocese of Cincinnati as a priest for almost 26 years and hope to do so for years to come. I will continue to pray for all of you, and for all those I have affected," Binzer said in the statement.
"In this difficult and unfortunate time, please keep Bishop Binzer and all the people of the archdiocese in your prayers," Schnurr added in the statement.
"Bishop Binzer will continue to serve the people of the Archdiocese with the title of Auxiliary Bishop Emeritus. What exactly that ministry will look like will be determined after discussions between Bishop Binzer, the Priest Personnel Board, and me."
The archdiocese has come under much criticism over the past year for its handling of misconduct complaints against Drew, most recently the pastor of St. Ignatius of Loyola in Green Township.
The Cincinnati chapter of the Survivors Network of those Abused by Priests (SNAP) released a statement Thursday showing that criticism remains very much alive.
"We are glad that this bishop has stepped down but are concerned that this resignation will do little to address systemic issues within the Archdiocese of Cincinnati," they wrote.
They noted Binzer was first informed of allegations against Drew in 2013 yet took six years "to take any sort of meaningful action."
SNAP said they feel it is appropriate Binzer lose his title and power due to his inaction in this case but "we cannot help feel that this is a half-measure. The simple fact is that Binzer remains employed by the archdiocese and is still a trusted confidant of Archbishop Dennis Schnurr. It is hard to believe that Archbishop Schnurr is blameless in this situation and easy to believe that Binzer,while certainly at fault, is being made to carry the entire load of this scandal.
"Essentially, it is more of the same from the church: a priest does wrong, has his hand slapped, and is moved around. If church officials really cared about their promise to enforce 'Zero tolerance,' then not only should Binzer's demotion be elevated to a full firing, but Archbishop should be held to account as well. It is clear that there are systematic issues at play in the Archdiocese of Cincinnati and this shuffling of personnel will do nothing to address that issue."
MORE l Cincinnati-area parishioners question archbishop over removal of priest l Prosecutor: Warning to archdiocese about Drew was verbal, not written
Church officials announced last summer Drew was being removed from St. Ignatius after parents complained the priest had sent text messages to a boy there.
After Drew was placed on leave, church officials disclosed he previously was accused of inappropriate behavior involving children in 2013 and 2015 at St. Maximilian of Kolbe in Liberty Township.
Prosecutors in both Butler County and Montgomery County have reviewed previous complaints and said they determined that, while Drew's behavior may not have been appropriate, it was not a crime.
Butler County Prosecutor Mike Gmoser told FOX19 NOW last year he explicitly verbally warned a chancellor with the Archdiocese of Cincinnati in September 2018 to keep the priest away from children and to monitor him.
Gmoser told us he felt Drew was "sexually grooming" the boys for future sexual abuse and he was upset to learn his verbal warning to the archdiocese was clearly not heeded.
Parishioners at St. Ignatius were upset because they were not told about previous complaints against the priest while he was at St. Maximilian.
Parents said they are worried the cycle of abuse and cover-up will continue if changes are not made within the local church leadership.
Father Drew, 57, has since been indicted on nine counts of rape.
Drew is accused of raping a male elementary school student several times while he was employed at St. Jude School in Bridgetown as a music minister between 1988 and 1991, Hamilton County Prosecutor Joe Deters announced last year.
Drew, who was not a priest at the time, led St. Jude's music ministry and also taught music at Elder High School, according to Deters.
The victim is now in his 40s and told prosecutors the abuse happened in Drew's office after school hours.
Drew has pleaded not guilty and is held in lieu of $5 million bond at the Hamilton County jail.
His trial is set for Oct. 13. He faces life in prison if convicted.
PREVIOUS l Judge denies request to reduce $5M bond of priest indicted on 9 counts of rape
The Archdiocese said last year it has submitted a report to the Vatican concerning the handling of allegations of abuse against Drew and they are waiting for a response.
They have said they anticipate the Vatican may order a full investigation into the handling of this case.
The Roman Catholic Archdiocese of Cincinnati is the 44th largest Catholic diocese in the country, with more than 450,000 Catholics, and has the sixth largest Catholic school system in terms of enrollment with more than 40,000 students.
The 19-county territory includes 211 parishes and 110 Catholic primary and secondary schools.
Copyright 2020 WXIX. All rights reserved.