Here's what's open in Ohio, Kentucky, and Indiana
Published: May. 18, 2020 at 5:48 AM EDT
|
Updated: May. 18, 2020 at 5:49 AM EDT
CINCINNATI (FOX19) - Governors from all three states in the Tri-State area have unveiled their plans to reopen businesses and services after weeks of closures due to the coronavirus.
Ohio, Kentucky, and Indiana have different stages of their reopening plans so here's a breakdown of how each state will move forward.
Gov. Mike DeWine announced his plan to open things starting with consumer and retail services.
Ohio businesses that reopen under the governor's order must follow these protocols:
Conduct daily health assessments by employers and employees (self-evaluation) to determine if "fit for duty."

Maintain good hygiene at all times - hand washing and social distancing.

Clean and sanitize workplaces throughout the workday and at the close of business or between shifts.

Limit capacity to meet social distancing guidelines.
Businesses may ask customers to wear face coverings, but it is not mandated.
To comply with Gov. DeWine's protocols, salon and barbershop customers have to wait in their cars until their appointment time.
Hairstylists and barbers will wear masks under the reopening order.
Ohio's bars and restaurants will have floor plans designed to follow social distancing guidelines and people will be separated by physical barriers.
Also, parties must be no more than 10 people.
Buffets and salad bars will be served to you - no longer self-service.
Starting Friday, May 22, Kentucky restaurants will reopen with 33% capacity and outdoor seating.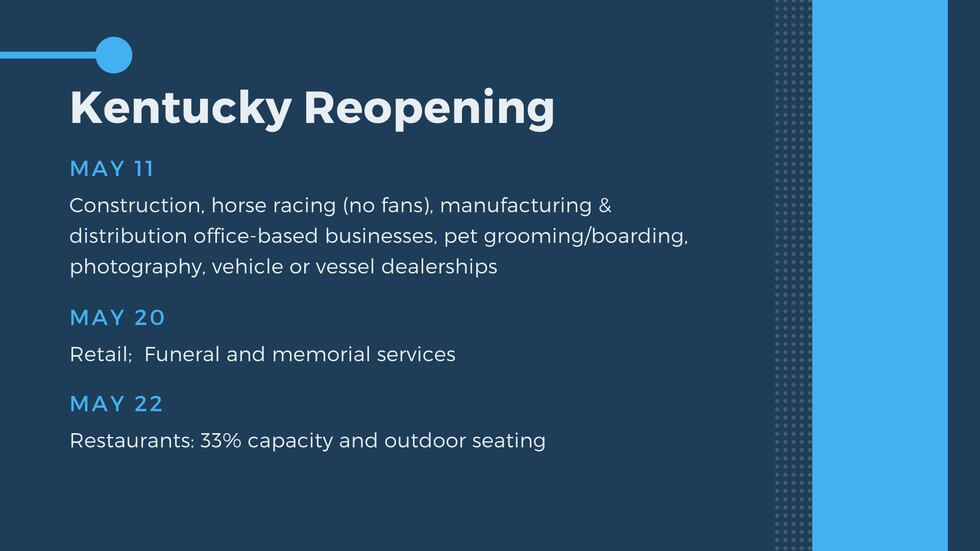 In order for a business to reopen on its respective date, they must submit their reopening plan to HealthyAtWork.Ky.gov to show they can follow the 10 rules needed to open.
Here is the Healthy At Work rules for businesses:
Continue telework where possible

Enforce social distancing

Phased return to work

Limit face-to-face meetings

Onsite temperature/health checks

Sanitizer/hand wash stations

Universal masks and any other necessary PPE

Special accommodations for most vulnerable groups (employees and customers)

Close common areas (waiting rooms, cafeterias, break rooms, etc.)

Testing plan
Gov. Andy Beshear says if a company, business, or industry can not meet these requirements they cannot reopen.
Gov. Eric Holcomb's Indiana Back on Track reopening consists of five stages going past the Fourth of July.
Essential services returned to work in the first stage of the governor's plan between March 23 and May 3.
Stage two, from May 4 through 23, allows for social gatherings of up to 25 people, but still suggests Hoosiers 65 and older to stay at home.
Under stage three, starting on Sunday, May 24, theaters can open at 50% capacity.
Also starting that same day, retailers and malls can increase to 75% capacity.
The third stage will also allow pools, playgrounds, campgrounds, and gyms to open with social distancing guidelines.
Stage four begins June 14 with these guidelines:
Face coverings now optional

Social gatherings limit increases to 250 people

Recreational sports, tournaments, and leagues can resume

Office employees can resume at full capacity

Retail and commercial locations operating at full capacity

Restaurants can open to 75% capacity

Bar locations open at 50% capacity

Large venues can open but must follow social distancing guidelines

Amusement, water parks open at 50% capacity

Zoos and museums can open at 50% capacity
Bars, restaurants, and retailers can move to full capacity in the final stage of Gov. Holcomb's plan starting on the Fourth of July.
Indiana's plans to reopen will depend on four things, according to the governor:
Ability to contact trace all coronavirus cases

Ability to test all Hoosiers who are symptomatic

Number of hospitalized COVID-19 patients statewide has decreased for 14 days

Statewide ventilator availability
[Complete coronavirus coverage]
Copyright 2020 WXIX. All rights reserved.