47 animals found in 'heartbreaking' conditions of neglect at Brown County home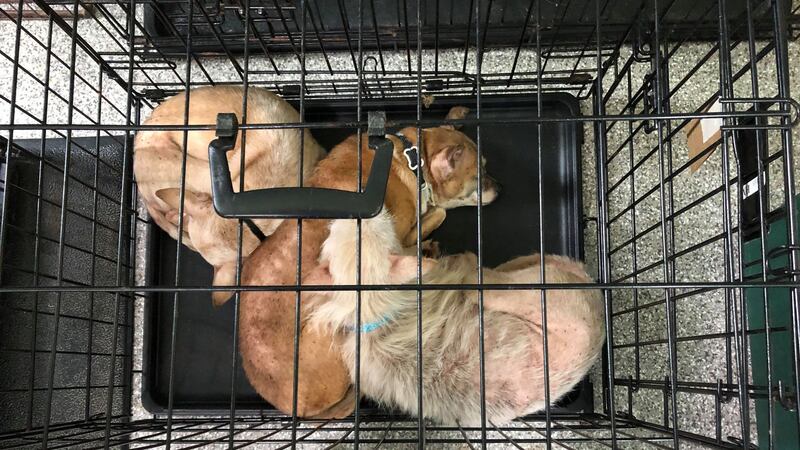 Updated: Jun. 5, 2020 at 5:27 PM EDT
BROWN COUNTY, Ohio (FOX19) - The Brown County Humane Society says its agents discovered 47 neglected animals Wednesday while serving a search warrant at a home in Higginsport.
Humane agents found 41 dogs and six cats in three buildings on the property, all in various stages of neglect, according to BCHS.
"Photos of the property show classic signs of hoarding and neglect, with intact dogs breeding freely," BCHS Chief Warden Melissa Downs said. "Feces had accumulated so high in the home that doors needed to be removed to rescue the dogs. The dogs showed signs of urine burns, open wounds, and infected skin due to the intense flea infestations. Many of the dog's gums were bleeding with a foul order."
Downs says the air quality was so bad, agents had to take breaks outside the building to get sine fresh air.
"The conditions the dogs were living in were absolutely heartbreaking," she said.
The dogs and cats were removed from the home Wednesday, documented and transferred to the shelter. There, they were assessed, vaccinated, treated for fleas, bathed, and "put to bed with a blanket," BCHS said. The dogs were "quiet and relaxed" in the kennels.
"That is how we knew we did our absolute best for them," BCHS Director Renee Bates said.
Going forward, the animals will all require extensive medical and dental care and rehabilitation, according to BCHS.
The animals are currently receiving veterinary care with Rolling Hills Veterinary Service, BCHS says.
"These dogs and cats deserve to have the chance for a better life and our team and volunteers are amazing to give them that," Bates said. "I am so very humbled and proud of the work we do."
Charges are pending against the animals' owner.
You can donate to BCHS here.
Copyright 2020 WXIX. All rights reserved.