Committee votes in favor of moving Jefferson Davis statue from Capitol rotunda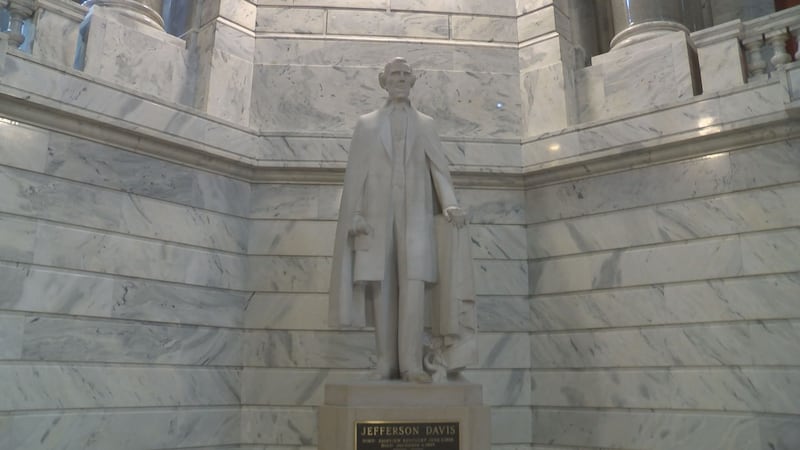 Updated: Jun. 12, 2020 at 3:42 PM EDT
LOUISVILLE, Ky. (WAVE) – The Historic Properties Advisory Commission voted in favor of moving the Jefferson David statue from the Kentucky Capitol.
Eleven members of the committee voted yes and one member -- Brandon T. Wilson -- voted against moving the statue Friday afternoon.
"I came on this board with the intent to protect history," Wilson told Lexington television station WKYT. "I didn't come on the board to remove history."
Gov. Andy Beshear released the following statement following the vote:
"Today has been a historic day in the Commonwealth. Pursuant to my request, the Historic Properties Advisory Commission met and, in a bipartisan vote, voted to remove the Jefferson Davis statue from our Rotunda. It was past time for this vote and for this action. But what it will mean is that we get a little closer to truly being Team Kentucky – that every child who walks into this Capitol feels welcome, and none of them have to look at a symbol and a statue that stands for the enslavement of their ancestors. Today is a move toward showing that everybody is welcome in this building and that our government should work for the betterment of every single Kentuckian – that we have systematic issues that we must address, but that now is the time to truly move forward, to truly make progress and to show that Team Kentucky includes every single Kentuckian."
The motion voted in favor of moving the statue to Fairview, Kentucky. A timeline for the move has not been released.
The statue of Davis, the president of the confederacy and a native Kentuckian, has been in place since 1936.
"He enslaved human beings, rebelled against the United States of America" said Cathy Thomas, who voted to move the statue. "He is a symbol of Confederacy that might still have me in chains."
The location of the statue has been debated for years. The most recent push to remove the statue was in 2017 after a man drove into a crowd protesting in Charlottesville, Va.
Copyright 2020 WAVE 3 News. All rights reserved.