Ohio water park closed by state COVID-19 health order can reopen now, judge rules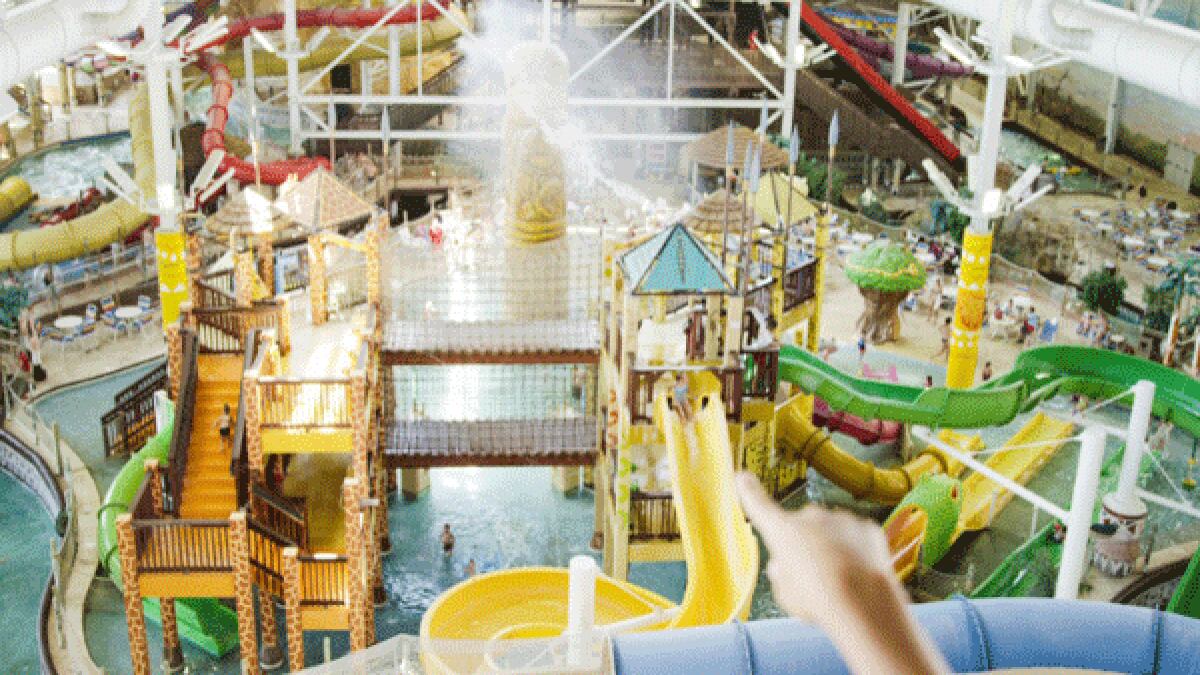 Published: Jun. 12, 2020 at 5:14 PM EDT
|
Updated: Jun. 12, 2020 at 5:16 PM EDT
SANDUSKY, Ohio (FOX19) - Ohio's largest water park is back open this afternoon for the first time in three months after a judge ruled the state cannot prevent it from operating and overstepped its authority by closing it to begin with amid the coronavirus pandemic.
Erie County Common Pleas Court Judge Roger Binette granted a preliminary injunction to the owners of Kalahari Resorts & Conventions.
This is now the second court case a business owner has prevailed and received a judge's permission to immediately reopen despite orders banning it from the now-former Ohio Department of Health Director Dr. Amy Acton. Gov. Mike DeWine announced Thursday she was stepping down.
Judge Binette wrote Friday that "in issuing this ruling, it is not this Court's intent to degrade, disparage or impinge on the reputation of these good public servants (Defendant Acton and Governor DeWine). Neither is it this Court's authority to legislate, nor to shape policy therefrom.
"However, it is this Court's duty to ensure that the Constitutional Rights of the citizens of this great State of Ohio are not infringed upon. That is the standard from which this Court rules."
He also determined state law allowing the state health department director to make and enforce policy without a rulemaking process violates separation of powers and is unconstitutional.
"This unbridled and unfettered consolidation of authority in one unelected official is dangerous grounds to tread on," his ruling reads.
His decision only impacts Kalahari water park and does not set state precedent, Binette stated in his ruling.
Last month, a group of gyms and fitness centers also won the right to reopen.
A Lake County judge issued a preliminary injunction against Acton and the Lake County General Health District that says they violated the constitutional rights of Ohioans by forcing gyms.
A Columbus bridal shop owner that sued in April, however, lost in court.
Kalahari water park reopened about an hour after receiving the court's decision, said one of their attorneys, Chris Finney of Cincinnati.
"We are thrilled families and children can enjoy this wonderful water park," Kalahari's owners said in a statement to FOX19 NOW through Finney.
The case will proceed now to a trial at a later date, Finney said, as the water park's owners seek to receive a permanent order from the judge that would prevent Ohio's health director from issuing another order in the future to shut them down.
We have a request for comment into a spokesman for DeWine's administration and will update this story once we receive it.
There has been a litany of litigation over Acton's statewide health orders to try to curtail the spread of the novel virus.
Kings Island in Mason, which is owned by Sandusky-based Cedar Fair, also sued Acton the same day as Kalahari, along with the Warren County Health District.
Cedar Fair, which owns Cedar Point and Kings Island, has since joined Kings Island's lawsuit.
A hearing in that case is set for 9 a.m. Wednesday, June 17 before Warren County Common Pleas Court Judge Donald Oda, court officials said Friday.
The day after Kalahari and Kings Island sued to reopen, DeWine said amusement and water parks, can reopen in two weeks, on June 19.
Kings Island and Cedar Point have announced since then they will not reopen until July.
Amusement parks announce reopening dates
On Thursday, two Ohio music festival organizers and a concert-goer who is an anti-tax activist with Finney's COAST sued Acton in both her professional and personal capacity and the health districts in Warren and Stark County.
They allege she is violating their First Amendment rights with her statewide ban on music festivals.
Acton, the federal suit contends, is acting outside the scope of her office and it's unfair to block the events while mass protests against police brutality are permitted.
Several media photos showing thousands of people protesting in the streets of Ohio's major cities, including Cincinnati, are included in the lawsuit's pages.
Music festival organizers, concert-goer sue Dr. Amy Acton
A lawsuit also was filed earlier this week against Acton related to her COVID-19 restrictions on businesses, from a group of northeastern Ohio restaurants.
The lawsuit, filed Monday, claims regulations are vague and penalties weren't legislated by Ohio's General Assembly.
RELATED: Northeast Ohio restaurants file lawsuit to eliminate Covid-19 regulations and penalties
Kalahari's resorts are America's largest indoor water parks with locations in Ohio and other states, according to the lawsuit.
Its Sandusky location has more 850 hotel rooms and a 225,000-square-foot water park, among dozens of other amenities, the suit states.
It employs hundreds of Ohioans and indirectly supports local businesses by employing hundreds more.
Kalahari announced last week it would partially reopen to guests on Friday, June 12, with a full reopening the following Friday, on June 19.
While the waterparks remain closed until June 19, admission to Kalahari's outdoor pools and the Safari Animal Park will be included with overnight stays prior to that date.
A list of virus precautions is available on their website. Those include masks for workers, but guests are not required to wear them.
"The CDC has advised masks should not be worn in water because they can be difficult to breathe through. As a result, masks are prohibited when you are in the water," the news release states.
"It is important to reopen the resort as soon as possible to offer families a safe place to come together for summer fun," said Travis Nelson, spokesperson, Kalahari Resorts and Conventions. "We're excited to get our associates back to work and restart Ohio's tourism economy."
Copyright 2020 WXIX. All rights reserved.