Investigator reviews complaints against West Chester police chief by captains, 1 quits
Updated: Jun. 26, 2020 at 11:56 AM EDT
WEST CHESTER TWP. (FOX19) - A third-party investigation is underway in West Chester after two captains made misconduct complaints against the police chief, including one who has now quit, according to township officials and records.
Police Chief Joel Herzog is accused by veteran captains Joe Gutman and Jamie Hensley and a lawyer representing them of retaliation, failure to address sexual harassment, sexism, racism and mishandling of public records, township records show.
Hensley quit Tuesday, writing in his resignation letter: "I believe this is the only option left that protects my family, my health, and my career without compromising my values. It is unfortunate to have been treated this way for taking a principled stance and others may fear coming forward in the future as a result."
Township officials say the complaints and allegations in the command staff surfaced in 2019 and "with no resolution in sight," they hired a third party to review the complaints and to make recommendations to the trustees.
The disclosure came after we requested multiple public records related to the police department two months ago and sought all of them over the past few weeks. We also inquired Wednesday why trustees have met behind closed doors twice this month to discuss "pending litigation" and/or "personnel" issues and requested copies of records related to any outside investigations.
"As complaints surfaced among members of the Police Department command staff, they were taken seriously and acted upon individually. When matters seemed to persist, the Board of Trustees agreed it was best to hire an investigator outside of the Township organization to unravel the truth," Township Administrator Larry Burks said in a statement.
The complaints and allegations against Herzog were not related to the handling of an investigation or efforts directly applicable to specific law enforcement activities in the community, according to the township.
"The complaints were taken seriously and the most egregious allegations against Chief Herzog were determined to be unfounded," their statement reads.
"This is not a situation the Board of Trustees takes lightly and possible outcomes are weighed with a heavy heart for the exceptional careers of these individuals who each have served this community with great commitment," Township Trustee Chairwoman Ann Becker said in the township's statement.
Herzog firmly denied to FOX19 NOW the allegations including ones he and his son, also a law enforcement officer, were seen in a "black face costume" photo on his wife's Facebook page around Halloween 2015, according to Hensley's complaint to Burks.
The chief says he has faith that the community know him better than that and he is working to be a better leader. Herzog has been with the township since 1991 and chief since 2014.
" I applaud the Trustees decision to hire an outside investigator and appreciate the attention to workplace complaints," he wrote in response to questions he requested we send.
"With regard to the allegations made against me and the situation in general, I am disappointed. These complaints live on, even if they are unfounded, and they become a part of my legacy as police chief here. I love this community and have worked really hard to be a positive representative of the community and the police department. I am disappointed that this now casts a shadow over the efforts we've made."
We have included the township's statement in its entirety and other records below and throughout this story.
A township spokeswoman said they would be happy to provide a copy of the investigator's report to us once it's complete.
It's being done by Douglas Duckett, a Cincinnati attorney who conducts investigations into personnel matters for communities around the state and locally.
Frost Brown Todd is the township's law firm and is under retainer.
The law firm contracted with the investigator on the township's behalf and the township will be billed by Frost Brown Todd for the investigation, according to West Chester spokeswoman Barb Wilson.
An attorney for both captains, Elizabeth Tuck, first contacted the township in February, requesting in writing "that the Township and Department immediately take all steps necessary to cease and prevent ongoing retaliation against my clients for their legally protected complaints of misconduct by Colonel Joel Herzog."
"As you know," her letter states, "Commanders Hensley and Gutman have served the Township faithfully and well for over 20 years each and have impeccable records of performance and reputations for unfailing integrity. As a result, they are widely respected and supported by the vast majority of the Department's members.
"However, both have come increasingly under fire in recent months for bringing to light wrongdoing by Colonel Herzog," her letter states.
She goes on to allege: "In the case of Commander Hensley, Colonel Herzog's retaliation has now escalated to the point of a sham investigation designed solely to discredit Commander Hensley and destroy his career. The investigation allegation is that Commander Hensley was disrespectful to Colonel Herzog during a meeting with Human Resources - by stating that the Colonel is unlawfully retaliating against him.
"Colonel Herzog initiated the current investigation immediately after learning that Commander Hensley asked to meet with you regarding his concerns and that he consulted with an attorney. Commander Gutman has been interviewed in the investigation, and the tone of his interview as well as retaliatory actions by Colonel Herzog against him personally leads him to reasonably believe that Colonel Herzog will target him next.
"Certainly, the message to my clients and their fellow Department members is that speaking out against the Colonel will result in dire consequences, which is surely what he intends. It is evident that Colonel Herzog's plan is to eliminate the potential threat my clients' integrity, honesty, and knowledge pose to him. I ask that the Township immediately halt the retaliatory sham investigation and clear my clients fully. I also request that Colonel Herzog be instructed that his unjustified attempt to destroy my clients in retaliation for their opposition to his unlawful activity will expose him and others to liability for any resultant damage done my clients, their careers, and their reputations."
When we asked the attorney to discuss more specifics about the timing of Hensleys resignation, she said: "I think Captain Hensley's resignation letter speaks for itself. He said said it more eloquently than I ever could.
"Captain Hensley is very grateful for the overwhelming support he has received since his resignation. People in the department and the community who know him and know his character of honesty, integrity and caring believe him. His concern now is the excellent men and women he left behind who he led and worked beside for over 20 years.
She said he is "completely disheartened. He envisioned serving that dept for 30 years or maybe more. He left behind so many good officers. He is concerned about the message that his treatment sends to all those officers and what can happen when good cops speak out. Unfortunately, my opinion is that the township will probably get the report it wanted and paid for. Captain Hensley stands by his written complaint."
"Coming forward was an agonizing and, in my opinion, courageous decision by the Captains. They knew they were putting their careers and livelihoods on the line but it was the right thing to do for West Chester and their department. We hope that the Township decides to do the right thing by them in return. I was told they know everything my clients told the investigator.
"How the Township handles the situation going forward will show what kind of police they want protecting their community. Do they want good cops to speak out without having their careers ruined or do they want them to keep quiet when they see that something wrong is going on? I think the officers will take that message to heart, whatever it is."
She said Captain Gutman cannot comment at this time: "He is still an employee of the police department reporting to Chief Herzog. He fears for his job."
Captains report to the assistant chief, Herzog tells us: "This has always been the case and continues to be the case. The Assistant Chief reports to me."
When we asked him to comment on Hensley's resignation, he responded:
"All I can say is that Captain Hensley had a long extraordinary career with the Township. I am disappointed this is the way it ended."
He also wrote:
"This is a sensitive personnel matter that affects me, two police captains with long careers and our department overall. I can't speak to specifics, but I would want the community to know that an outside investigator reviewed this case, with no influence from the Township, and determined the worst of these complaints to be untrue.
"I have faith in the community that they know me to be better than this. I am accountable to the Board of Trustees and the Township Administrator. I have committed to them that I will work to heal my team, be a better leader and take advantage of opportunities to continue building strong relationships in the police department in order to provide the best service to our community."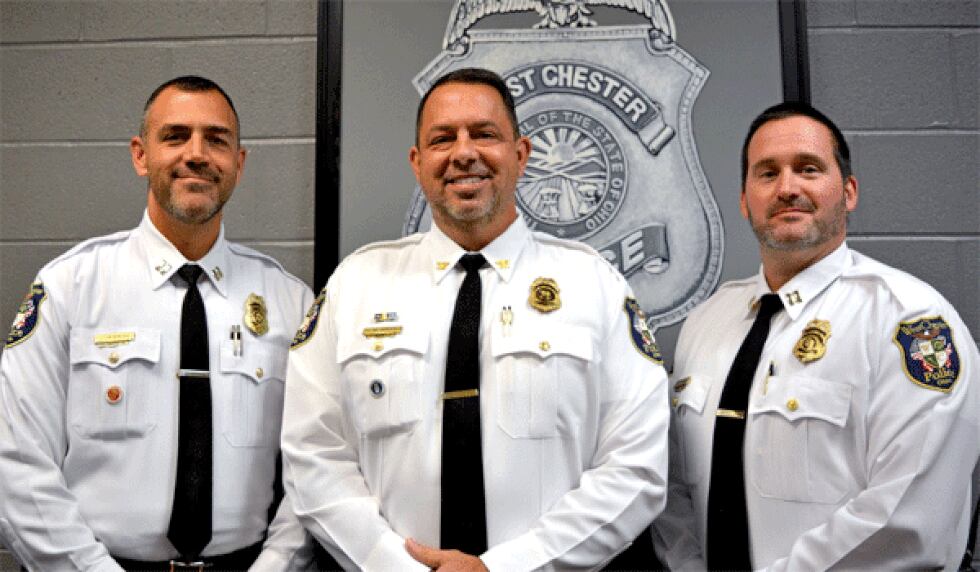 Gutman and Hensley both received written documentations of issues with their performances recently, issues their attorney notes only came up after they raised concerns over the chief's behavior. They say in their complaints they were left out of decisions they normally would have participated in as command staff members.
"I also informed them that Colonel Herzog routinely makes inappropriate sexual jokes or makes comments or jokes that are racially insensitive. One example of the racially insensitive comments he makes are when he refers to his doctor as "the terrorist" due to his Middle Eastern or Indian descent," he wrote.
"Captain Gutman echoed my concerns. Mr. Burks said he believed what I had said about seeing the blackface photo, but unless the (picture) surfaces he really couldn't do anything else about it. I told him I just wanted to make sure they (knew) because of the embarrassment it could cause the Police Department and Township."
Herzog denies calling his doctor a "terrorist" and said his actions show he embraces all people.
"Again, it is frustrating to me that I can be accused of specific things that can then be shared publicly; but it would not be appropriate for me as Police Chief to speak so specifically on personnel matters. I am a casual communicator. That's who I am," he responded.
"I am also a Chief of Police who has embraced all parts of our community. I marched with the Sikh community as they mourned the death of a family; I prayed with protestors at the Black Lives Matter rally; I worship at churches throughout the community; I lead the Martin Luther King Jr. march every year; I worked to build the Bridge of Life program to better explore law enforcement relationships with the Black community. My actions speak for me."
Both captains wrote in their complaints to the township administrator it would have been easier for them to remain quiet and not bring the issues forward, but they were too concerned to remain quiet.
"Why would an employee with an unblemished record for over twenty years, who was promoted to the (third) highest rank in the Police Department, become a problem employee overnight?" Hensley asked in his complaint letter.
"The answer is I have not changed. Only how I am being treated has changed. As I am sure you are (aware), the other police captain has been subjected to the very same situation. Please ask your self what makes more sense."
Gutman wrote that "It pains me to all say this after knowing the Chief for 25 years. The favoritism, the racial insensitivity, sexual comments, are completely contrary to our guiding principles of integrity, commitment, professionalism and courage. I fear that if this behavior is allowed to continue it could be disastrous for me and many of our members and possibly spill over affecting the Department's public trust with the community.
"Employees are leaving at an alarming rate. They are dissatisfied and morale is poor. This is despite my best efforts to keep people motivated and encouraged. I think because the favoritism and other conduct is obvious and undeniable to our members, it difficult to overcome. This was not at all an easy decision to once again risk my career and bring these issues forward. It certainly would have been easier and safer for me to just keep my mouth shut.
"But I truly love the West Chester Police Department and the West Chester Community. I think we have something special here and I do not want to see it ruined.
"This was not at all an easy decision to once again risk my career and bring these issues forward. It certainly would have been easier and safer for me to just keep my mouth shut. But I truly love the West Chester Police Department and the West Chester Community.
"I think we have something special here and I do not want to see it ruined. I want to see the inappropriate behaviors stop. I want to see personal boundaries respected. I want the inaccurate and false information removed from my files. I want to be part of the decision-making processes that are on par with a Police Captain to be involved in. I want to feel valued and appreciated again. And I want the retaliatory behaviors to stop. I know that while I am not perfect, I am a good leader and I am good at my job. I want to be permitted to perform my duties properly without being micromanaged and I want to be supported in my role as all of our employees deserve to be. Mr. Burks, I look forward to hearing back on these issues."
Among several of the township records we received for this story is the chief's timeline of events leading up to the need for the outside investigator.
"These are tough issues to navigate and while speaking to specifics in personnel matters is often counter-productive, in government service the documents are public," the township administrator wrote us in response to questions he requested we send when we asked him for comment beyond the township's statement.
"We completely understand and appreciate that we do the people's work and take seriously our responsibility regarding public records. In cases like this, however, it is especially difficult to see allegations and accusations shared that cast shadows on the careers of exemplary public servants who have dedicated their careers to the community.
"This situation is unfortunate and the Township will respond in the best interest of the community we pledge to serve. We will respond to questions when appropriate, but will also have to acknowledge that this is a personnel matter and our comments may not be as complete as everyone would expect. A third-party investigator was hired to ensure the matter was handled without bias.
"Again, this entire situation is riddled with "he said this and she said that". I believe our Police Chief to be a champion of inclusivity and bridging society's differences. What I believe was said, was "It's not that I don't believe you, but there is no evidence".
"As a Township Administrator, I typically speak in facts rather than offering my personal view. Our personnel policy does not specifically address "black face" or "blackface photos", but I would say any act that marginalizes or casts dispersions on anyone would be considered completely unacceptable."
Given the scope of complaints against the chief, we asked the township spokeswoman if they were they going to ask an outside agency like the Ohio Attorney General's Office or FBI to also review it.
The response: "No."
We asked an employment lawyer, Tod Thompson of Cincinnati, for his take on the situation.
He said he is skeptical of the way the complaints against the chief are being investigated and how the township is approaching this.
"There's other avenues one would think the police department could pursue if the department really wanted a third party neutral investigation with a purpose of the public interest. Why would you go through the same law firm that you would presumably hire to defend yourself against the employees who are raising the public interest concern?
"It sounds like to me that in response to these very legitimate concerns that there is some bad stuff going on at the West Chester Police Department, instead of investigating that very bad stuff they decided to investigate the officers who brought the bad stuff to their attention.
"It appears to me that they are doing so rather from the posture of investigating the officers to defend or cover up or come up with a reason to fire them. There are two things suspicious about the township's response to the allegations: Who is investigating and what they appear to be investigating."
Copyright 2020 WXIX. All rights reserved.