Investigator's report on allegations against West Chester police chief coming next week, trustee says
Updated: Jun. 27, 2020 at 5:33 PM EDT
WEST CHESTER TOWNSHIP (FOX19) - A report will be out next week from a "third party" investigator who reviewed several allegations against West Chester's police chief, according to a township trustee.
Police Chief Joel Herzog is accused of retaliation, failure to address sexual harassment, sexism, racism and mishandling of public records, township records show. The complaints were made earlier this year in letters written to the township administrator by two captains, Joe Gutman and Jamie Hensley, and a lawyer on their behalves, township records show.
Hensley quit Tuesday and their attorney wrote in her complaint to the township both men have had "impeccable records" for more than 20 years but are now "under fire" for bringing forward allegations against the chief.
Herzog has firmly denied the accusations. He has said he has faith that the community knows him better than this and he is working to be a better leader. Herzog has been with the police department since 1991 and chief since 2014.
A township spokeswoman told us Friday a report with the investigation's findings would not be out until the week after next.
But on Saturday Trustee Mark Welch said: "The report should be out next week, the full investigative report. We are just putting the final touches on it."
He said the initial findings determined the most egregious accusations were unfounded. Asked which those were, Welch said they included racism and public record tampering.
"The ones that you go 'oh my God, you can't believe this could possibly happened' and it didn't. Some of these things were just blatantly false," he said.
"I think the most important thing that the citizens and businesses need to understand is there is no interruption of services that we have come to expect and enjoy. That's been a good effort on the part of the police department," Welch said.
"This was a difference of opinions and I stand behind Joel Herzog," he said. "Everything will come out in the report. The township should have it out by the end of next week.
"It's just sad you would have this animosity and it had to boil up to a point where these letters were written and lawyers were hired. I am just glad to see we are through it. The police department has some work to do. There's some great men and women who work there and we are going to come out with a better organization than we had to begin with."
West Chester officials disclosed they sought the "third party" investigation after we requested multiple public records related to the police department two months ago and repeatedly sought to receive all of them over the past few weeks. We also inquired Wednesday why trustees have met behind closed doors twice this month to discuss "pending litigation" and/or "personnel" issues and requested copies of records related to any outside investigations.
Township officials say the complaints and allegations within the command staff surfaced in 2019 and "with no resolution in sight," they hired a third party to review the complaints and to make recommendations to the trustees.
The complaints and allegations against Herzog were not related to the handling of an investigation or efforts directly applicable to specific law enforcement activities in the community, according to the township.
The township's statement also says: "The complaints were taken seriously and the most egregious allegations against Chief Herzog were determined to be unfounded."
A West Chester spokeswoman, Barb Wilson, said they would "be happy" to provide a copy of the investigator's report to us once it's complete.
It's being done by Douglas Duckett, a Cincinnati attorney who conducts investigations into personnel matters for communities around the state and locally.
He is being paid $225 an hour and was hired by the township's law firm that is on retainer, Frost Brown Todd, at the request of the township trustees, according to Wilson. The township itself does not have the contract with Duckett, she said.
Frost Brown Todd will bill the township for the investigation, she said.
We have requested a copy of the report and any and all related materials including audio and/or video of interviews performed as part of it, as well as Duckett's notes.
Welch said Saturday we could have the audio and the investigator's notes when we mentioned we also had asked for it and wanted to review it all. We thanked him for transparency in the matter.
An employment lawyer we interviewed Friday was skeptical at how the township is handling the "third party" investigation by allowing their law firm - who would represent them in any litigation that may arise from this - to hire and pay the investigator and then bill the township for it.
"There are two things suspicious about the township's response to the allegations: Who is investigating and what they appear to be investigating," said the attorney, Tod Thompson of Cincinnati.
Welch said Saturday the township didn't ask an outside law enforcement agency like the Ohio Attorney General's Office to investigate because no criminal accusations were made.
We reached out to the other two trustees for comment, Ann Becker and Lee Wong.
Becker did not respond to phone calls and texts.
Wong referred us to the township spokeswoman.
We reached out to the attorney for the captains for comment. She was unaware the investigator's report was being released next week.
"That's news to us," Elizabeth Tuck responded. "We are learning more about this in the media. We haven't been told anything.
"We welcome and look forward to the release of the recordings. I think they should release those before the report so the public can judge for themselves," she said.
"I was there for every second of my clients' interviews in the investigation. How anyone who has listened to my clients' interviews with all the details they gave that are not in their written complaints can decide the things Chief Herzog said to them were not racist is beyond my comprehension.
"I guess they don't think that mocking Trustee Wong's accent is racist or Chief Herzog repeatedly saying that he has to go see 'the terrorist' whenever he has an appointment with his Muslim allergist is racist either. And those are not the only things or even the worst things. As for the chief's comments about women that the captains described, I was offended personally."
She declined to elaborate further on that but did say:
"If those allegations do not bother the township, then I am at a loss to understand what would."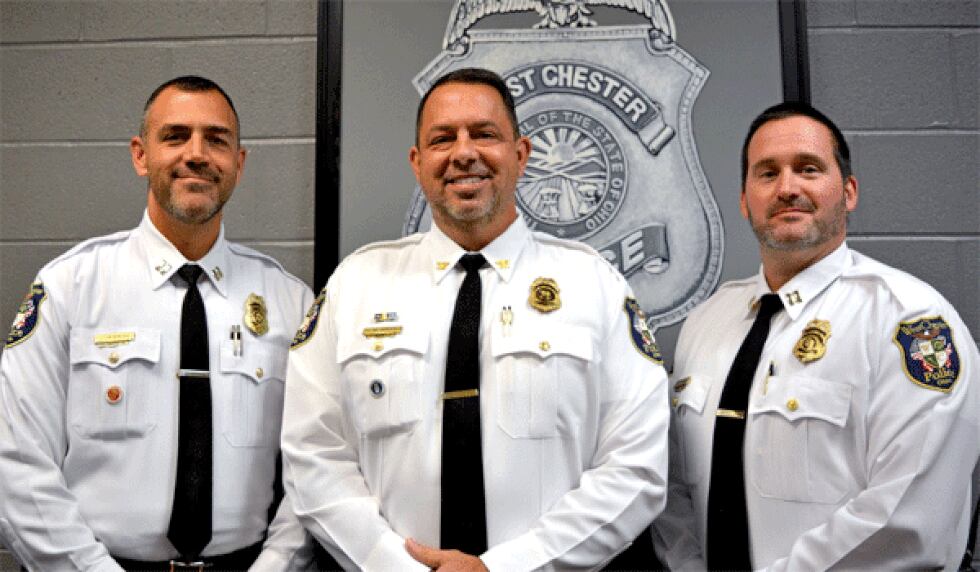 Copyright 2020 WXIX. All rights reserved.