Support for West Chester's police chief: 'He cares about us'
Updated: Jul. 15, 2020 at 8:08 AM EDT
WEST CHESTER TOWNSHIP, Ohio (FOX19) - Two leaders of Ohio's largest township and an African-American mother urged support for Police Chief Joel Herzog Tuesday at West Chester's first public meeting since complaints emerged against him.
Six veteran members of the West Chester Police Department - two captains, a lieutenant and three officers -have accused Herzog of alleged misconduct ranging from racism, sexism and retaliation to telling officers to not arrest other law enforcement officials suspected of operating a motor vehicle while under the influence of drugs and/or alcohol.
The NAACP and CAIR Ohio have called for federal officials to investigate. Another civil rights group, SURJ Cincinnati - Showing up for Racial Justice, put a call out on Facebook to try to get people to attend Tuesday's service.
But none of those groups were there Tuesday when the time came for residents to discuss their chief.
Only one mother stood up and addressed his bosses. She talked about her personal experiences with him and her family.
Trustees Mark Welch and Lee Wong said they are standing behind Chief Herzog. Welch called him "community-minded and always wants to do the right thing."
He said the chief recently apologized to all three trustees during a closed-door executive session.
Chief Herzog also has readily agreed to go on a performance improvement plan recommended by a private attorney who reviewed the captains' complaints against him, according to Welch.
"He is all for it. I appreciate it," Welch said. "If with this improvement performance plan Joel goes 'I want to be better a better person, I'm all in,' that's the kind of person we want in these positions. Everybody makes mistakes. Nobody is perfect. We will never find a perfect candidate for any job, me included."
Trustee President Ann Becker, however, did not praise the chief or pledge her support.
'I want to address our residents in particular. These issues have had no impact on our exceptional police department," she said. "Our officers are there for you everyday doing their work. They are still the best police department in the country."
Trustees went behind closed doors with legal counsel for the purpose of:
To consider the investigation of charges or complaints against a public official employee

To consider the discipline of a public employee

Conference with an attorney for the township concerning disputes involving the township that are the subject of pending or imminent court action.
A private attorney hired and paid for by the township's law firm at the direction of its trustees to review the captains' two complaints determined the chief did not retaliate against them, appear in an alleged "blackface" photo or mishandle investigations.
The attorney, Doug Duckett, also recommended the chief should not receive formal discipline despite admitting he called Middle Easterners "terrorists," Indians "dots" and referred to a Latino officer as "brown Mike," township records show. He should take steps to be "more appropriate and professional."
Duckett wrote that he warned Herzog against using such "lingo," but stopped short of urging a reprimand even while noting such language violated both township policy and anti-discrimination law.
RELATED | West Chester police file complaints alleging chief told them not to arrest other cops suspected of OVI | West Chester police union leaders reject special meeting request for no-confidence vote in chief | Some West Chester police call for 'no confidence' vote in police chief, read third complaint here | Fourth officer files complaint about West Chester police chief: 'I was humiliated'
Duckett's review also confirmed allegations from the captains and their attorney that Herzog referred to African Americans who interacted with police "Number 2s," and "at times commented on the attractiveness of women to subordinates."
Some West Chester Township police officers called for a no-confidence vote in the chief. They also questioned how the township handled the complaints.
The police union statement, however, does not mention calls for a no-confidence vote. It says:
"West Chester FOP Lodge 186 recently received and thoroughly reviewed the Investigator's Report regarding allegations brought forward by Captain Gutman and former Captain Hensley. Neither Captain was part of the bargaining unit of Officers and Supervisors who are members of Lodge 186," the FOP's statement reads.
"The Report concluded the Chief made certain undeniably inappropriate comments which made the Captains and other members of the Department uncomfortable. Since the Report, other members have brought forward additional allegations which merit a full and fair investigation, without retaliation. This Lodge will always stand behind our members and their right to speak out on matters which undermine the professionalism and integrity of this Department."
PREVIOUS | Investigator reviews complaints against West Chester police chief by captains, 1 quits | Another member of West Chester police comes forward with complaint about chief | Investigator's report on allegations against West Chester police chief coming next week, trustee says | Ohio AG: Situation at West Chester Police Department 'appears to be toxic stew of personality conflicts'
Last week, the local chapter of the NAACP and CAIR Ohio called for federal authorities to investigate the complaints against the chief.
A spokesman for the U.S. Attorney's Office, Fred Alverson, declined to comment on the situation in West Chester specifically but said in general Thursday: "We will work with the civil rights division and the FBI anytime there is evidence that federal crimes have been committed."
One of the captains who filed a complaint against the chief, Jamie Hensley, abruptly quit June 23.
"I believe this is the only option left that protects my family, my health, and my career without compromising my values," Hensley wrote in his resignation letter. "It is unfortunate to have been treated this way for taking a principled stance and others may fear coming forward in the future as a result."
On Friday, township officials released copies of an internal investigation related to a "cronyism" Facebook post involving Hensley.
The internal probe found Hensley violated policies and procedures by "displaying disrespect and disdain towards the Police Chief and his position" and "making false or misleading" statements in late January, township records released Friday show.
Hensley filed his formal complaint with the township about the chief on Feb. 24. Another captain, Joe Gutman, filed a similar complaint.
Hensley's internal investigation was referenced in Duckett's report. He determined Hensley was "dishonest" in the situation related to the internal investigation and for alleging in his complaint the chief was in a "blackface" photo on Facebook, township records show.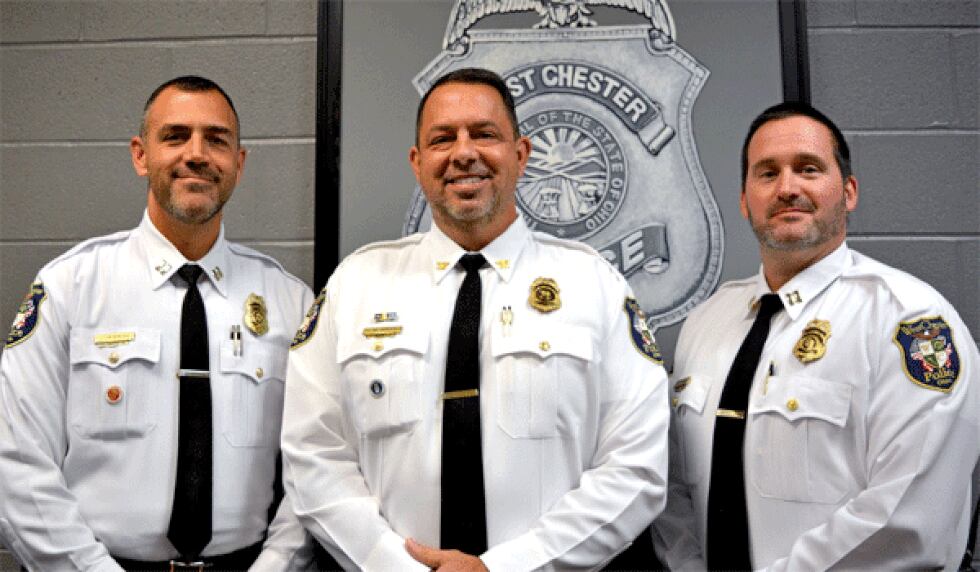 Duckett wrote that Hensley can no longer be disciplined because he left the department.
"There were clear grounds to bring several charges of dishonesty against Capt. Hensley, both for statements in the meetings of January 28 and 29 and in my interview," Duckett wrote.
"His abrupt resignation before I issued my written report mooted any need for disciplinary proceedings on that question, but given some of the reckless and simply false accusations that he hurled against Chief Herzog, it is important to state, for the record, my investigation's conclusion that Capt. Hensley lied."
Duckett recommended the township put the chief's performance on watch and have a psychologist conduct team-building exercises inside a department he said had a "dysfunctional and toxic workplace dynamic."
"I do not know if the Police Department command team can get past the deep damage and distrust, but there is no responsible choice but to work hard at doing so. There may be other training programs aimed at improving communication and team building that the Township can consider requiring the members of the command staff to attend," the report states.
"But unless this dysfunction and 'guerrilla war' among the Police Department's command staff is stopped, and all involved commit to the hard work of making the individual changes necessary for that to happen, the situation is completely untenable. All involved need to understand that each person's continued employment depends on making the changes necessary to rebuild that an effective work team."
Hensley's attorney has said dismissed the township's internal investigation on Hensley as "a continuation of the sham paper trail the Chief has been trying to build on Captain Hensley as punishment for speaking up.
"The Chief asked for this investigation only after he learned Captain Hensley was hiring a lawyer. There is no reason I can think of to issue an investigation report for someone who doesn't even work there anymore, other than to build a legal defense.
"I am sure people can and will see right through this. Apparently the Township will stop at nothing. Until the Township's smear campaign, Captain Hensley's 20-year reputation for integrity and honesty was unquestioned, and it still is to the people who know him and the situation both in and out of the department.
"Where is the investigation into why Chief Herzog thinks his employees would read the definition of cronyism and conclude it referred to him? That's the real issue. Not when or how my client heard about his wife's word of the day on Facebook. This sends a clear message to the officers whose new complaints are being allegedly investigated right now: back down or get dragged through the mud. Speak at your peril. It is unconscionable."
A township spokeswoman has said Hensley's internal investigation was complete, except for findings, but was halted to allow Duckett's investigation to take place.
The final report of the internal investigation was completed last week "and, therefore, becomes a public record which some, if not all, of the media outlets have requested," according to Barb Wilson.
"There is no administrative action to take as a result if this internal investigation because the subject of the investigation resigned/retired and is no longer employed by West Chester Township. The record, however, is a public document and is being released as requested," she wrote in an email.
Township Administrator Larry Burks also said in a statement an investigation is underway by the human relations department.
"Airing these accusations in the media and commenting on them without all the facts does a disservice to all involved and, in fact, minimizes the importance of the Township places on them. The Police Chief is not a publicly elected position. His comments, rebuttals, perspectives will be shared first with those to whom he reports.
West Chester trustees, Burks' statement continues, are "committed to doing what is fair and right. Comments and actions that are sexist or racist, or discriminatory in any way are not tolerated by this organization; and neither are actions counter to expectations in the performance of duties."
We have requested comment from chief multiple times in the past few weeks, but the township spokeswoman told us Thursday: "There will be no further comment from staff regarding the investigation at this time. Township Administrator Larry Burks will continue to work with the West Chester Board of Trustees in weighing the outcomes and conclusions of this report, along with any new concerns brought forward, to determine next steps."
Earlier last week, the chief wrote in response to an email from us requesting comment on one new officer's complaint:
"It would not be appropriate for me to comment on a pending complaint. I will wait for the investigations to run their course. I am not interested in trying these issues in the media. A investigation must be conducted and complete before any comments are given."
Last month, Herzog firmly denied to FOX19 NOW the allegations by the captains, including ones he and his son, also a law enforcement officer, were seen in a "black face costume" photo on his wife's Facebook page around Halloween 2015, according to Hensley's complaint.
The chief has said he believes his comments were taken out of context and he has faith the community knows him better than this.
He also said he was working to be a better leader.
Welch said he wants to remind township residents and business owners that there has been no disruption of any kind of service the police have been doing amid all this.
"This has not impacted anyone's job. I'd say have faith. The people that are in the positions, the trustees and directors, we love West Chester. We want the best for West Chester. No one has any nefarious intentions or ulterior motives here. We all want what's best for West Chester."
We asked if he was concerned that keeping a chief who admitted to calling Middle Easterners "terrorists," Indians "dots" and a Latino officer "brown Mike" could possibly open the township up to liability.
Welch responded: "We are a litigious society. I guess someone has the freedom to do that if they want. At this point we would just turn it over to our very able legal counsel."
He also said:
"Any employee of West Chester has the God-given right to come forward if they have a situation they feel like they are getting any kind of ill treatment of anybody. It could be an employee. It could be anybody. We operate in West Chester under the guideline of we take extraordinary measures to ensure that people have a safety and friendly working department."
Copyright 2020 WXIX. All rights reserved.