4 Reds kneel during playing of national anthem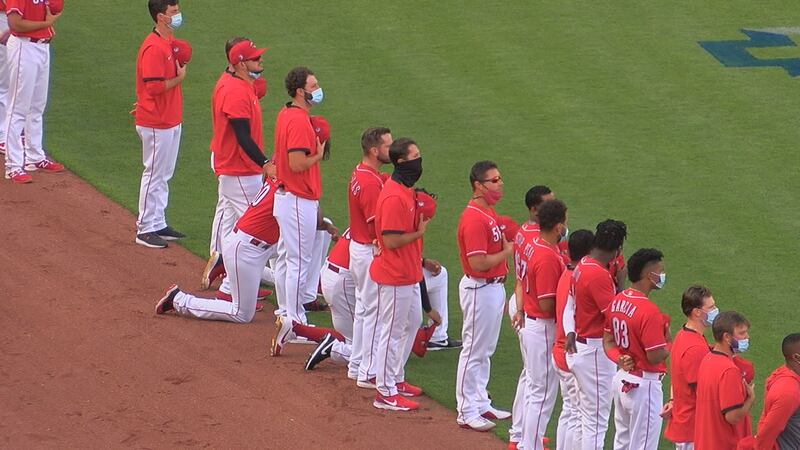 Updated: Jul. 21, 2020 at 7:29 PM EDT
CINCINNATI (FOX19) - Four Cincinnati Reds players knelt during the playing of the national anthem Tuesday night prior to the first of two exhibition games against the Detroit Tigers.
Joey Votto, Amir Garrett, Phillip Ervin and Alex Blandino knelt as the team formed a row along the first-base line at Great American Ball Park.
According to our media partners at The Enquirer, Manager David Bell stood alongside the players taking a knee.
After the game, Bell said of the gestures: "I know this situation is personal, it's emotional, for all of us. I wanted them to know that they had my support."
The Enquirer also reports during the anthem Mike Moustakas placed his hand on Ervin's shoulder, Cody Reed placed his hand on Ervin's shoulder and Sal Romano placed his hand on Blandino's back.
The gestures were made in apparent support of the Black Lives Matter movement. But in tweet after the game, Garrett said he does not support the Black Lives Matter organization itself:
"No matter how you twist this story my intentions today were based solely on wanting change throughout this country. I know my thread will be filled with "lost fans" but, I'm hopeful for the younger generations to see through the lost message. If I still have your attention know that I fully support the military, it's a shame this is shown as a sign of disrespect as the leader of this movement was advised buy a Veteran to kneel instead of sit. As much as some of you think your opinion on my choices affects me, this isn't me using my platform to push my political opinion nor is it to show my support of the blm organization (which they do not have)"
Votto penned an op-ed in The Enquirer in June titled 'My Awakening.' He wrote: "Only now am I just beginning to hear. I am awakening to their pain, and my ignorance. No longer will I be silent."
Votto signed the piece "#BlackLivesMatter"
The Reds season begins June 24 against the Tigers at Great American Ball Park.
Copyright 2020 WXIX. All rights reserved.