Sandmann announces settlement with NBC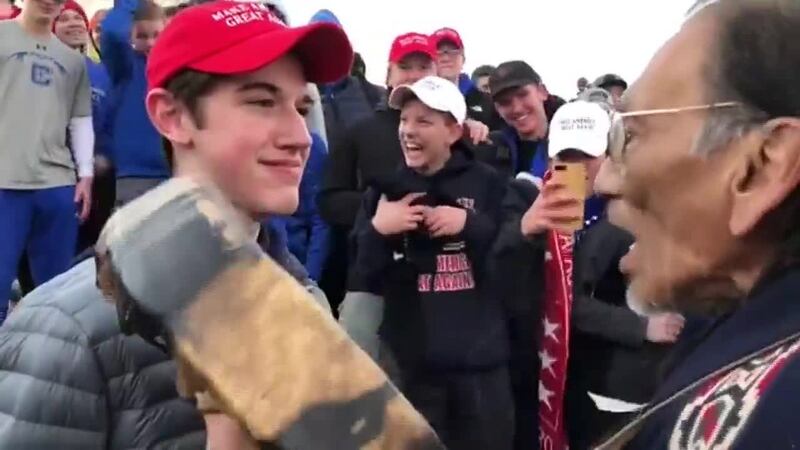 Updated: Jul. 24, 2020 at 11:25 AM EDT
COVINGTON, Ky. (FOX19) - Covington Catholic student Nick Sandmann announced in a tweet Friday he's settled with NBC Universal, one of eight lawsuits against media outlets in connection with an incident at the March for Life in Washington D.C. in 2019.
The terms of the settlement are confidential, Sandmann said. A dollar figure was not disclosed.
The Washington Post settled in July 2020. CNN settled in January of the same year. In neither case was a dollar figure disclosed.
Sandmann also sued Gannett (which owns USA Today and the Cincinnati Enquirer), ABC, CBS, The New York Times and Rolling Stone.
Motions to dismiss filed last year by The New York Times, Rolling Stone, ABC and CBS were denied.
RELATED | Sandmann fires high-profile attorney Lin Wood | Sandmann speaks on cancel culture, the 'outraged mob' and his smile in that photo
The lawsuits are connected to an incident in Jan. 2019 in Washington, D.C. involving Covington Catholic High School students. Videos of that incident garnered national attention.
The initial video showed the self-identified Sandmann and Nathan Phillips, an indigenous man who was participating in the Indigenous Peoples March.
Sandmann and his classmates were in D.C. for the March For Life.
Other videos later surfaced showing different angles of the incident.
The media outlets published stories either quoting Phillips or citing a quote of his that Sandmann "blocked" or "stopped [Phillips'] exit."
Sandmann's complaints argue Phillips' statements were false and defamatory, meaning the companies acted negligently, recklessly and with actual malice in publishing them. That is, the companies allegedly could have determined the statements were false using the other videos and by relying on "reasonable journalistic care," but did not.
The statements also impute racist conduct to Sandmann, according to the complaints.
The suits allege emotional distress as well as defamation.
A dozen Covington Catholic students also attempted a lawsuit against CNN, NBC and the Washington Post. That suit was dismissed earlier this year.
Copyright 2021 WXIX. All rights reserved.