'We're trying to save lives here.' Group releases plan to reduce gun violence in Cincinnati
Updated: Aug. 21, 2020 at 2:55 PM EDT
CINCINNATI (FOX19) - After more than 20 shootings - four fatal - in separate events that occurred in Cincinnati last weekend, a group called Neighborhoods United released a plan Friday to reduce gun violence.
"We're community members who want to save lives and have a safer community for everyone," Chair of Neighborhoods United Cincinnati Brian Garry said. "If we continue to do what we're doing and continue to use the methods that we have... we are headed for the bloodiest, worst year in terms of gun violence that we've ever had in the city of Cincinnati."
The group presented their plan on the steps at City Hall to Mayor John Cranley and city council at 3 p.m. Friday.
Neighborhoods United says the plan focuses on six categories: Health, Education, Youth and Family Support, Social and Spiritual Development, Economics and Violence Mitigation.
The health category aims to find out what is in a person's life that turns them violent and makes mental health resources available.
The education aims to create mentors and scholarships for students in low-income areas.
There is also a focus on removing weapons from the streets by buying them back and tightening policies to control them.
"This plan demands that the city of Cincinnati takes any and all necessary steps to reduce and eventually eliminate the scourge of gun violence from our communities. This plan calls for neighborhood economic development and the need to build vibrant and stable, equitable neighborhoods. This plan calls for an increase in our investment in health and human services. This plan calls for the need to step up our efforts toward violence mitigation," the group said.
Each category is explained with a "SMART" (Specific, Measurable, Achievable, Realistic, Timely) action to define the purpose of the plan.
The group hopes it will be adopted and turned into legislation.
"We're offering it to the mayor, to the public, and the business community, to the non-profit sector. We're offering it to everyone in our community including the faith community. It's in everyone's best interest that we all have community safety," Garry said.
City Council member and mayoral hopeful David Mann told FOX19 NOW Friday there's work to be done in the short term.
"The first thing we have to do before we talk about long-term solutions is stop it, stop the guns, stop the violence, cooperate in investigations," he said. "Then we can talk about some long-term steps to take."
Fellow Council Member Greg Landsman is giving the plan his attention.
"I'm glad that the community is coming together and saying, 'Here is what we think needs to happen,' and we should take it seriously," he said.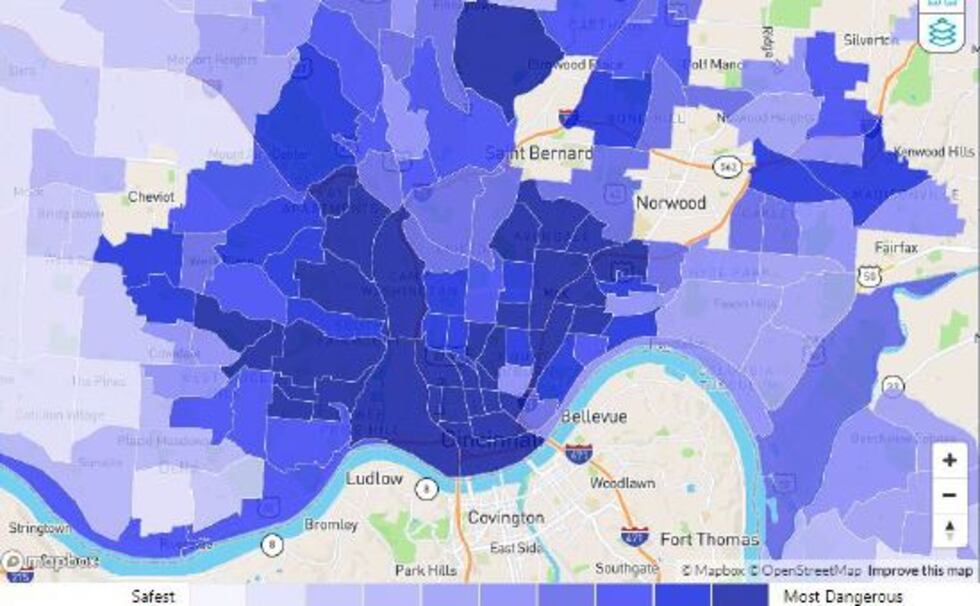 Designate gun violence as a public health crisis
The city will declare gun violence a public health crisis. Next, in partnership with local community organizations, a task force will be formed to coordinate the work of Cincinnati Initiative to Reduce Violence, CEASE FIRE and others within 6 months.
Increase access to mental health care, counseling for individuals and families
Within three years, affordable mental health care and counseling will be available upon request and referral at schools and in the community, especially to heal the trauma caused by past gun violence, poverty, racism, and institutional barriers to inclusion and success.
Increase access to general affordable health care
Cincinnati will use its resources and work with partners to provide general healthcare access to 30% more people annually for 3 years, resulting in a 90% increase in population access.
Continual assessment of reasons for gun violence and the effectiveness of preventative measures
The city will implement available resources to reduce the annual number of gun deaths three years in a row over a five-year period by fully funding agencies that work in communities to achieve this end.
Introduce the Adverse Childhood Experience (ACE) awareness program
Within one year, Cincinnati will have created training in how to recognize, refer, educate, and treat ACEs and make the training available to all departments and leaders in the city.
Educate society on the history of racial disparities
The City will immediately acknowledge that systemic racism exists in Cincinnati as has been done by Hamilton county's declaration of racism as a public health issue in 2020.
Broaden scholarship, tutoring and mentoring opportunities for children, grandparents and caregivers
Over the next school year implement multi-generational programs that include parents, grandparents, and caregivers. Fund these programs so that free tutors will be available to implement and lead interactive educational experiences.
Encourage vocational studies as a viable and respectable alternative to college
In the next year begin to educate families, teachers, counselors, and society about the need for jobs in technical service positions requiring only vocational studies.
Invest in community-based co-creation of knowledge
Identify trusted community stakeholders in the next 12 months to collaborate with and ensure community residents are represented in co-creating knowledge of the community and implementing solutions to remedy inequity.
Reestablish the Citizens Committee on Youth
By the end of the year, City Council will increase funding for CCY and programs such as mentorship programs, life skills and entrepreneurship programs, additional counseling. Create, maintain and advertise safe spaces for children.
Create, maintain and advertise safe spaces for children
Within one year, the city will reinstate Citizens Committee on Youth (CCY), broaden partnerships with programs serving young people, and create other related programs.
Recognize gun violence as a sign of societal illness
"As we talk about the issue of gun violence, we need to reorient people's understanding of it as a symptom of an illness. We should set the context for the issue of gun violence in its root causes to help people see it as an illness."
Build a city-wide commitment to increase social mobility
" We must build a city-wide culture that encourages opportunities for upward mobility. We must develop a community that overcomes the stigma of mental health issues related to trauma, in order to give opportunities for people to break into a path of social mobility."
Demand societal institution use fund and resources to heal communities
Corporations need to invest more in their workers and dedicate more resources to building a healthy environment in the city.
Call all faith communities to commit to the healing of those affected by gun violence
Faith communities and their constituents must reach into their pockets to help anyone else's community who is in pain.
Use prominent figures and familiar faces in communities to facilitate participation in solutions
As the city navigates the pain of neighborhoods troubled by gun violence it is important to be led by the neighborhoods themselves and recognized leaders.
Encourage creative ideas to build social cohesion
Invest more resources into the fine arts.
Reduce poverty
Within three years, increased family income, proactive outreach to provide resources to those in poverty, connecting youth to jobs and entrepreneurship, and the development of affordable housing will begin to decrease the poverty in the city.
Develop affordable housing
The city will provide full funding for the Affordable Housing Trust Fund and the passage of the proposed Charter Amendment through the petition being circulated now by the Affordable Housing Advocates and the Homeless Coalition.
Connect youth to jobs and entrepreneurial opportunities
Within a year, institute a youth entrepreneurs support program, training, shadowing opportunities will be implemented with a class day per week.
Supplement family income to promote healthy development
Within a year, programs supplementing family income will be implemented. Free health care at city clinics, doubling up on food stamps, supporting the FreeStore/FoodBank, and actual cash payments are all possibilities.
Proactively assist people in poverty to become involved with available programs and aid
Within 18 months, a website will be established bringing all the needed information and choices to a one-stop-shop, with agency representatives from all over, that is open and accessible by phone and in-person 24/7 would greatly increase the chances for very low-income families to succeed.
Additional economic remedies to continue exploring
Restore funding to the Department of Community and Economic Development, increase home ownership among low-income communities, rebuild black wealth, hire people from low-income neighborhoods for development, establish a moratorium on the destruction of low-income housing, turn 100% of the buildings owned by the Port Authority into affordable housing and use tax revenue to build wealth in impoverished areas of the city.
Create a gun buyback program
Within 2 years buyback programs for guns will be implemented.
Demilitarize the police and provide opportunities for rethinking community needs
Within a year, the Cincinnati Police will implement programs to increase nonviolent communication and de-escalation training, as well as implicit bias training.
Promote policy and legal changes that increase public safety
Within 2 years, policies that ban excessive use of force and ban over-policing of minor infractions of the law will be eliminated.
Find ways to include youth constructively; rethink juvenile justice
Within 18 months, programs will be implemented that help police identify and respond to normal childhood behavior appropriately.
Review, restructure, tighten and implement strict gun safety and ownership laws
Within one year, the city will join 13 other states and enforce mandatory universal background checks, regardless if the seller is licensed or unlicensed.
You can read the full plan below:
Copyright 2020 WXIX. All rights reserved.