Voting groups sue over Ohio's absentee ballot signature matching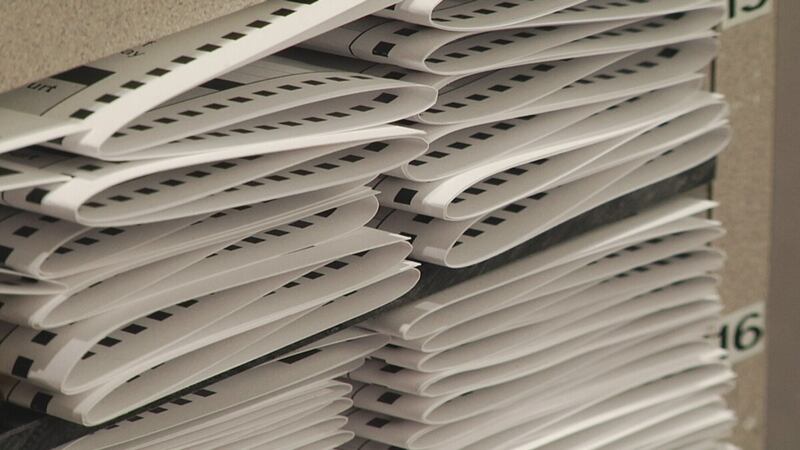 Published: Aug. 25, 2020 at 1:23 PM EDT
CINCINNATI (FOX19) - Civil rights and voters's groups and voters are asking a federal court judge to stop Ohio's top election chief from verifying absentee ballots using signature matching with absentee ballot applications.
If officials suspect a mismatch, the absentee ballot may be denied.
The groups suing call Ohio's system flawed.
On Tuesday, the American Civil Liberties Union (ACLU), ACLU of Ohio, Lawyers' Committee and the law firm of Covington & Burling LLP announced they filed a motion in Cincinnati federal court for a preliminary injunction against Ohio Secretary of State Frank LaRose.
The legal action is on the behalf of plaintiffs League of Women Voters of Ohio, the A. Philip Randolph Institute of Ohio, and several impacted Ohio voters, according to an ACLU news release.
They call Ohio's system "flawed," particularly in light of the unprecedented numbers of voters statewide likely to vote by mail this November.
The motion asks the court "to ensure voters have sufficient notice of purportedly mismatched signatures and the opportunity to fix those mismatches when boards of elections mistakenly reject their ballots and ballot applications on the basis of signature mismatches."
The legal action also asks that if election officials perceive a signature mismatch, they must:
Provide adequate time for a voter to remedy the mismatch before the date by which the Ohio boards of elections must complete the canvass of returns.

Contact voters by telephone and email in sufficient time to correct rejected absentee ballots and absentee ballot applications.
"The vast preponderance of signatures identified as 'non-matching' are in fact legitimate. According to experts, when a ballot is rejected for 'signature mismatch,' there is a 97% probability that it is actually legitimate!" said Freda Levenson, legal director of the ACLU of Ohio, in a news release.
"These are costly mistakes, because, all too often, Ohioans do not learn of or receive an opportunity to fix supposed 'mismatches.' In the midst of this global pandemic, record numbers of Ohioans will vote by mail in the November 2020 election, many for the first time. We are asking the court to require the Secretary of State to provide adequate notice and opportunity to cure supposed 'mismatches' so that large numbers of legitimate Ohio voters are not deprived of their constitutional right to vote."
Jen Miller, executive director of the Ohio League of Women Voters, said with just over two months until Election Day, "voters need a fair absentee ballot process that they can rely on to ensure their ballots are counted. Ohio's unscientific signature matching processes create unfair electoral barriers, especially for senior citizens, youth, and voters with disabilities. Ohio needs to institute a transparent notice and cure process so voters can be assured their votes will count."
Ohio's Secretary of State Frank LaRose's spokeswoman said Tuesday removing the signature matching requirement would open the floodgates to potential voter fraud.
"Ohio voters expect accessible and secure elections. This lawsuit is a solution in search of a problem that would obliterate Ohio's safeguards on providing secure, no-fault absentee voting to every eligible voter," Maggie Sheehan said.
"As always, Secretary LaRose is open to working with these groups to improve Ohio's processes and technologies related to signature verification, but a lawsuit a little over a month before absentee voting begins in Ohio is not the solution. Opening the floodgates to allow for potential voter fraud and abandoning this important and long-standing safeguard will only empower those seeking to delegitimize our election. We won't allow that to happen in Ohio."
Her statement goes on to say that just this past spring, when (then Ohio Department of Health Director) Dr. (Amy) Acton's order to close the polls and the legislature's passage of HB197 forced Ohio to shift to an all-mail election, out of 1.5 million ballots, only 271 were rejected because of a mismatching signature.
"That's just 0.01 percent. Those decisions regarding signature matches are made entirely by the two Democrats and two Republicans who together comprise each county board of elections, her statement reads.
"Additionally, Ohio broke new ground recently by allowing and encouraging county boards of elections to use e-mail and/or phone numbers to contact voters who require curing of their absentee ballot request or absentee ballot. Before, voters would need to wait for a notification by mail of any issue with their ballot. Those mail notifications will continue to be sent to voters, but the electronic communication allows issues like mismatching signatures or other issues to be swiftly addressed by voters."
A spokesman for the Ohio Attorney General's Office declined comment.
Copyright 2020 WXIX. All rights reserved.