Rand Paul blasts 'idiots' who 'attacked' him near White House
Senator says he's a 'leading advocate' for criminal justice reform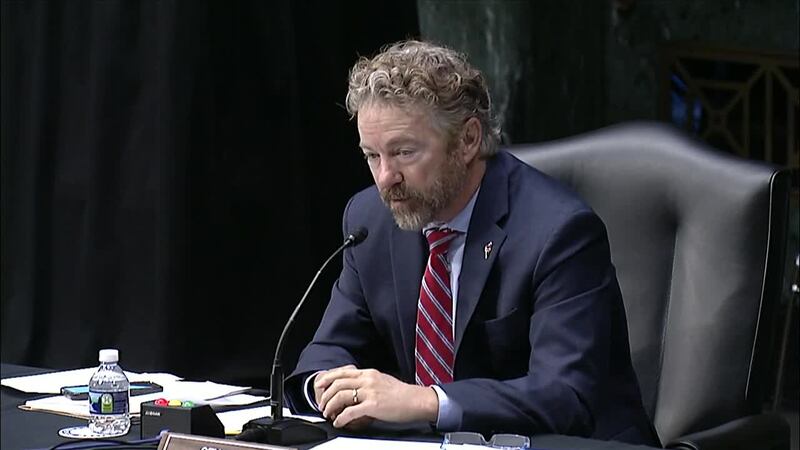 Published: Aug. 28, 2020 at 7:17 PM EDT
LOUISVILLE, Ky. (WAVE) – Sen. Rand Paul said he was "attacked by an angry mob" after leaving the White House following the Republican National Convention.
Paul tweeted about the incident at 1:39 a.m. Friday saying, "Just got attacked by an angry mob of over 100, one block away from the White House. Thank you @DCPoliceDept for literally saving our lives from a crazed mob."
Video posted to twitter of the incident shows Paul walking down a street surrounded by people yelling "say her name," "her name is Breonna Taylor" and "she can't sleep so neither will you."
Taylor was shot and killed on March 13 by Louisville Metro Police Department officers who were serving a warrant at her apartment.
On June 11, Paul introduced the Justice for Breonna Taylor Act to end no-knock warrants. The act would require federal law enforcement to provide notice of their authority and purpose before they could execute a warrant. The act would also require the same of any state or local law enforcement agency that receives Department of Justice funds.
While appearing on Fox & Friends on Friday morning, Paul said he feared for his life, adding protesters yelled threats at him. He said their chants about Breonna Taylor were misguided.
"They were shouting threats to kill us, to hurt us," Paul told Fox & Friends. "But they were also shouting 'Say her name. Breonna Taylor.' You couldn't reason with this mob, but I'm actually the author of the Breonna Taylor law to end no-knock raids. So, the irony is lost on these idiots."
Paul claimed, without evidence, that the protesters surrounding him may have been paid to do so. He said he wants an FBI investigation into the confrontation.
"Look, I've been for reform," Paul said. "I've offered 22 criminal justice reforms. They were yelling at me, 'We're not going to let you go alive unless you say out loud you're for criminal justice reform'. I'm like, 'You idiot. You're so dense that you have no idea that I've been a leading advocate for criminal justice reform.'"
Kentucky Attorney General Daniel Cameron tweeted a response to the matter Friday morning:
Copyright 2020 WAVE 3 News. All rights reserved.