Butler County Sheriff: 'I'm the new Sheriff Clarke'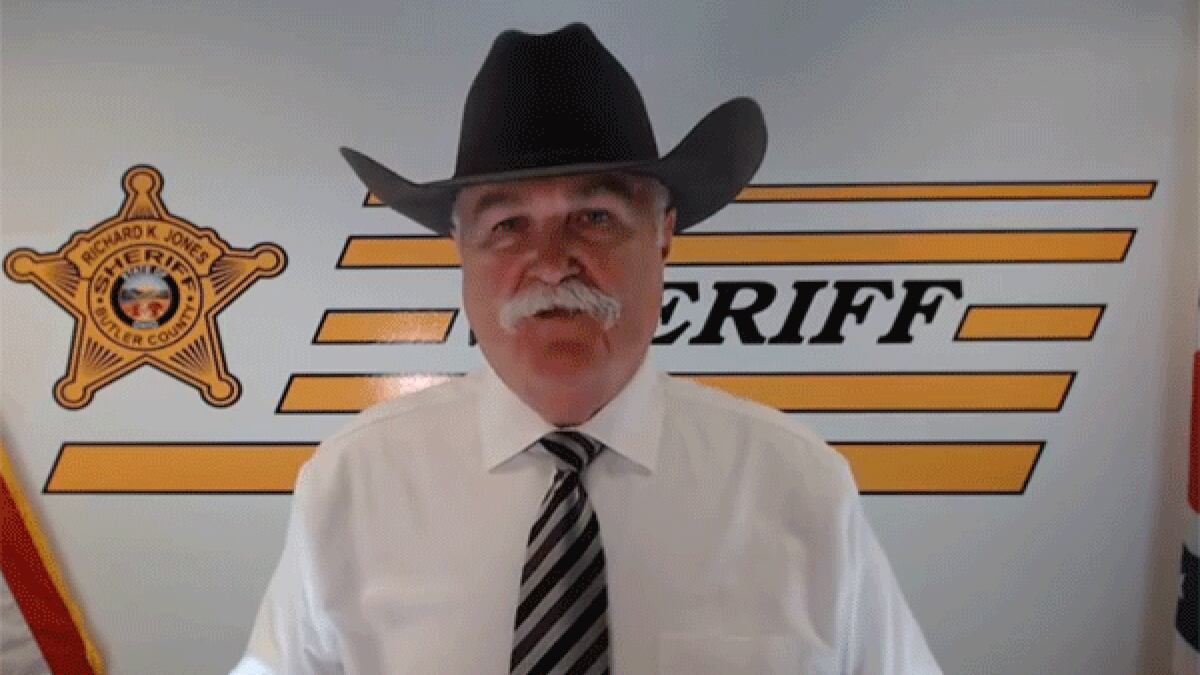 Published: Nov. 12, 2020 at 4:31 PM EST
CINCINNATI (FOX19) - A Cincinnati-area sheriff says he's "the new Sheriff Clarke" for national media on law enforcement issues because he can speak without restraint and isn't afraid to "tell it like it is."
Former Milwaukee County Sheriff David Clarke of Wisconsin was a frequent correspondent on Fox News but another Stetson-wearing provocateur, Butler County Sheriff Richard Jones, has been delivering commentary on law enforcement issues.
"There's 3,300 sheriffs in the United States and I appear to be the new go-to-guy for things that go on all around the country because I am brave enough to speak for most law enforcement officials," Jones tells FOX19 NOW.
"Not all law enforcement officials who are in a leadership position can talk straight, common sense. Pretty simple. When you are looking at common sense, I'm that guy."
Jones appeared on Fox & friends again Thursday morning, his second appearance in three weeks and his latest in a string of them over the past two years. He's also been on CNN telling the globe: "I am not the mask police."
Related: Butler County Sheriff: 'I don't kneel for any cause'
Jones said a Fox & friends producer called him at 10:30 p.m. Wednesday and booked him for a segment they wound up calling 'Ohio sheriff calls out 'defund police' hypocrisy.'
Jones provided law enforcement perspective and commentary on a Portland commissioner who also oversees the city's emergency dispatch system and pushed to defund the police and then called 911 on her Lyft driver.
The Oregonian newspaper reported she dialed 911 over a ride-share driver who was following Lyft's coronavirus safety guidelines to keep a window open.
Her 911 calls, obtained by The Oregonian, show her repeatedly demanding the force send out officers — even though the dispatcher insisted no crime had been committed, according to the newspaper.
Jones told Fox & friends co-host Steve Doocy it was "the equivalent to a 5-year-old kid calling 911 because his mommy wouldn't give him milk and cookies."
The sheriff said he also would seek prosecution of someone who would do something like that in his county: "Someone who tied up emergency services because their driver wouldn't roll up a window in the middle of a COVID-19 emergency and the driver for his own safety had the window down."
"I've never met her, but seeing the stance she takes on the 911 calls and then she blames on it being her color or her being a woman is ridiculous," he told Doocy.
The cigar-chomping sheriff with framed pictures of John Wayne and a saddle in his office has made national headlines over the years with a series of controversial statements.
The New York Times called him a "crusader against illegal immigrants." The New York Post did a story on him as the sheriff who wanted to arm teachers at schools.
The Butler County Sheriff's Office also is the only southwestern Ohio sheriff's office whose deputies do not use Narcan.
"'I've seen reports to where people have been Narcaned 20 times," he has told FOX19 NOW
Most recently, in September, Jones sent out a news release after a chase involving several local law enforcement officials including his deputies pursuing a Hamilton homicide suspect resulted in a shootout that wounded a Middletown officer.
The sheriff warned people who he says "abuse police" that if "you shoot at police, expect us to shoot back."
Last month, Jones offered to pack for celebrities declaring they will leave the U.S. if President Donald Trump is re-elected in a video that went viral with 189,000 views.
"These are mostly the same people who don't like police, that doesn't like first responders. I hope you do leave," he said.
So will all this national talk from the podium in his conference room at the sheriff's office impact his ability to serve Butler County or take his focus off local issues and needs?
Jones says no, the national issues have relevance here, too.
He just won his fifth term in office and was unopposed. He proudly says he received more votes than anyone else on the ticket in Butler County except for President Donald Trump.
"I represent all people," Jones said.
"I am supposed to support the constitution of Ohio and the United States. I fight for law enforcement on national committees and when you talk about defunding the police, it's defunding all of us. They are talking about it all over the country, so I gotta defend law enforcement here and it's everywhere.
"We're all in this together. It impacts us all. I want people to know don't call 911 over silly things. It ties up emergency services and makes the police respond and risk their lives getting there and it's not what it's intended for."
See a spelling or grammar error in our story? Click here to report it. Please include title of story.
Copyright 2020 WXIX. All rights reserved.