New evidence details discovery of Katelyn Markham's remains
'I slit your wrists with the key to your heart'
Published: Mar. 27, 2023 at 5:29 AM EDT
|
Updated: Mar. 27, 2023 at 1:31 PM EDT
FAIRFIELD, Ohio (WXIX) - Bond was set at $1 million Monday for John Carter, Katelyn Markham's fiancé who is under indictment on two murder charges in her 2011 slaying.
Carter's attorney, Christopher Pagan, pleaded not guilty on his behalf during Carter's first appearance before Butler County Common Pleas Court Judge Daniel Haughey.
He requested a court date for next week, saying he expected to have a fee agreement in place by then to provide his legal defense.
Carter, 34, will now return to court on Tuesday, April 4.
"The case is really strong. We really have a great case," Butler County Prosecutor Mike Gmoser told the judge as he asked for the $1 million bond. "I thank the defense for giving me the opportunity to show what they are getting into."
Then, the normally tight-lipped prosecutor revealed new and shocking details in court that he said they plan to submit as evidence:
A forensic anthropology report indicates there were three or four sharp, blunt-force trauma wounds to Katelyn's left wrist bone.

The report also indicates her remains were found in a location different than where they originally were dumped.

Prosecutors found and have copies of what Gmoser says are writings, some with Carter's name on them, that were found in a binder when authorities recently searched his mother's house where he was living at the time Katelyn vanished.
Gmoser then read some of the chilling writings aloud in court.
He said they show the "conflict and demon within" between Carter and himself.
"Deep down, I love her. You ought to kill her. But I love her. She must die. I can't kill her. Yes, you can. No. Yes. How do you talk me into all these things? I'm just that good. But you're bad. I know. How do I kill you? You can't. You're right. About what? Nothing."
"I slit your wrists with the key to your heart."
But, Gmoser said, "it doesn't end there."
He kept reading, quoting the writings:
"I sit in my place clenching my fists while you sit there and tell me to slit my wrists. I wouldn't do it if I had the chance. But I look up at you to get a glance. Look at me trying to kill and you don't because you are not real and I know you won't. But you used to care and you used to be great. But now when I see you you are full of hate.
"So I get up to touch you. And you disappear. You left. You are gone. And now I have nothing to fear. So I jump for joy into the next room and look to my left and you are back so soon. So I run back to the kitchen and into my place telling you to leave before I rip off your face. I'm sorry I said that. Now you see I have been going crazy and insane because you are mad at me."
Gmoser told the judge "The name Johnny Carter is associated with this document."
Finally, Gmoser read an excerpt of the writings that he said shows "what's going on with this defendant who is asking to be released on bond out into our society."
"By John A. Carter," appears on the paper, according to the prosecutor.
"Shut up, shut up, you're driving me crazy. I don't like you. No, I hate. No, I can't stand you. Get away from the phone. You are so much a little 'b----. I'll say when you can talk. Quiet. I have no room to talk. Get out of my house and never come back. Never come back. Do you hear me? Oh, no. What have I done? What do I do? I know I'll bury the body in the backyard. No, I'll bury it under the trailer and wait until the grass grows over it and leave before anyone reports it missing. Yes. Yaye. That's a great idea."
Katelyn's body, Gmoser told the judge, was meant "to disappear and never to be found." He then reiterated the findings of the forensic anthropology report.
Katelyn Markham's father and her sister were in court, listening to every word, during the entire arraignment.
He told FOX19 NOW last week that he was not surprised Carter was arrested and suspected him all along.
Carter's mother also was in court.
Last week, she issued FOX19 NOW a statement insisting her son was innocent.
Both parents declined to comment after court Monday.
Gmoser also declined to discuss the specifics of the case after court.
Carter returned to the Butler County Jail after his court appearance.
He stayed quiet and mostly stared down while the prosecutor quoted the writings.
Carter is being held in protective custody at the jail, away from most of the other inmates and alone in a cell, at his request due to safety concerns since he was booked in at 5:30 p.m. Wednesday, according to Butler County Sheriff Richard Jones.
Carter was taken into custody just before 4 p.m. as he taught a class at Neusole Glassworks on Kemper Springs Drive according to Forest Park police. He's worked there for years, FOX19 NOW has confirmed.
A Butler County grand jury secretly indicted Carter on March 13 with two counts of murder for Katelyn's death, court records show.
Judge Haughey ordered the indictment unsealed the morning after his arrest.
The indictment accuses Carter of "purposely" causing Katelyn's death in Butler County on or about Aug. 13, 2011, through Aug. 14, 2011.
The second murder count alleges he caused her death on the same dates "as a proximate result" of committing or attempting to commit, a violent felony offense (felonious assault).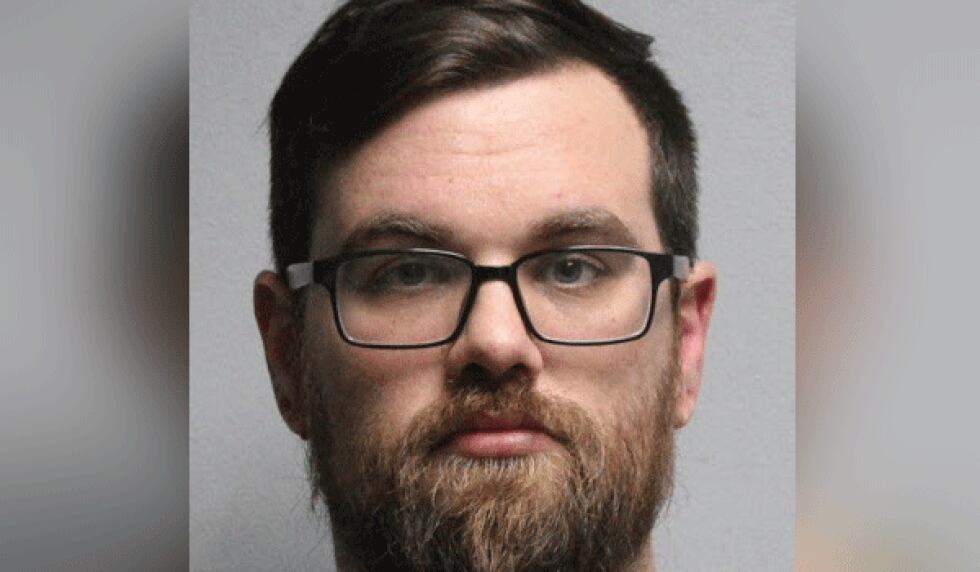 Carter was the last person to see Katelyn alive at her apartment on Aug. 13, 2011, and called 911 to report her disappearance, according to Fairfield police.
He told the call taker the couple planned to move out of state in October to Colorado but delayed it until November.
"We could have pushed the date back a year and it would not have mattered," he said during the 911 call, according to a recording released to FOX19 NOW. " I didn't want to make her do anything she didn't want to do, and she did not feel like she was being forced into anything."
When asked what he meant by "forced," Carter responded, "just going to Colorado, the marriage, the whole thing. It was entirely up to her."
He also during the 911 call, "a Sacred Heart Festival is going on right up the street, and there are a lot of questionable people there."
Katelyn's disappearance and unsolved homicide case have made national news for years.
Her remains were found on April 7, 2013, at Big Cedar Creek in southeastern Indiana's Cedar Grove. A couple looking for scrap metal spotted a human jaw in a plastic grocery bag.
Carter is the second person arrested in this investigation.
Jonathan Palmerton of Fairfield was arrested on a perjury charge last month. He's accused of lying to investigators, according to his indictment.
A judge set his bond at $50,000.
Palmerton was due in court the day after Carter's arrest last week to enter a plea or to receive a trial date.
That was canceled, however.
His attorney requested and received a delay until April 20, court record show.
Before Palmerton's arrest, investigators searched two separate properties, prosecutors confirmed.
A house on Ann Court in Fairfield where Palmerton lived at the time of Katelyn's death.

Carter's mother's house, where he lived when she vanished.
Learn more about this case by listening to the Cincinnati Crime Vault podcast.
You also can stream it on FOX19 NOW's app.
correction: John Carter's attorney said in court Monday he has every reason to believe a fee agreement (for his legal services) would be in place by week's end. He did not say he had every reason to believe a plea agreement would be reached by the end of the week.
See a spelling or grammar error in our story? Click here to report it. Please include title of story.
Copyright 2023 WXIX. All rights reserved.